Concordia honours 2 distinguished French studies professors with full-day event
Imaginaires de la traduction conference will highlight Sherry Simon and Judith Woodsworth's decades of translation studies work and research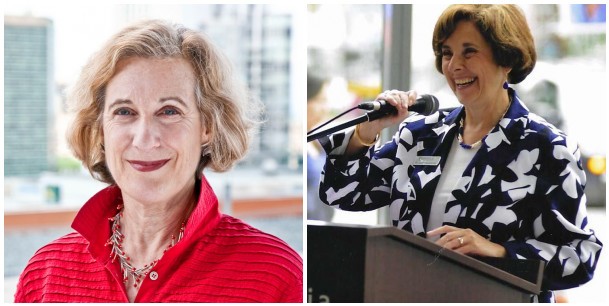 Sherry Simon and Judith Woodsworth have been translation studies colleagues in Concordia's Département d'études françaises since the 1980s. After starting their careers at the university within three years of each other — Woodsworth hired Simon — they will both be retiring on June 1.
Ahead of their retirements, the two professors will be recognized with a full-day conference, Imaginaires de la traduction, on April 1. Presented by Figura, Centre de recherche sur le texte et l'imaginaire, the day will pay homage to their research and include presentations related to the themes of their work.
"Sherry and Judith represent the calibre of our researchers and the quality of the Département d'études françaises," says Pascale Sicotte, dean of the Faculty of Arts and Science.
"Their contributions to our faculty and to the university have created new pathways of expression and understanding that will be felt for years to come."
Department chair Françoise Naudillon described the two retiring professors as pillars of the Département d'études françaises.
"They have both helped make the translation program at Concordia one of the best in Canada and have trained hundreds of students who continue to make our program stand out today. They have also advanced research in the field and their works have become classics of the discipline," Naudillon says.
'One of the top scholars in the field internationally'
Simon, who holds a PhD in comparative literature from Université de Montréal, has been at Concordia since 1983. She has been a translation studies professor since 1998. In 2020, the university named her a Distinguished University Research Professor, Concordia's highest research honour.
In addition to her academic achievements, Simon will be remembered as a generous and supportive colleague. "Sherry is brilliant, down-to-earth, and maintains her enthusiasm for translation studies and culture in general," says Carmen Ruschiensky, one of the translation studies doctoral students Simon currently supervises.
"She's renowned here in Quebec and in Canada, but she is also one of the top scholars in the field internationally. I feel very fortunate to have had the chance to work with her over the years."

Simon's contributions to translation studies are widely recognized. Having been on the forefront of introducing feminism and feminist theory into the field, she has also explored post-colonialism in translation. Simon's current research explores intersections of language, translation and memory in urban contexts, which was informed by the city.

"Concordia has given me so much — in particular the possibility of continuing to explore life in Montreal through teaching and research," Simon says. "The Département d'études françaises was a wonderful observation post. I loved being in this department at an anglophone university and looking at the city from an unusual angle."
After retiring, Simon will continue writing her forthcoming book about the cultural history of Mount Royal, playing tennis and accordion and working for PEN Québec, a non-profit organization that promotes literature and freedom of expression.
'A great dedication to her research'
Judith Woodsworth holds a PhD in French literature from McGill University. She joined Concordia as an assistant professor in 1980, earned tenure in 1984 and became an associate professor in 1985.
In 1997, Woodsworth was appointed Vice-President, Academic at Mount Saint Vincent University and full professor in the Department of Modern Languages.
Between 2002 and 2008, she served as president of Laurentian University in Sudbury, and professor in its department of French and Translation. After leaving Laurentian, Woodsworth returned to research and to Concordia, where she was the university's president from 2008 to 2010.
In 2012, she resumed her duties as a full-time faculty member with the title of full professor in the Département d'études françaises.
"I've had a very long and varied career," she says. "The translation program was new when I joined Concordia, and it was a big challenge to get it up and running."
After having the program accredited by an outside body and introducing many different requirements and new courses, Woodsworth became vice-dean and department chair. She later held several senior administrative positions at universities across Canada, including president of Laurentian University, a bilingual university in Sudbury, Ontario.
Doug Parker, former vice-president of Laurentian University, remembers Woodsworth as a colleague with fondness. "I was delighted to work with her," he says. "Judith led with skill, aplomb and diplomacy, sought advice from others and had a good sense of humour."
"What really amazed me about Judith is that in her post-administrative career she turned her attention to research, and I think that's very admirable," Parker adds. Woodsworth's research has focused on French literature, translation theory and history, and literary translation.
As she looks back on her time at Concordia, Woodsworth is feeling grateful.
"Concordia always gave me the scope to go off in different directions, and it's the kind of place where you can be innovative and creative. I come to the end with a great sense of gratitude and pride in all that we've accomplished and how well my students and colleagues have done."
In her retirement, Woodsworth looks forward to spending more time curling and golfing, as well as delivering occasional lectures at translation schools and conferences internationally.

Register to attend the Imaginaires de la traduction event on April 1 and learn more about Concordia's Département d'études françaises.
---