The Concordia community rallies to help Ukrainian refugees
Faculty and students are gathering donations, raising awareness and even offering on-the-ground humanitarian aid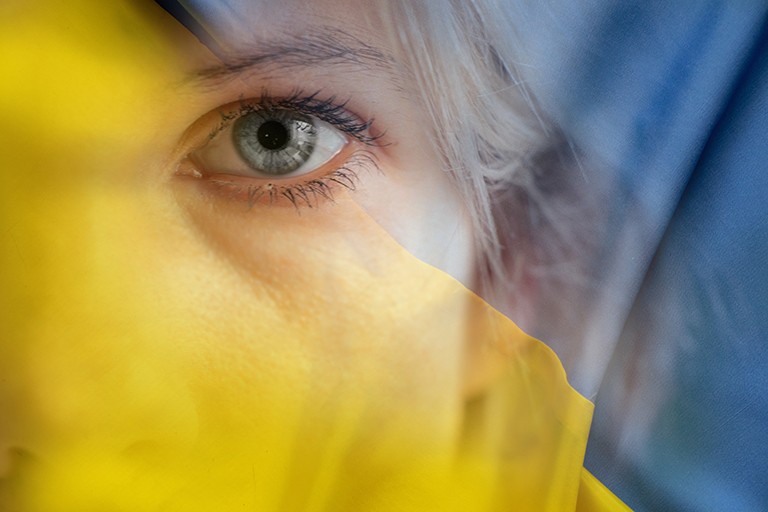 Olena Zamkovaya is a Concordia student of Ukrainian origin currently doing on-the-ground refugee support work.
In the weeks since Russia's invasion of Ukraine, many Concordians have lent their support to relief efforts for refugees.
Here are just some of the many activities community members have undertaken to address the unfolding humanitarian crisis:
Heading to the border
Olena Zamkovaya is an artist and art education student of Ukrainian origin. After the war began, she decided to leave for the Hungarian border with Ukraine to help refugees move to safety.
"Many people — mostly women and children — are in distress, disoriented, don't speak certain languages, lack finances and don't know where to go from there," Zamkovaya says. "I have competencies, training, hospitality experience and the ability to help."
With both Canadian and Ukrainian immigration documents, vaccines, knowledge of five languages, the ability to move easily throughout Europe and a solid understanding of refugee procedures, Zamkovaya says she is perfectly positioned. Her work at the border will likely consist of filling out refugee status papers, providing and directing people to transportation and shelter options and connecting refugees with other volunteers and organizations across Europe.
"What I will be doing could be very different, but it doesn't matter. I will do what needs to be done in the moment," Zamkovaya says. "If I can help even a few people in these hard times, I will be grateful and happy."
Zamkovaya has been documenting her journey on Facebook. She is also part of a student group organizing an art exhibition called FOSTERING DIALOGUE, set to open by March 21.
Using skills to raise funds
In collaboration with local artists, a group of students from Concordia created an online store called Rocket Relief to support Ukrainians. Customers can purchase clothing and other items with supportive imagery. Fifty per cent of profits will be donated to the Canadian Red Cross Ukraine aid efforts. Students artists can also submit their own designs.
Those behind the store include management student Calvin Erdstein, computation arts students Michael Sarlos and Yann-Maurice McNiven, and their colleague Callum McInnes. They say they decided to leverage technology, computational knowledge and design skills to do everything possible to help the communities in need by both gathering donations and raising awareness.
"We wanted to create a way to incentivize people to contribute to humanitarian relief in Ukraine while also providing well-designed apparel and creating a sense of community," Erdstein explains.
Resources for refugees
The Refugee Centre is offering an abundance of resources for Ukrainian students at Concordia.
The Concordia fee levy group and non-profit is dedicated to the integration of refugees and immigrants in Canada. It offers services such as language classes, employment, orientation, wellness support and legal and academic aid.
Currently, it is offering legal clinic services to Ukrainian students on campus. The centre has set up a specific email address (ukraine@therefugeecentre.org) for students who are trying to help their family or friends in Ukraine find their way to Canada through the government's new program for Ukrainian refugees.
Those in need can schedule a one-on-one meeting with the centre's lawyers, some of whom speak Ukrainian.
"We are also extending all our mental-health services and our legal services to international Ukrainian students who are now in Canada looking for help and exploring their options for seeking safety in Canada," says Abdulla Daoud, executive director of The Refugee Centre.
The organization also intends to release a guide on navigating the new pathways for Ukrainian refugees after the government announcement, expected on March 17.
Community support
Several faculty members and departments across the university have also been doing their part to support Ukraine.
For example, students involved in the Concordia Department of Theatre's production of RAGE: Oresteia will be accepting items for the Welcome Collective in the DB Clarke Theatre lobby at all performances of the play, which runs from March 16 to 19.
The collective supports refugee claimants in the most precarious situations — single-parent families, large families, families with pregnancies, individuals with disabilities and unaccompanied minors.
Dmitry Korotkin, professor in the Department of Mathematics and Statistics, is directly encouraging his students to donate. As a Russian citizen, he says he felt compelled to ask students to follow his lead in donating to Canadian Red Cross assistance in Ukraine. He received a positive response from the Concordia community across the board.
"I was extremely shocked and ashamed by this tragedy, so I started thinking about possible ways to help Ukrainians," Korotkin says. "After donating to one of the relief funds myself, I decided that it was not enough. I reached out to some of my Russian friends, then to our department and students in my classes."
The Government of Canada has committed to doubling any individual donations to the Red Cross Ukrainian relief effort, up to $10 million, until March 18.

Find out more about Concordia's commitment to supporting those impacted by the war in Ukraine.
---