Indigenous Concordians mark a year of resilience
The Otsenhákta Student Centre celebrates 35 First Nations, Inuit and Métis graduates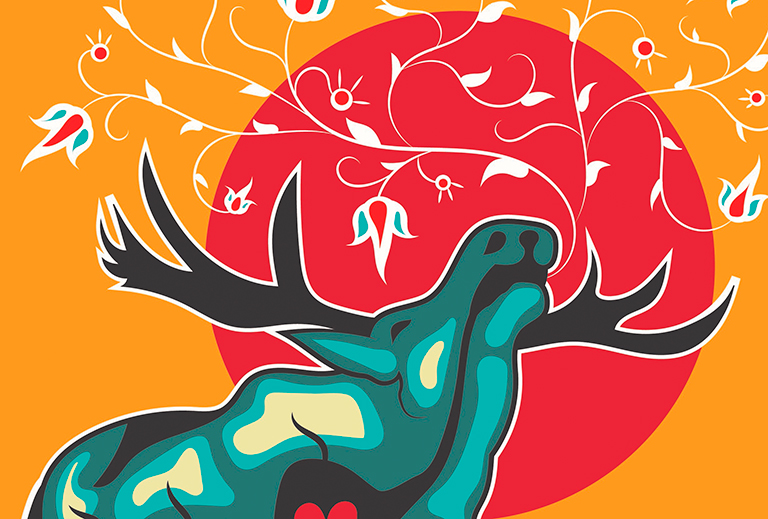 Artwork by Hunter Dewache
Concordia and the Otsenhákta Student Centre (OSC) are recognizing 35 First Nations, Inuit and Métis graduates in a virtual Indigenous Graduation Celebration on June 16.
The digital event — organized by the OSC — is being held in lieu of their annual in-person graduation gathering for the second year in a row due to public health restrictions related to the ongoing COVID-19 pandemic.
A year of challenge and resiliency
This year's cohort of graduating students is very distinctive, according to Vicky Boldo, the OSC's in-house cultural support worker and in-house Elder.
"Beyond finishing their respective programs online, these students were not able to benefit from the numerous important in-person services, gatherings and ceremonies normally offered by the centre," Boldo notes.
Despite the restrictions, throughout the year the OSC virtually delivered all its services as well as important community-building cultural activities.
The centre hosted an online feast in the fall term with Charlie Otsi'tsaken:ra Patton, an elder from Kahnawá:ke.
"The fall is the traditional time of harvest. Charlie reminded students that every day should be a personal harvest, a time to give thanks and reflect on our personal lives," Boldo says.
The term wrapped up with Ryan McMahon, an Anishinaabe comedian, podcaster and writer from the Couchiching First Nation, doing a Zoom comedy show for students. Boldo says the event was "really appreciated and good medicine!"
The winter term was also quite busy, with the official renaming of the Aboriginal Student Resource Centre to the Otsenhákta Student Centre as well as numerous student and alumni virtual showcases of art and music.
And resiliency went beyond the challenges of remote learning.
The academic year was marked by continued examples of overt and systemic racism against Indigenous peoples in Canada. High-profile cases such as Joyce Echaquan's death in a Joliette, Quebec, hospital; the trial surrounding the murder of Barbara Kentner in Thunder Bay, Ontario; and the recent discovery of the bodies of 215 children at a formal residential school in Kamloops, British Columbia, were ever-present.
"These events deeply affect our students. We have students at Concordia who are the first generation in their families to not attend residential school," Boldo explains.
"Some were able to come together, respecting social distancing for learning and some ceremony either through the student-led Moosehide Tanning project, the land-based education retreat in Kahnawake in March or the Land as our Teacher Summer Institute at the beginning of June," she says.
"We also offered an online exclusive screening of Eden Robinson's Monkey Beach in collaboration with ImagineNative for the end of term in May."
Her admiration for this year's graduating class runs deep.
"I admire their determination and perseverance. They push through with integrity and know when to reach out, and the peer support I've witnessed between students speaks to their sense of responsibility and commitment to community. They are really strong, excellent leaders."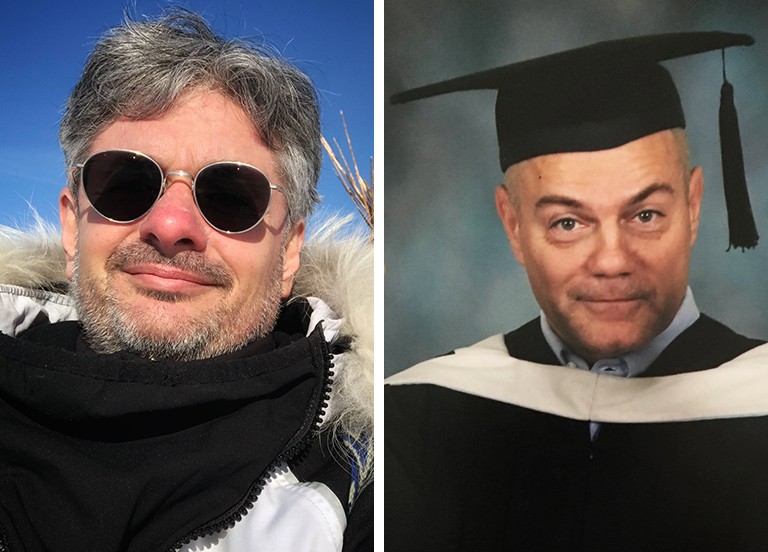 Jean-Marc Duchesne and Robbie Dillon
Meet 2 of this year's distinguished graduates
Jean-Marc Duchesne
Algonquin, Innu and Métis
BFA, Specialization in Art Education – Visual Arts
What were some of the highlights from your time at Concordia?
As a former student who returned to university after 30-plus years to earn an additional bachelor's degree and teaching license, my experience was in many ways nostalgic yet excitingly different. Highlights included having the ability to access documentation from a computer, submitting work through Moodle and connecting with students and professors online: something that wasn't even remotely possible in the '80s!
Also, returning to work in the studio spaces at the Visual Arts Building for painting, foundry and sculpture was some of my most unforgettable time spent creating.
How has the OSC played a role in your life at Concordia?
I only discovered the OSC a couple of years into my degree. It was a centre that I witnessed as essential to fellow Indigenous students who weren't familiar with big-city campus life. What I enjoyed most was simply dropping in and connecting with students in the lounge area, reading a book from the collection or being able to promptly get answers to any question. I really enjoyed the whole atmosphere of the place; I felt at home.
What's next for you after graduation?
Now that I have my Quebec teaching license, I have already begun to teach secondary-level media arts and visual arts at James Bay Eeyou School in the Cree Nation of Chisasibi, Quebec. I plan to continue to work with the Cree School Board and possibly later take another sabbatical to pursue an MFA.
Robbie Dillon
Kanehsatà:ke Mohawk Wolf Clan
MA, Philosophy
What were some of the highlights from your time at Concordia?
Concordia has a long history of inclusivity. Whenever I see someone who might have been excluded from a more elitist institution awakening to their full potential, it is the highlight of my day.
How has the OSC played a role in your life at Concordia?
The university is a foreign and intimidating place for many people. For those from Indigenous backgrounds, the culture shock can be overwhelming. The OSC provides a space where we are welcomed and made to feel like we "belong" at the university.
What's next for you after graduation?
Now that I have graduated, I intend to pursue a PhD through Concordia's INDI Program. Learning is a lifelong pursuit.

Learn more about Concordia's 35 Indigenous Concordia graduates.
---