Concordia students place 19th among North American Model UN teams
Despite the pivot to an online platform, the university's participants in the United Nations program have their best year yet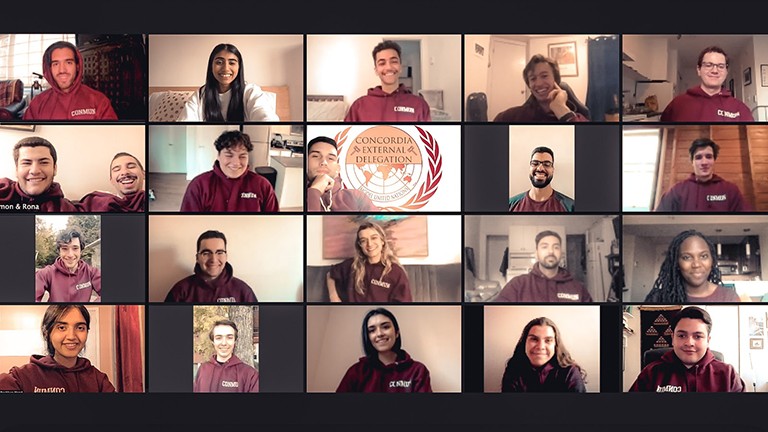 Concordia's Model UN (CONMUN) team has placed 19th in the Best Delegate rankings among the World Division of Model UN college teams. This ranking positions CONMUN among some of the most prestigious institutions in North America and is its highest position yet.
Alexi Dubois, president of the Concordia External Delegation, says team members are proud of all the hard work they put in this year.
Despite their inability to meet in person, the students received several awards throughout the season as well as coming through with this strong finish.
"It's one of the only opportunities at the school to go head-to-head with Ivy Leagues and teams with hundreds and thousands more in budget," Dubois notes. "To be ranked 19th in North America is really amazing."
Pushing personal development
By taking part in Model UN, a program designed to build and maintain links between students and the United Nations, participants develop a set of interpersonal skills, notably public speaking. UN simulation competitions involve delegates in committees debating on various hypothetical political situations.
"A large part of Model UN is to express your point of view, but you also learn diplomacy skills and to engage with subjects you don't normally touch in class," Dubois explains.
"Being in a room with hundreds of people you've never met before, even if it's a Zoom room, you have to figure out how to convince them why your arguments are more valid," he adds. "So it's not about being the loudest speaker, but rather being the most persuasive."
Due to the online pivot, Dubois says participants learned to overcome different sets of challenges from what they would have faced in-person. This year, their biggest obstacle was having sufficient motivation.
"The online scene is totally different and can be demotivating for a lot of people because you don't have that same social attraction," Dubois says.
Ordinarily, by participating in Model UN, students get the chance to meet people from different institutions across North America, socialize and celebrate after long hours of work.
"When it's in-person, a trip to New York, for instance, is motivation in itself. But to ask someone after a week of classes online to sit in front of the computer for 20 more hours during the weekend — it is not the easiest," Dubois says.
"It was a lot of hard work. But with people putting hours into training programs, late Zoom meetings, giving each other helping hands and a great team spirit, we were able to get through."
CONMUN as a rising power
Along with the success of this year's delegation team, Concordia's own conference, CONMUN, had its highest attendance ever with more than 200 participants in March.
The virtual conference tied for the seventh hardest in the world and was ranked equally to YUMUNC, hosted by Yale University.
"I was amazed to see how we were ranked this year, and how we were in equal standing with some of the most prestigious conferences," Dubois says.
"With most delegates returning next year, we will hopefully keep climbing up the ladder. But even maintaining that equal standing would be a huge challenge and accomplishment."

Find out how to get involved in CONMUN, Concordia's Model UN team.
---