Social distancing events provide safe meeting opportunities for students, faculty and staff
Book on-campus spaces for academic and student-focussed activities starting March 8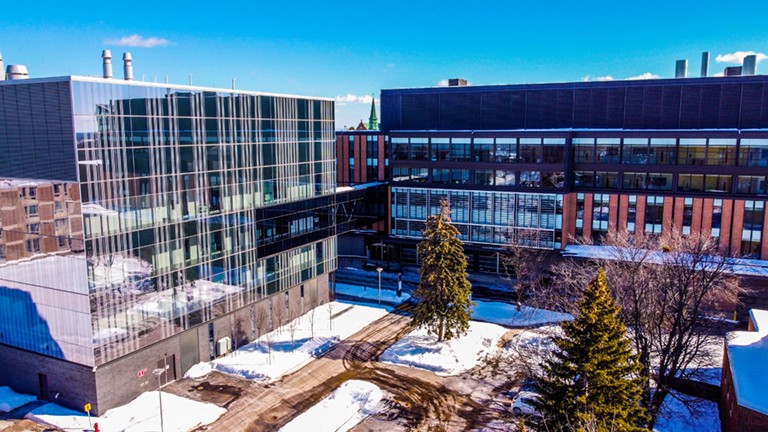 AUGUST 20 UPDATE: All bookings for social-distancing activities are suspended until further notice.
Interested in meeting on campus? Starting on March 8, students, faculty and staff can book spaces for social-distancing activities (SDA) on both campuses.
Bookings must be made a minimum of three business days in advance of the scheduled activity for one of two daily available timeslots. Space can be booked from 9 a.m. to noon or from 1 to 4 p.m.
With the Government of Quebec easing some restrictions for postsecondary institutions, on-campus social distancing activities can help reduce the sense of isolation felt by many Concordians.
"Virtual collaboration technologies have enabled us to continue teaching, learning and working online. But on-campus social distancing activities are one way that Concordia is helping students, faculty and staff combat the effects of social isolation," says Anne Whitelaw, interim provost and vice-president, academic.
"We know that many of our students miss the social connections and exchanges that are part of the university experience and that this may be one of the biggest challenges of our largely remote environment," she says.
"As we continue to navigate life during the pandemic, this is one way of helping Concordians wishing to re-establish a sense of human connection while maintaining our focus on the health, safety and the well-being of our community."
Social distancing spaces have been carefully configured to enable participants to maintain a distance of at least two metres from others and will be sanitized between bookings to help reduce the risk of COVID-19 transmission.
Social distancing activities can be held on both campuses
Available on the Sir George Williams and Loyola campuses, SDA spaces can be reserved by faculty, staff and booking officers from registered student groups for one of two morning or afternoon timeslots.
Concordia students who wish to reserve spaces for SDA activities may do so with the assistance of a booking officer from a registered student group.
The planned activities must be student-centred and exclude the use of spaces to hold classes on campus. Spaces are reserved for use by faculty, staff and students.
For a list of spaces and permissible social distancing activities, visit Hospitality Concordia's space reservation page.
As a reminder, Concordia offers services for its students, faculty and staff that include medical care, mental health resources and other supports that can be accessed by visiting the university's Health and Wellness hub.
For additional health and safety information while on campus, visit the coronavirus safety program page.
For booking concerns or questions, email hospitality.booking@concordia.ca.

Make a social-distancing activity space reservation at Concordia today.
---