Press play on these captivating Concordia podcasts
Discover 10 series that explore urban issues, online games, the local impacts of climate change and more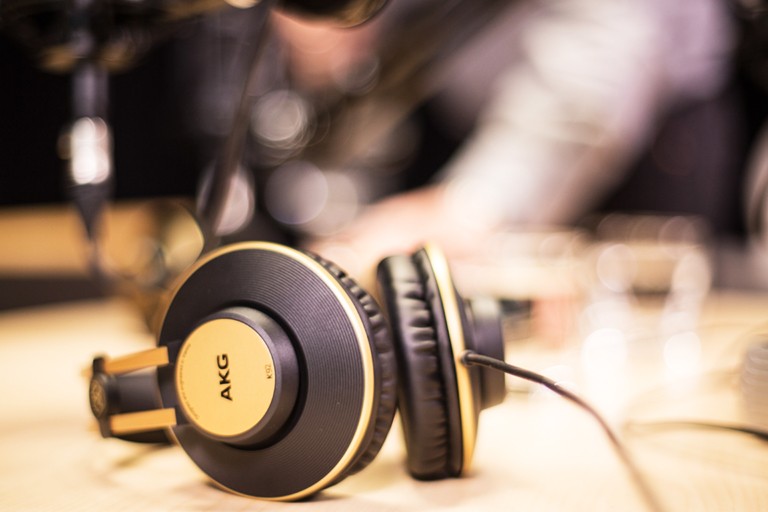 Need something to listen to on a walk or while you're making dinner? Check out these podcasts from Concordia students, faculty and staff. Whether you're looking for thoughtful discussions on art and culture, advice on how to be a more sustainable human or you just want to be transported to another part of the world, this collection has something for every listener.
4TH SPACE Concordia and Black Perspectives Live podcasts
The 4TH SPACE Concordia podcast showcases conversations and interviews that allow for deep dives into research questions, university-wide initiatives and knowledge-sharing.
In collaboration with Concordia's Black Perspectives Office and 4TH SPACE, the Black Perspectives Live podcast series highlights the impactful voices and knowledge from members of Black communities across the university and beyond. It builds on the mobilization and congregation around Black advocacy that have taken place in the last year and aims to foster this continued collective engagement. The podcasts are also available on Apple and Spotify.
ALFA Relations
In the first season of ALFA Relations, Concordia applied human sciences students Luca De Angelis, Allen West and Alex Antonucci host a series of thought-provoking discussions around societal change and personal growth. The podcast touches on overcoming anxiety and fear, change evolution, intimacy, group development and more. The trio share their own experiences as well as profile experts such as psychologist and speaker Ron Thiessen, applied human sciences lecturer Timothy Farmer and community outreach pastor Graeme Dyck.
The Blooming Human
Want to make eco-friendly changes in your life but unsure where to start? The Blooming Human podcast is here to help. It aims to reconnect listeners with nature and help them make "more conscious decisions for our planet, communities and our species." Concordia industrial engineering student Miguel Del Pino and HEC Montréal management and sustainability student Andrea Cantin use the podcast to highlight successful examples from individuals, organizations and cities. Tune in for discussions on making daily sustainable changes, closed-loop recyclable yoga mats, empowering Indigenous communities in the fight against climate change and more.
The New Face of Online Games / Le nouveau visage des jeux en ligne
Concordia's Research Team on Lifestyle and Multidisciplinary Research (HERMES) launched its podcast series on emerging hybrid games in late 2020. In the French-language series, HERMES researchers delve into the "blurred boundaries" between online gaming and gambling by focusing on free-to-play online games and the role they play in users' lives, as well as the business model behind them.
The series contains larger thematic episodes as well as "minisodes" that get into greater detail on topics discussed through the series. The first released minisode focuses on the game Candy Crush.
Off Bishop Street
Hosted and produced by Department of Theological Studies graduate student Scott Royle, Off Bishop Street profiles theology scholars and students from at home and abroad. In wide-ranging interviews, Royle chats with guests about their early lives, religious beliefs and academic histories, as well as their current research interests.
Notable interviewees include André Gagné, Concordia theological studies professor, who discusses his time in the church and ongoing research into far-right religious movements; and Sara Parks, a University of Nottingham research fellow who grew up in Atlantic Canada, who talks about feminist interpretations of theological ideas.
Pilgrimage Stories From Up and Down the Staircase
"Every pilgrimage needs a shrine and every pilgrim a destination," says Matthew Anderson, Concordia affiliate professor of theological studies, in the first episode of this series. "Given these unusual times and the circumstances we're all going through during COVID-19, my shrine these last few weeks has turned out to be the top of my stairs."
Part flâneur's guide, part theological study, Anderson's podcast recounts past pilgrimages while climbing up and down the 13 stairs in his semi-detached East Midlands, United Kingdom, house. Join him on his walks, learning about the St. Olav Ways in Norway, St. Cuthbert's Way in Scotland, the footpath between Old Montreal and Kahnawà:ke Mohawk First Nation and more.m.
Talking TESL
Talking TESL (Teaching English as a Second Language) is the official podcast of the Department of Education's TESL Resource Centre. This podcast aims to bring together Concordia's TESL community together in discussion about topics of interest in the TESL field. Episodes feature interviews with four different figures in the TESL community: the ESL Learner, the Teacher, the Specialist, and the TESL Student. Guests discuss their teaching and learning experiences, their subjects of expertise, and how to navigate and thrive in the TESL program.
Thinking Out Loud
In the mood for in-depth discussions on everything from Leonard Cohen to crime and chemistry to Indigenous cultures? Look no further than Thinking Out Loud, the Concordia podcast that draws connections between university research and public interests. Each episode, taped live and unscripted at Thinking Out Loud events or at Concordia's Studio C, features university faculty and alumni. After making your way through the 18 episodes, check out TOL 2067, a podcast mini-series about the future.
Bonus track: Zone Rouge
Concordia radio station CJLO's eight-part documentary series looks at how the climate crisis will impact Montreal in the form of longer heat waves, more flooding and the changes to local species. Created by CJLO's audio resident Moira Donovan and production assistant Zoe Bailly-Stetson, Zone Rouge looks at how Montrealers are dealing with challenges posed by climate change with "resilience and creativity."
The series, which is part of a larger project called Sounds In Our Changing World, began airing on CJLO 1690AM in December and is available to stream online at cjlo.com.

Check out the Concordia research podcast Thinking Out Loud.
---