From planetary rovers to emergent media: 5 Concordia profs are renewed as Canada Research Chairs
Academics across 3 faculties will continue their work as part of the eminent national program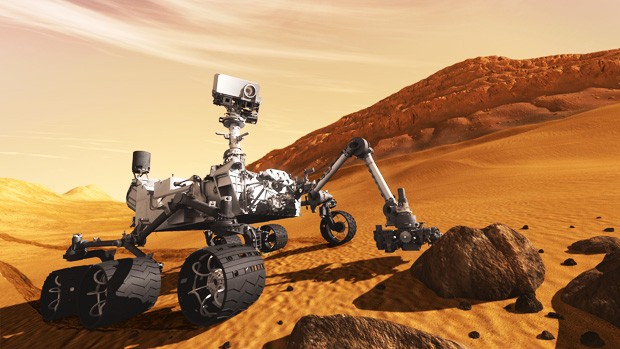 Krzysztof Skonieczny studies space robots with an objective to develop AI for planetary rovers.
Concordia professors in surface engineering, poetics, microbial genomics, emergent media and aerospace robotics have had their Canada Research Chairs (CRCs) renewed. The Government of Canada announced the renewals in December as part of its investment in the prestigious program.
Christian Moreau, professor of mechanical, industrial and aerospace engineering, and Malcolm Whiteway, professor of biology, will have their Tier 1 chairs renewed for another seven years. Nathan Brown, associate professor of English, Joshua Neves, associate professor of cinema, and Krzysztof Skonieczny, associate professor in electrical and computer engineering, will have their Tier 2 chairs extended for five years.
The CRC program was created to support exceptional academic research and training at Canadian colleges and universities, and to attract and retain world-class researchers to the country. Concordia currently has 28 Canada Research Chairs.
"We're thrilled to have Concordia researchers so well represented in the Canada Research Chairs program," says Paula Wood-Adams, interim vice-president of research and graduate studies. "These researchers are outstanding leaders in their fields. They play an essential role in broadening our collective knowledge, strengthening the university's teaching and training capacities and making Concordia a next-generation university."
Here are the five renewed CRCs and their research areas:
Christian Moreau
Department of Mechanical, Industrial and Aerospace Engineering
Canada Research Chair in Thermal Spray and Surface Engineering (Tier 1)
Moreau's research aims to create more energy-efficient and durable coatings and surfaces for the aerospace and automotive industries, as well as other sectors. With a strong sustainability focus, Moreau is creating more foundational knowledge of suspension thermal spray, liquid-accelerated cold spray and aerosol deposition processes and control. This work uses multidisciplinary techniques such as optical diagnostics, artificial intelligence (AI) and computational fluid dynamics.
Malcolm Whiteway
Department of Biology
Canada Research Chair in Microbial Genomics (Tier 1)
Whiteway's research is aimed at increasing our understanding of the Candida albicans fungal pathogen — the most prevalent cause of fungal infections in people — and improving treatments for related infections. Whiteway and his team are establishing transcription networks of the C. albicans yeast pathogen and comparing them with those of another yeast species called Saccharomyces cerevisiae. They hope to identify common circuits between the organisms and ones that are unique to each, as well as circuits that control distinct processes in each fungus.
Nathan Brown
Department of English
Canada Research Chair in Poetics (Tier 2)
Brown researches the relationship between poetry and the practices of making and concepts of form in the arts and sciences. His work is meant to inform the study of contemporary poetry by digging into the history of interdisciplinary poetics. Students and faculty experiment with new approaches to poetic production, including through print-making, film, video, photography, 3D printing and digital textuality.
Joshua Neves
Mel Hoppenheim School of Cinema
Canada Research Chair in Global Emergent Media (Tier 2)
How do global and emergent media change the way we understand culture, knowledge and politics? Neves explores this question in his research, which focuses on new media technologies and circulatory networks, as well as the need to expand our understanding of those new technologies beyond Western knowledge and contexts. His research is meant to offer a new way to understand the media cultures that shape our world and encourage us to reconsider how members of society produce and share information, educate students and engage with government officials.
Krzysztof Skonieczny
Department of Electrical and Computer Engineering
Canada Research Chair in Aerospace Robotics (Tier 2)
Skonieczny studies space robots and how they drive on and dig into terrain and process granular materials, with an objective to develop AI for planetary rovers. Robotic space exploration is increasingly focusing on more extreme terrains — asteroids, the moon and Mars. Skonieczny's research into how robots interact with these terrains could improve the chances for success and enable Canadian lunar rovers to conduct comparative driving operations on the moon through the Canadian Space Agency's Lunar Exploration Accelerator Program.

Find out more about research at Concordia.
---