New classrooms and study locations coming to Concordia's Faubourg Building
Despite the challenges of construction during the COVID-19 pandemic, collaborators begin work to reclaim a subterranean space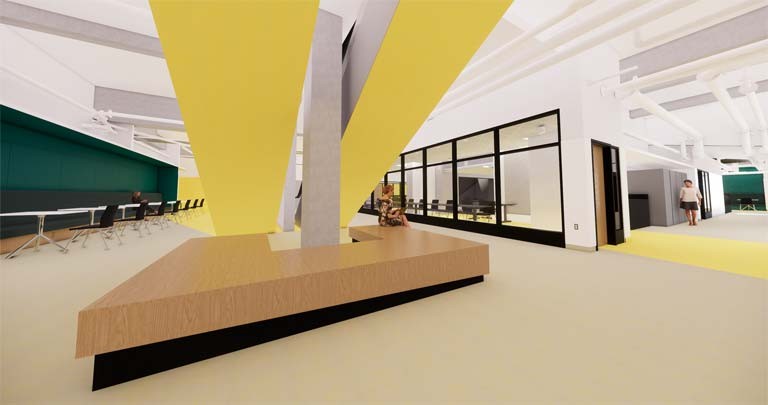 Images courtesy of BARIN architecture + design
While Concordia researchers analyze and reimagine next-generation cities, the university's Facilities Management team works to create new, practical urban spaces for those same academics and their students.
The newest example is now underway belowground at the corner of Guy and Ste. Catherine streets in Quartier Concordia. Despite the challenge of construction work during the COVID-19 crisis, the university is transforming the basement of the Faubourg Building (FB) from a semi-vacant, technical and commercial space into bright, open, modern areas for courses and group study. It will be ready before the fall 2021 term.
The initial planning for the new space began at Concordia, overseen by facilities planner Julie Riverin.
"Julie began by seeking to understand the needs of students and instructors, working with the Office of the Registrar," says colleague Caroline Elias, project manager with Facilities Management.
"At the same time, she looked for solutions to some of the space's challenges: it's underground, it has some areas of lower ceilings for mechanical, plumbing and electrical equipment, and it needed a full rethink to meet current and future teaching requirements."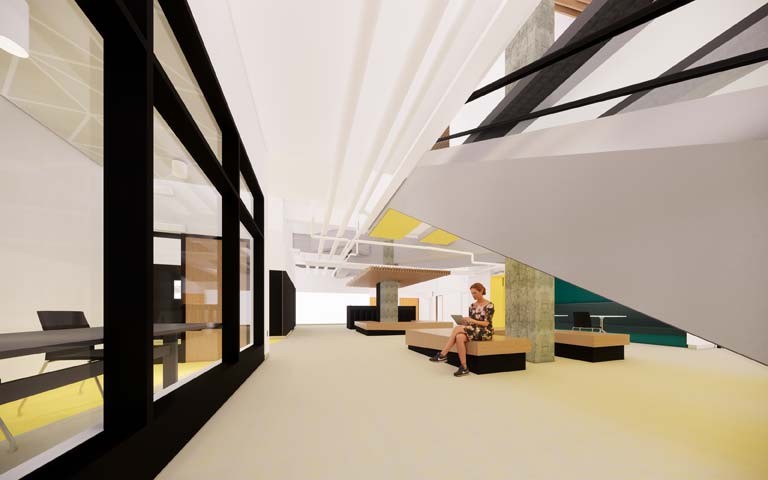 Six bright classrooms and spaces to collaborate
The space needs to be quiet enough for classes and study, despite being right under a busy section of the downtown core. There are also audio-visual requirements for all modern classes. In addition, rooms need to feel spacious and bright, regardless of the lack of natural light.
"Through collaboration with Concordia experts and external specialists, we came up with effective strategies to lighten the space. When people walk in, we think they'll forget they're in a basement," says Alejandro Ortega Stark, director of architectural coordination at BARIN Architecture + Design.
The firm has over a decade of experience in institutional projects ranging from lively primary schools to complex hospitals. This second project with Concordia came with challenges resolved through great communication, according to Ortega Stark and his colleague Natalie Bérubé, senior architect and partner at BARIN.
"This project is the result of significant collaboration: in addition to all the in-house expertise at Concordia, we sought the advice of external acoustics experts and lighting designers," says Bérubé.
Elias adds that the architects at BARIN and the engineers at EXP also realized "an incredible feat in cleaning up all of the services no longer needed in the ceiling space. And that coordination work will continue during the entire construction process."
The main entrance to the new space will be from the corner of Ste. Catherine and Guy streets, once the access to a pool hall and bowling area. At the foot of an escalator, students will find six classrooms and four closed study spaces that they can reserve for group work, like what is found in the R. Howard Webster Library.
They will also have access to study alcoves where they can lay down their bags and get a little work done — a type of space for which demand keeps growing.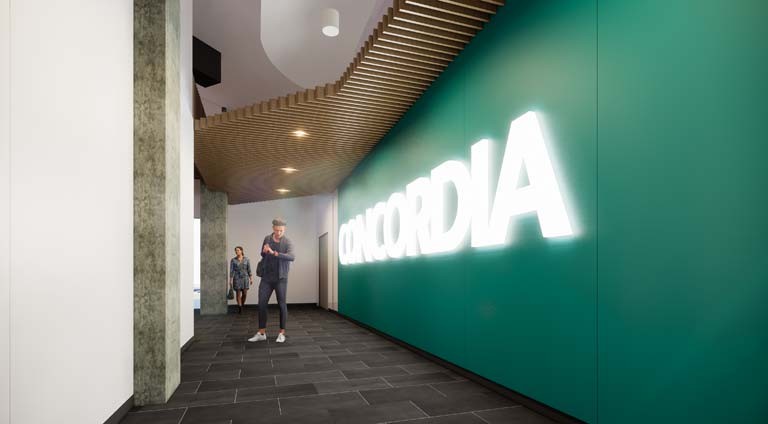 More inclusive washrooms
The new FB space will also provide another opportunity to test fully inclusive washrooms, like the ones in the Learning Square or those being built on the sixth floor of the Henry F. Hall Building. Washrooms in the new FB space will be gender-neutral and wheelchair accessible.
For those who prefer to use individual washrooms, they will be available to Concordians with their ID cards.
If all goes according to plan, the new FB spaces will be delivered in the summer of 2021 — in time for one of the next phases of major renovations to the Hall Building. The flagship Sir George Williams Campus facility will see more of its classrooms undergo full redesigns.
"One thing we love about working with Concordia is that there is an appreciation for good design, but also for good quality, durable materials," says Bérubé.
"That's not something you'll find in all clients. Here, we're working with people who want to make sure that elements stand the test of time. As architects, we really appreciate that."
As for what the Concordia community is likely to appreciate most, the new space will be a demonstration of innovative and sustainable design, centred on the needs of students, collaborating both inside and outside class.

Find out more about Concordia's buildings.
---