Concordia's Experiential Learning Office commits $259,000 for online placements
Hands-on opportunities remain extremely valuable for students during the COVID-19 pandemic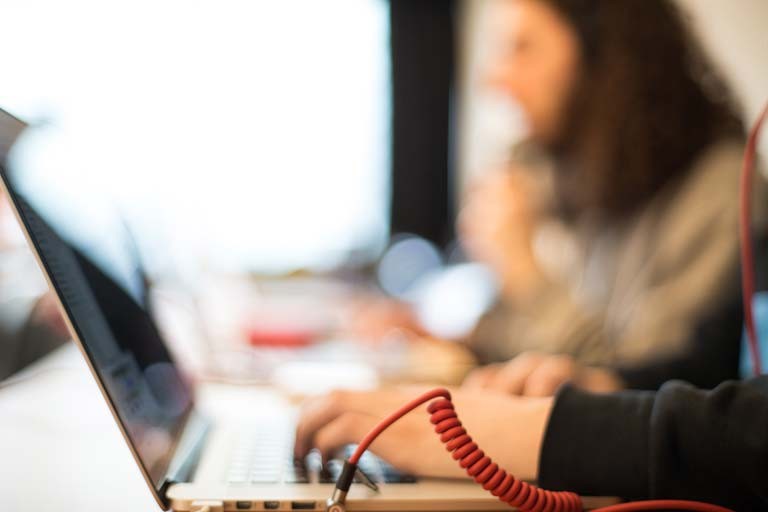 Concordia's Experiential Learning Office is providing $259,000 in funding to support online internship opportunities during the COVID-19 emergency. The initiative is part of the university's mission to broaden access to high-impact forms of experiential learning (EL), with the ultimate goal of seeing every student graduate with at least one EL experience, whether online or in-person.
Students are still able to get valuable experience with remote placements during the COVID-19 crisis. Making such opportunities available is especially relevant as universities attempt to facilitate physical distancing in all areas of learning.
Since the campus closures, the Experiential Learning Office has worked carefully with faculty and staff across the university, as well as industry and community partners, governments and funding agencies, to create opportunities remotely for students whose placements have been cancelled due to the crisis.
The office is also providing funds to support students in these placements.
Innovating remotely during the COVID-19 pandemic
"Experiential learning opportunities are still available and diverse in the time of COVID-19," says Nadia Bhuiyan, vice-provost of partnerships and experiential learning. "It's been incredible working with so many different people and seeing how quickly everyone rallied to help our students."
She adds that these opportunities are as critical as ever. "And while the real hands-on experience is unbeatable, we are trying to be as creative as we can in the current reality to ensure that our students get the best experience possible and are still afforded the opportunity to apply their knowledge."
Alex Megelas, programs and communications coordinator at Concordia's Office of Community Engagement (OCE), says his unit is also mobilized in coordinating online EL opportunities for students.
"As part of its commitment to supporting student learning, the OCE has matched dozens of students in remote placements throughout community groups Montreal-wide," he explains.
"Students are still getting access to the kinds of powerful educational experiences and critical perspectives that usually stem from hands-on learning. They are also able to substantially contribute to work done by community groups providing needed services during the pandemic. So, for us, this is experiential learning at its best."
The benefits of EL are multifaceted
Experiential learning bridges the gap between theory and practice, allowing students to participate in concrete activities related to their studies, either on campus, within the community or in the workplace.
Students develop an increased sense of preparedness for life and work through EL. By combining lived experiences with reflection and analysis, they are able to contextualize learning in class and internalize knowledge more profoundly than in a traditional lecture-based course.
EL increases students' motivation to learn, boosts self-esteem, strengthens capacities for leadership and heightens engagement in school and at work.
It also enhances students' acquisition of professional and transferable skills, such as communication, critical thinking, problem-solving and autonomous learning, while helping them build resumés and networks and pursue their career aspirations in tangible ways.
EL is voted best way to improve learning
A Concordia survey asked students to rank 10 items in terms of how they could improve their learning — and EL came back as number one. Furthermore, roughly 40 per cent of undergraduates reported participating in forms of experiential learning and another 20 per cent plan to do so.
Spiro Tsolakis is a John Molson School of Business (JMSB) undergrad student majoring in marketing who is part of Concordia's Institute for Co-operative Education. He says EL helped him gain relevant work experience in the forms of internships and paid part-time work, which also made him more financially independent.
"Despite the fact I worked in very different roles, I was able to apply the hard and soft skills from one role to the next."
Tsolakis continues to work in an online setting and says it has helped him adjust to the reality of remote working. "My online EL experiences helped me get into the rhythm of applying knowledge creatively and across boundaries."
For his current Co-op internship, the EL Office set him up with a part-time position as a communications assistant with university partner ACCÉSSS. He has also worked for two years as a social media assistant for JMSB.
In 2019, the Canadian University Survey Consortium polled 46 universities across Canada. More than 18,000 first-year students indicated that, after program availability, co-op, practicum or other work experience opportunities were their top-ranked factor when choosing a school.
And it's not just students and teachers who recognize EL's importance, but employers and governments, too. In fact, 80 per cent of employers say co-op and internship students are a source of new talent and potential employees.
EL Office, website and roadmap
To coordinate its ever-expanding EL offerings, Concordia has created the Experiential Learning Office and website to support and communicate activities across the university and with partner organizations, organize workshops and offer any services departments and programs may need.
The online EL roadmap is also an important tool that allows students to browse potential opportunities and create a personal EL program to complement their studies.

Find out more about Concordia's Experiential Learning Office and the Office of Community Engagement.
---