Concordia celebrates the many accomplishments of this year's Co-op students
The annual recognition event and student showcase moves online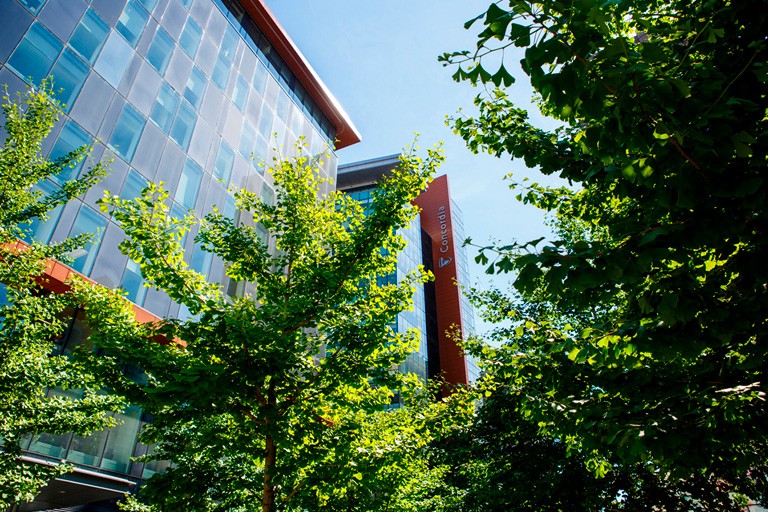 Concordia's Institute for Co-operative Education hosted a virtual edition of its annual awards and student showcase this week.
The 2020 Co-op Awards of Recognition Event (CARE) winners were announced online on May 21, alongside a virtual Co-op showcase featuring a variety of student experiences. In lieu of the in-person event, cancelled due to the COVID-19 pandemic, some of the students and award winners recorded their reflections on their internship experiences in personal videos that were shared digitally with the public.
This year's showcase features 21 Co-op ambassadors — one student representing each undergraduate and graduate program involved. At the 2019 edition of CARE, more than $18,500 was awarded to outstanding students who went beyond the program's requirements. This time around, the institute recognized 24 Co-op award winners.
Different format, same goals
Though online, the showcase celebrates and promotes Concordia's Co-op programs the same as any other year. It visually demonstrates the impact that academic and experiential learning have on one another, as well as recognizes student accomplishments.
"With great pride, we recognize the emerging leadership, community initiative and excellence of our students," says Concordia President Graham Carr.
"And, along with them, we acknowledge the employers who made this possible through work placements for talented, creative and hard-working Concordians. My heartfelt congratulations to all of our honourees."
The showcase also encourages new employment opportunities by facilitating networking between students, faculty, alumni, administration and employers.
"Concordia spares no efforts in making the very best work-integrated learning opportunities available in a broad diversity of fields and organizations," says Claude Martel, director of the institute. "The Co-op program acts as an essential tool of development for students, as well as an important talent pool for employers."
Personal and professional growth
One of this year's award winners is Concordia industrial engineering student Cynthia Ferullo, who was granted the Emerging Leaders Award for Undergraduate Co-op Students.
"Being part of Co-op was amazing," Ferullo says. "The fact that I got to have two relevant work experiences before I even graduated really set me apart. It also helped me decide what I wanted to do as a full-time career."
She adds that her work terms helped her grow on both a social and professional level.
"I felt like I could graduate ready to be an engineer and add value right away at my first job," Ferullo says. "That alone made Co-op so worth it."
Marketing student Linh Tran, this year's winner of the Chenfeng Huang Memorial Scholarship Award, says that her Co-op experiences also played a role in her self-development journey.
"I started as a shy and introverted girl in my first internship," Tran notes. "The work experiences helped me to gradually learn how to become more confident, better accomplish my job and become part of the team."
For Melina Lau, one of the biggest takeaways from her Co-op journey as an English-to-French translation student was bridging the gap between the classroom and the workplace through hands-on experience. This year, Lau is the winner of the Alexandre Quintal Co-op Student of the Year Award.
"From the very beginning, I was encouraged to think not like an intern but like a full-fledged employee," Lau says. "I'm proud of all the progress I've accomplished toward becoming a better translator and a more well-rounded person."
'Challenge yourself'
Concordia's Co-op program helps students in all four academic faculties find diverse internship opportunities, directing them to more than 3,000 job postings annually.
In the last year, MBA student and 2020 Co-op Mentorship Award winner Pratyush Mazumdar had the opportunity to participate in two Co-op work terms. According to Mazumdar, they allowed him to gain considerable knowledge and experience in his field.
"The work terms also gave me an opportunity to network with some of the most experienced and amazing people," he says. "It was a highly enriching experience for me."
Along with Mazumdar, former economics student and Co-op Alumni Award winner Rahul Sudarshan, BA 10, encourages his peers to get actively involved with the institute.
"My advice to students is to challenge yourself," Sudarshan says. "Leverage the expertise of the Co-op faculty and the experience that you have gained during your Co-op work terms."
Now working in the aviation industry, Sudarshan says his work terms helped him learn the relevant technical, analytical and management skills that were crucial in landing his position.
"The Co-op faculty supported me by identifying interesting internship experiences that fortified my career goals."


Find out more about Concordia's Institute for Co-operative Education and watch the award-winners present at the 2020 Co-op Awards of Recognition Event.
---