3,000+ experiential learners: Concordia Co-op celebrates another banner year
18 students receive more than $12,500 in awards and scholarships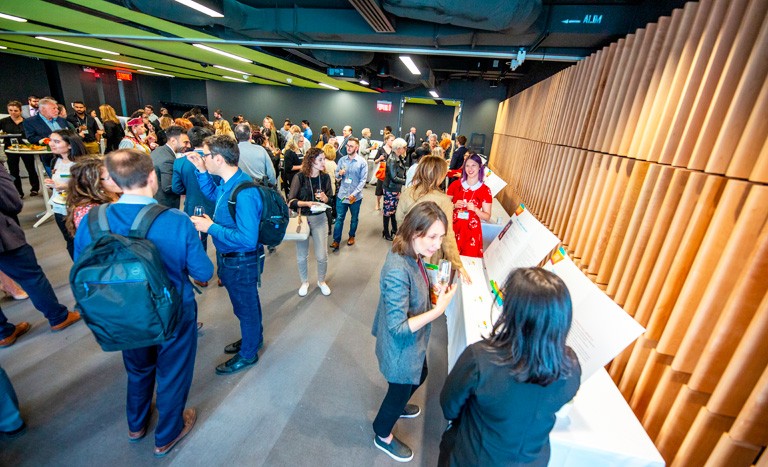 The job titles are impressive — airplane systems designer, researcher in the particle physics of dark matter, junior machine learning engineer. But just how much experience does it take to land positions like these?
Thankfully for Concordia students, that experience is accessible through the university's Institute for Co-operative Education.
On May 21, the annual Co-op Awards of Recognition Event (CARE) celebrated students and employers who go beyond the program's requirements. Claude Martel, director of Co-op, started the evening by comparing today's internship landscape with what was available some 25 years ago.
"When I started, companies needed somebody to do the books or something very simple," he said. "Now, what we have is really the next generation of worker. It's a new world for this talent that's coming out."
Concordia's Co-op program has over 3,000 active student members. Eighteen of them will benefit from more than $12,500 in awards and scholarships announced throughout the evening. Co-op also conferred special recognition trophies to four exceptional employers and seven supervisors.
Prior to the awards ceremony, during the Co-op Showcase, 24 undergraduate and graduate students presented posters detailing their internship experiences.
CEO shadowing
Co-op dedicated a special portion of the evening to its new CEO shadowing program. The experiential learning initiative started in January. It provides five graduate students from the John Molson School of Business MBA Program with an opportunity to spend between 12 and 15 weeks working with a CEO of a small or medium-sized enterprise.
Eric Saint-Jacques, CEO of GGI Solutions in Montreal, and MBA student Vikram Vetagiri spoke about their experiences working together.
"It feels like a program that's tailor-made to create a benefit for the student. It's actually just as beneficial for the company," Saint-Jacques said.
"I very much cherish this wonderful opportunity to learn from someone much smarter than me — from another culture and from another generation — about how to be the best that I could be."
Vetagiri did not plan to join the CEO shadowing program because he had already received a job offer from Bombardier. He still applied and met Saint-Jacques for coffee. After 15 minutes, he changed his mind.
"Eric gave me the unique chance to make and customize my roles and responsibilities at the company," said Vetagiri, who is now a junior project manager at GGI Solutions.
"You won't get that everywhere, so it really meant a lot to me."
At the beginning of his internship, Vetagiri's career goal was to become a senior business analyst. He quickly identified 24 key automation projects for GGI Solutions within his first two months at the company.
Then, he stepped into a meeting with Saint-Jacques and Steve Birrell, GGI Solutions' chief commercial officer, and discovered he was more interested in product management.
"Had I not taken this opportunity to be a CEO shadow, I wouldn't have even realized what I wanted to do with my career," Vetagiri said.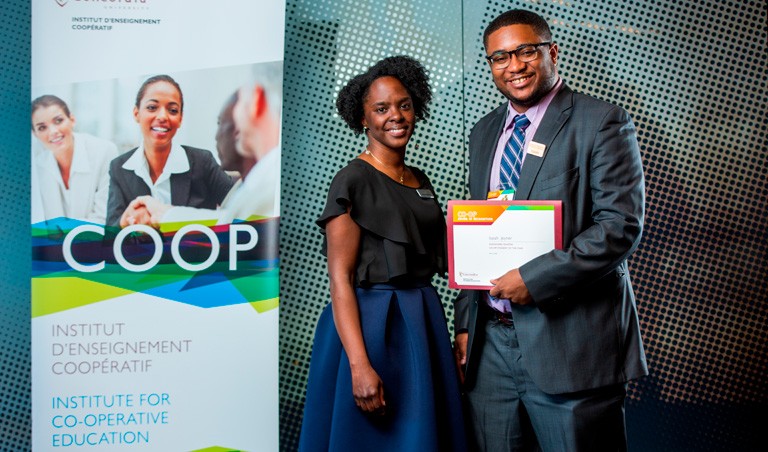 Isaiah Joyner was this year's recipient of the Alexandre Quintal Co-op Student of the Year Award.
Co-op success across generations
The evening's keynote speaker was Francis Baillet (BSc 92), vice-president of corporate affairs at Ubisoft. Baillet studied actuarial mathematics at Concordia and graduated from the Co-op program.
He recounted his career trajectory and encouraged attendees to identify what makes them unique. Baillet also offered eight lessons he's learned throughout his work experience.
"In the end, listen more than you talk. People are willing to give you information — they're happy to share their critical issues with you," he said. "If you start talking about yourself or your critical issues, you'll never see how you can help them answer their problem."
Third-year finance student Isaiah Joyner was this year's recipient of the Alexandre Quintal Co-op Student of the Year Award. He also gave a short speech at the event.
Joyner completed internships at Bombardier, Pratt & Whitney Canada and Sun Life Financial.
"I'm not much different than any of you in here — we all have potential," Joyner said.
"As a finance major, I keep my eyes on my investments. But I thank Co-op for looking at me for the investment I was and for the return I could bring to the community one day."

Find out more about Concordia's Institute for Co-operative Education.
---