Concordia professor uses land-based learning to connect Indigenous youth to cultural teachings
Elizabeth Fast says it's healing work to reconnect with things lost through colonization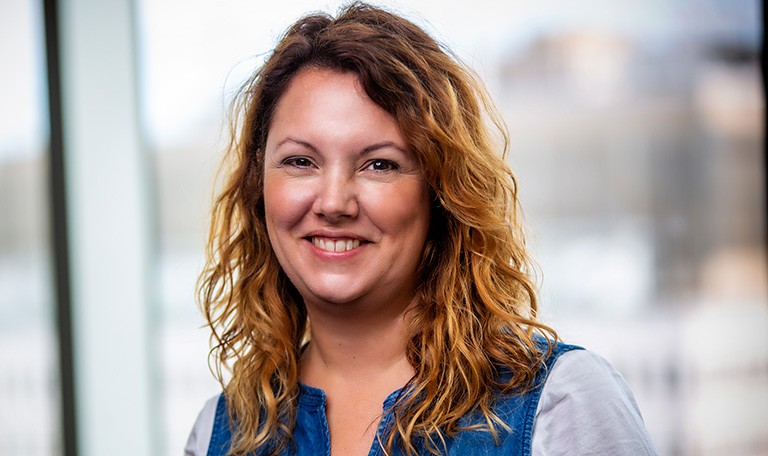 Elizabeth Fast: "For a lot of participants it was the first time they'd ever gotten to experience anything like this."
When Dakota Swiftwolfe first joined the youth advisory committee for Restoring Our Roots, a 2018 land-based retreat for Indigenous Youth, she didn't know the extent to which her involvement would inform a growing sense of confidence and comfort in herself.
Restoring Our Roots was a precursor to a new project called Land as Our Teacher, which launches November 19 at Concordia's 4TH SPACE.
"I was this broke university student," says Swiftwolfe, a Cree undergrad double majoring in women's studies and First Peoples studies. "I joined because you got $35 and a free meal."
Swiftwolfe felt shy at the initial meetings, but she slowly found her voice as she deepened her involvement in the planning of a retreat that blurred, by design, the boundaries between advisor and participant.
"Participating in Restoring Our Roots definitely precipitated huge changes in the lives of the youth," says Elizabeth Fast, assistant professor of applied human sciences in the Faculty of Arts and Science and the main researcher behind the project.
Following centuries of systemic attacks against Indigenous cultural identities in Canada, many Indigenous youth — particularly those raised in an urban context — find themselves feeling disconnected from their own cultural practices.
Fast's work is now supported by a Social Sciences and Humanities Research Council Insight Grant and anchored in Land as Our Teacher. It's all about restoring a sense of identity to Indigenous youth through engagement with the land and the cultural teachings that flow from it.
Academic partners on the grant include Concordia's Louellyn White, assistant professor of First Peoples studies, Jason Edward Lewis, professor of design and computation arts, and Catherine Richardson, associate professor in the School of Community and Public Affairs and director of First Peoples studies. Native Montreal and the Montreal Indigenous Community NETWORK are community partners.
"Land as Our Teacher got funded based on the model of using experiential learning to understand our colonial histories, and then using the arts to work on our own stories," Fast explains.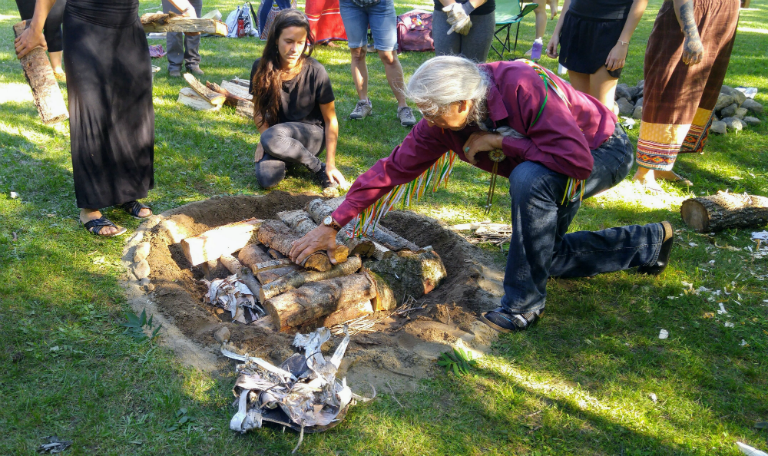 Photo by Rupert Mackie
Land-based learning
Restoring Our Roots was the first gathering organized by Fast. The four-day retreat was held an hour and a half east of Montreal in July 2018 and was open to Indigenous youth aged 16 to 30.
Joseph Naytowhow, who is Cree, was its main Elder. "The whole retreat was grounded in his teachings on some of the seven ancestor teachings around love, empathy and compassion," Fast says.
Vicky Boldo, Concordia's Elder-in-Residence, and Moe Clark, a Métis artist, were community partners through the lengthy planning phase, alongside the youth advisory committee.
"We tried to take into account the different Indigenous backgrounds," says Swiftwolfe.
While many of the teachings came from a Cree perspective, the participants were diverse and also included youth from Inuit, Métis, Anishinaabe and Kanien'kehá:ka backgrounds.
Following an opening circle and prayer on the first day, participants broke into groups and tied off the land. "That was kind of like asking for protection, in a way, and really setting the tone for the entire retreat," Swiftwolfe says.
Participants engaged in a range of land-based and other activities, such as sunrise ceremonies, pow-wow dancing and medicine bag making. They also constructed a sacred fire and built and participated in two Sweat Lodge ceremonies.
"For a lot of youth it was the first time they'd ever gotten to experience anything like that," Fast notes.
Participants took on many roles, including assisting the Elders, facilitating some of the workshops and fire keeping.
Following the retreat, Fast conducted optional interviews with the youth to gather qualitative data for the project's research component.
"It was overwhelmingly positive that it allowed them to get rid of some of that shame around not knowing a lot of the cultural practices. They got more entry points to go deeper into connecting with their diverse cultures," she says.
Fast is working to make Land as Our Teacher a recurring program. "We're still in the planning phases, but ideally once a season, with longer retreats probably in the summertime," says Fast.
"I see this as a way of making these experiences sustainable and more accessible," adds Swiftwolfe, who has continued on the current advisory committee.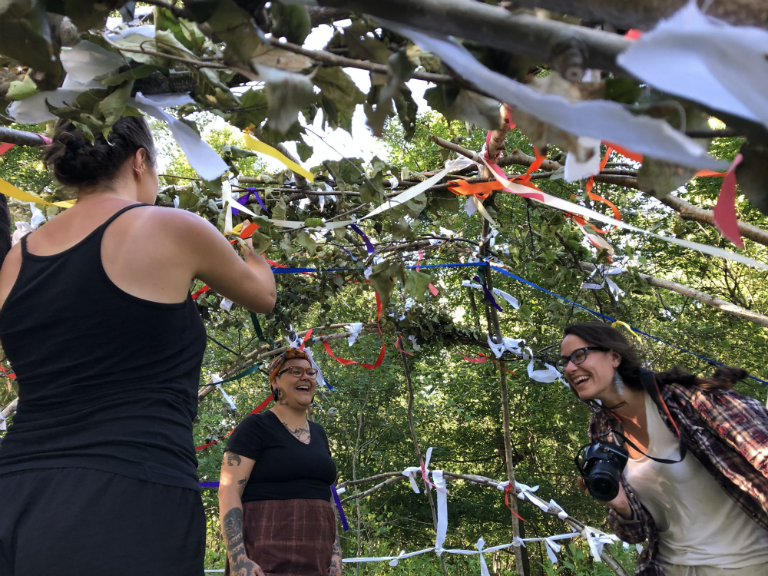 Photo by Rupert Mackie
Indigenous ways of knowing
Referring to the four aspects of a person as represented by the teachings of the Medicine Wheel, Fast says physical, mental, spiritual and emotional components are all essential to learning.
"For me, it's a huge missing element in almost all education," she says, noting that lecture-based learning addresses only the mental aspect. "It fails to make that deeper connection or engage the parts of ourselves that we need to feed in order to really learn."
Land as Our Teacher is underpinned by the conviction that engagement with the land provides an opportunity to transcend these limitations.
Similarly, Fast's insistence on consensus-based decision making reflects the validity of community knowledge. "I think we're still doing a lot of work for ourselves on decolonizing decision making and community input," she says.
Fast wants to see the theoretical base around Indigenous methodology continue to be taken more seriously as a legitimate way of doing research. She casts this as vital to decolonization efforts.
At Concordia, efforts to decolonize and Indigenize the university are led by the Indigenous Directions Leadership Group, of which Fast is a member.
"Dr. Fast is a very calm and kind person," says Swiftwolfe. "I think it's kind of decolonial in a way that she just started something completely open to where it would go and let it develop."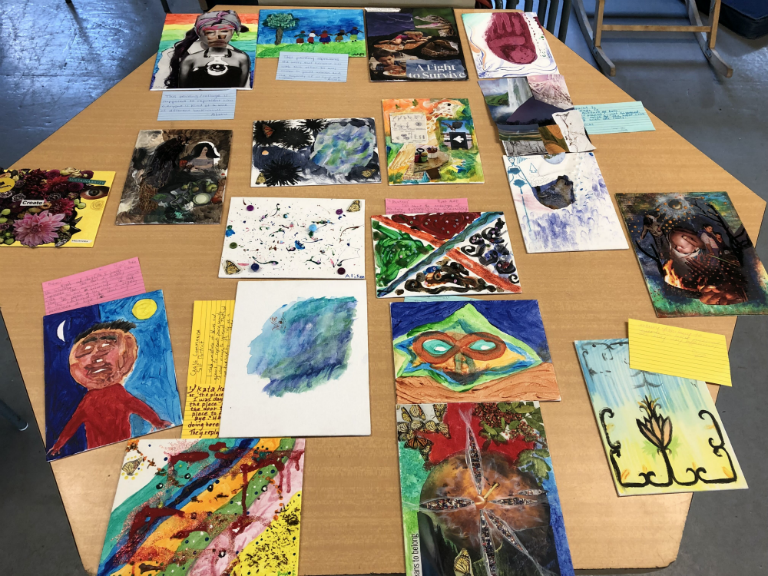 Photo by Rupert Mackie
A lasting impact
Fast says that participants carry a lot of grief about their loss of language and culture.
"It's healing work, really. It's part of their spiritual and mental health to be able to reconnect with things that were lost through all of those processes of colonization."
For Swiftwolfe, this is a lifelong journey. "I guess it's creating the space, right? Creating those moments for that to happen. That's how I see Dr. Fast — that's how I see the whole thing. It's creating the space and the opportunity for people to seek that out."
She remembers how valuable that space was when she got involved with the committee shortly after uprooting herself from Saskatoon.
"I needed that mentorship and guidance at the time to take me to where I am now," she says. "And it just gives me a role, too, to pass on that kindness and kinship to other people who might need it."

The Land as Our Teacher project launch is taking place at 4TH SPACE (1400 De Maisonneuve Blvd. W.) on November 19 from 4 to 7 p.m., with programming to continue until November 22.
Learn more about community engagement at Concordia.
---