Sustainability Action Plan will include a roadmap toward carbon neutrality
Concordia's final plan is expected in early 2020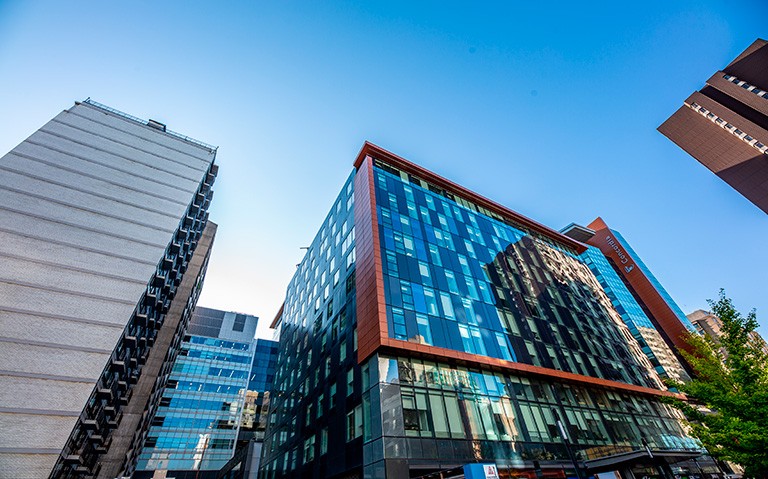 Academic and operational units from across the university are finalizing their work on the sequencing and budgeting of Concordia's Sustainability Action Plan.
Overarching goals include helping the university reach carbon neutrality and elaborating a roadmap for sustainability in the areas of food, waste, climate, research and curriculum.
The work of the units began in earnest following public consultations in spring 2019. Between March 15 and 29, over 80 community members participated in consultation sessions on the Loyola and Sir George Williams campuses. Dozens more participated in the online process.
The Food, Waste, Climate, Research and Curriculum stream committees then met to consider how best to prioritize and address recommendations on issues such as:
Fostering a culturally holistic approach to food sustainability at Concordia
Promoting the culture change necessary to move toward a zero-waste campus
Considering the impacts of investments in setting greenhouse gas emissions reduction targets
Becoming a leader in teleconferencing as a way to reduce business and research travel emissions
Facilitating interdisciplinary sustainability research, as well as links between the external community and student and faculty researchers
Providing learning opportunities that make use of and improve the green space on campus
Working together
"At the outset, we needed to establish those streams to bring together operational and academic perspectives," says Sabrina Lavoie, executive director of Budget Planning and Business Development.
"We needed help from researchers who've studied issues like sustainable food production, who could bring examples of best practices to our operations teams. At the same time, those researchers needed information from Concordia service units about things like relationships with food providers and methods of food waste management."
In addition to studying recommendations, unit leaders have been reviewing suggestions and operational priorities that will help Concordia reach its carbon neutrality targets, a key element of the Action Plan. This month, Concordia joined nine other Quebec universities in declaring a climate emergency — and committed to becoming carbon neutral by 2050 at the very latest.
New sustainability initiatives already under way
One focus of operational units has been assessing capacity to implement the recommendations in a timely manner, in order to ensure that the sustainability plan is actionable and not merely aspirational. However, some measures are being undertaken in the interim, as opportunities arise.
"While some initiatives will be resource dependent others may be less so. Hence we look forward to moving ahead with those on the table that we can institute now," says Roger Côté, vice-president of services.
"Reaching carbon neutrality is an institution-wide process, so we must seize every opportunity that we and our community can create."
One recent initiative was Concordia's issuing of a sustainable bond — a first for a Canadian university. The $25-million dollar investment helped finance the Applied Science Hub, a building aiming for LEED certification.
Another was the launch of Sustainability Action Week — held for the first time between September 23 and 27. With the help of the Office of Sustainability, Concordia departments and affiliated groups got together to inform, celebrate and participate in sustainability action.
The culmination was a fundraising initiative for students who demonstrate leadership in developing solutions to the climate crisis.
Then there's the Bâtiment 7 collaboration, in which students can apply their interest in social and environmental issues outside of the classroom. The living lab setup at the citizen-led, urban design project in Pointe-Saint-Charles is supported by the Sustainability Action Fund and the Office of Community Engagement.
Concordia as a sustainability living lab
In planning and in practice, sustainability action requires a multi-stakeholder approach — one that straddles operations, research and curriculum. The idea of using Concordia as a sustainability living lab would be a unifying element of the final Sustainability Action Plan.
"For example, we may be Quebec's most energy-efficient major university, but we're still working to reduce our carbon footprint. That may provide opportunities for our students and researchers in a living lab structure," says Lavoie.
"A more specific example could be buildings where we still heat with natural gas. Is there a business case for alternatives that someone in the John Molson School of Business could develop? Do our civil engineering researchers need energy and greenhouse gas emissions data to bring into their curriculum and assignments? This semester's efforts are helping to set up a framework for dealing with those kinds of questions and fostering collaboration."
Once units from across the university have shared their planning, operational and budget findings with the Office of Sustainability, it will complete the drafting of the plan text for release in early 2020.
"Acting when and wherever we can is important, we don't need to wait for the ink to dry on the final plan," says Côté.
"However, sustainability initiatives are different because most of our project managers and faculty members are already making changes. Our final plan will provide additional support and a clear roadmap. We'll know what we need to get done and how we're doing it. And so will the larger community."

Learn more about sustainability initiatives under way at Concordia through the Sustainability Hub.
---