Concordia launches Réussir en français, a French-language learning hub
'We want our students to become next-generation leaders in Quebec'
Madame Ginette Galarneau, Présidente-directrice générale, L'Office québécois de la langue française, representing le Ministre de la culture et des communications. | © Concordia University, photos by Lisa Graves
When it comes to living in Québec, a working knowledge of the French language is key. That's why Concordia is launching Réussir en français, a French-language learning hub that gives students and the Concordia community at large the tools they need to succeed in French.
The one-stop-shop provides classes, tutors, conversation groups, summer intensives and extracurricular activities to develop and strengthen French-language skills.
In addition, students, staff and faculty have access to the Centre d'apprentissage et de promotion du français in the Département d'études françaises for language support and access to French-language books, games and films.
An initiative of the Département d'études françaises in partnership with the Office québécois de la langue française, Réussir en français is a critical resource for international students as they integrate into Québec society and culture.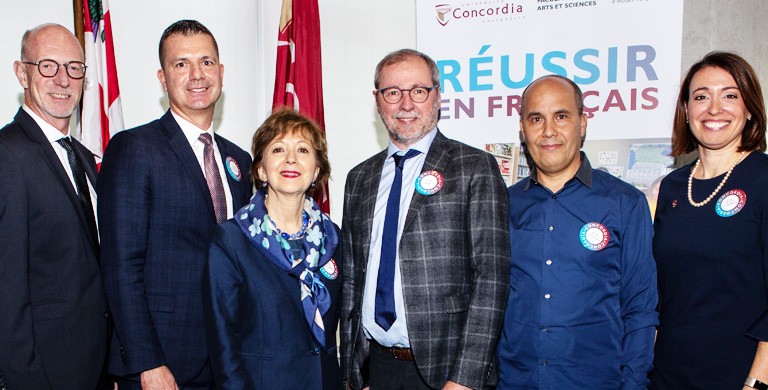 Graham Carr, Guy Jobin, Ginette Galarneau, André Roy, Adel Jebali and Chanel Bourdon.
"A commitment to community has always been at the heart of Concordia's mission," says Graham Carr, interim president and vice-chancellor.
"We want our students to have the opportunity to become next-generation leaders in Québec. I am very pleased that our Département d'études françaises is working with key strategic partners to create those pathways."
In addition to consolidating all of the university's French-language learning resources in one place, students enrolled in French courses are invited to participate in cultural activities throughout the city and province, facilitated by francophones.
"We know that truly engaging in Québec culture means providing opportunities to explore alongside other students through activities and outings," says Denis Liakin, chair of the Département d'études françaises. "Our Explorons program provides a supportive and relaxed environment to practice, meet native speakers and forge lasting friendships."
'Francization requires a collective effort'
For André Roy, dean of the Faculty of Arts and Science, Réussir en français reflects the faculty's strategic priority to equip students with the tools to engage meaningfully with the Francophonie in Québec and beyond.
"We want our international, out-of-province and local anglophone students to feel at ease in their language-learning journey, to become active members of the French-speaking community and to reach their fullest potential in Québec."
Concordia's francophone students are also helping merchants learn the language through a partnership with the Chamber of Commerce of Metropolitan Montreal and its award-winning language-pairing program J'apprends le français. "The Chamber is proud to collaborate with Concordia. Through this partnership, students offer personalized support to Montreal shopkeepers learning French," says Michel Leblanc, the Chamber's president and CEO.
"This initiative demonstrates that collaboration between universities and the business community benefits our entire society. Francization requires a collective effort. The Chamber has made this one of its priority issues for over 10 years and is always aiming to better integrate immigrants."

Find out more about Réussir en français.
---