Pig Destroyer, Landscape of Hate and the power of art to mediate
JULY 26: On the eve of Heavy Montréal, attend a roundtable on racial and social profiling — followed by musical performances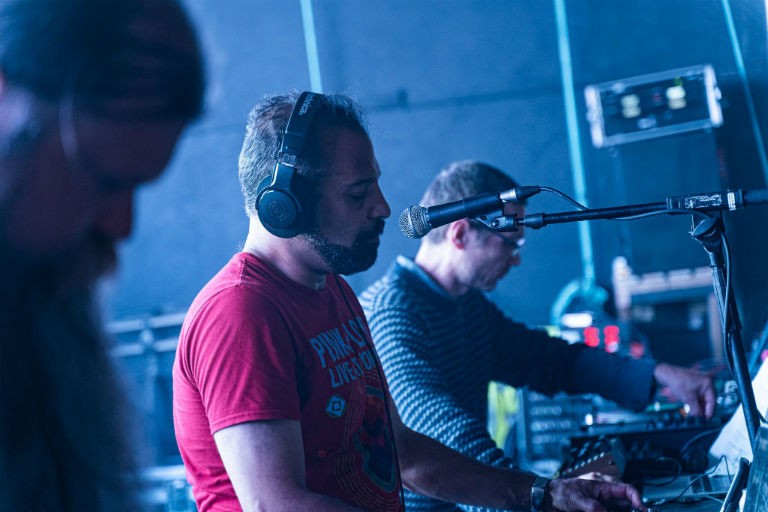 From left: Ivar Bjørnson, Vivek Venkatesh and Owen Chapman | Photo by Ásgeir Þrastarson
"Metal is an art form best enjoyed in communities," says Vivek Venkatesh, associate professor in Concordia's Department of Art Education and UNESCO co-chair in Prevention of Radicalization and Violent Extremism.
In the lead-up to the 10th edition of Heavy Montréal, the celebrated rock and metal festival, the researcher and musician is helping to host an event about how underground cultures like the metal community negotiate difficult public topics.
Before metal fans head to Parc Jean-Drapeau to see Slayer play their last ever show in Quebec, they can attend a roundtable discussion on racial and social profiling followed by performances by Landscape of Hate and Pig Destroyer.
Venkatesh values a community-based approach to research and is a collaborator on multiple pedagogical and research projects. Two groups he contributes to, Project SOMEONE (social media education every day) and Grimposium, are co-hosting the gathering at the Corona Theatre on July 26.
The roundtable will ask how art can mediate better conversations with the public, focusing on the passage of Bill 21 in Quebec. The bill bans certain public employees from wearing religious symbols at work and has been criticized as disguised bigotry and xenophobia.
"In addition to the explicit exclusion of marginalized people, this bill promotes a certain type of profiling by the broader public," argues Venkatesh.
'The aim of the project is to magnify multiple public voices'
The roundtable will be moderated by Concordia music therapy lecturer Annabelle Brault and features J.R. Hayes, lead singer of Pig Destroyer, Elsa F. Mondésir Villefort, youth educator and member of the Group of the Canadian Commission for UNESCO, and Will Prosper, a civil rights activist, documentary filmmaker and former RCMP officer.
Landscape of Hate is an audiovisual collaboration between Venkatesh and Owen Chapman, associate professor in Concordia's Department of Communication Studies. They gather texts, sounds and videos that circulate on the internet and then remix them into their live shows. They'll be joined onstage by Danji Buck-Moore, Annabelle Brault, Jason Wallin and David Hall.
This show will be preceded by a workshop with local youth activists who will contribute to the live performance.
"The aim of the project is to magnify multiple public voices that exist, as they pertain to the topic of hate," Venkatesh says.
Chapman highlights the unique nature of the performance.
"It contains a lot of sample-based material that we're taking from multiple contexts and remixing. We resonate and riff off the landscape of hate as it exists 'out there,' in the culture and social media," he says.
"Similarly, we situate our performances by doing public pedagogy work with people from the communities where the performance is taking place."
This allows the work to be an exploration of how different communities — including alternative ones — see the concept of hate. Venkatesh has long pushed back against underground culture's issues involving othering and discrimination.
"Part of what's misunderstood in underground cultures is that having multiple identities is normal, especially in youth who are searching for an identity. One can hold multiple identities at the same time."
While these performances look to provoke reflection, Venkatesh and Chapman don't believe in preaching.
"We work to build ways to listen to other points of view, and to walk away and reflect from it. In an era of social media where we're always commenting in knee-jerk ways, we aren't looking to provoke for provocation sake," Venkatesh adds.
Meeting underground communities where they're at
This July, Venkatesh and Chapman participated in the Eistnaflug festival in Neskaupstaður, Iceland. They performed as their other collaboration, Landscape of Hope, while engaging with Iceland's particular cultural issues.
They worked with Ivar Bjørnson, composer and guitarist of the band Enslaved, who performed as his other project, BardSpec. Filmmaker David Hall — who provides visuals for BardSpec and is a visual designer for Landscape of Hope — also contributed to the festival.
Bjørnson and Venkatesh take on issues of right-wing extremism in Iceland, which is grappling with steep increases in tourism and immigration each year. He works to reappropriate the 24 ancient Norse runes, which far-right white supremacists have appropriated.
"Just because symbols stand for a specific culture doesn't mean they have to stand for the supremacy of that culture," says Venkatesh. "I have no doubt that people who watched our show have been moved by Bjørnson, and this certainly generated further criticality."
And that's the aim of Venkatesh and his collaborators — to meet underground communities where they're at and foster discussions for the potential art can play in eliminating hate.
"I shudder to think that art can create or destroy, but I believe it can mediate conversations," he says.

Tickets are now on sale for the Heavy En Ville event featuring a roundtable discussion on racial and social profiling followed by performances by Pig Destroyer and Landscape of Hate at the Corona Theatre on July 26.
Find out more about Project SOMEONE.
---