Your first-year tip for January: 'Use apps to boost your performance'
Mentor Amanda Mastro recommends 10 apps for academic success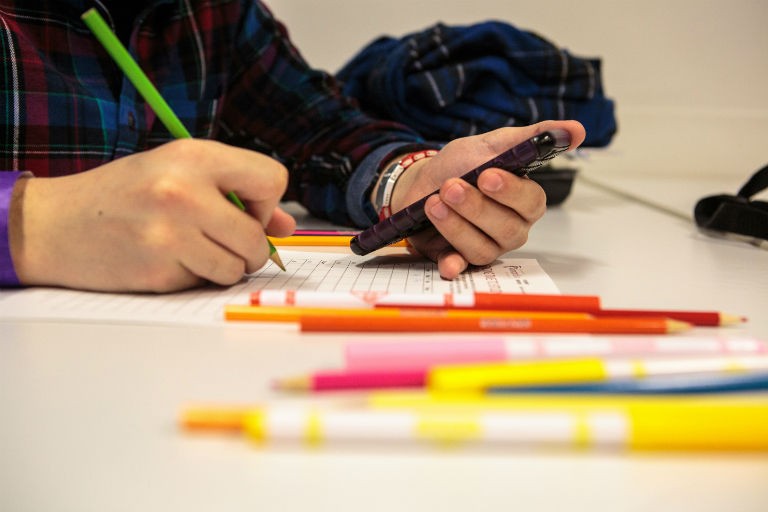 Most of us spend a great deal of time on our phones, laptops or tablets, sometimes for entertainment, and occasionally for distraction. But why not use technology instead to maximize our success and improve our productivity?
Here's a list of apps to help you succeed in university life.

1. The Concordia app
First up on the list of applications that can help you as a Concordia student is unsurprisingly, Concordia's own app!
It houses campus maps, account services, information about nearby food spots, library hours and computer availability — all seamlessly presented with key icons on the homepage. It also allows you to access your schedule, grades and advisor information quickly without having to log onto the MyConcordia website, which can be very convenient when you're on the go.
One great feature the app offers is its live shuttle-bus schedule. It allows you to track the location of the shuttles as they travel between campuses, so you'll never have to wait longer than necessary in the cold to catch your bus again!

2. Studentcare mobile
The Studentcare app is another essential for any student covered by the Concordia Student Union (CSU) or Graduate Student Association (GSA) health plans.
File health, dental, and vision claims by taking a picture or uploading one from your library of documents or receipts. You can also keep track of your claim history and view many details related to your coverage in the app.
International Students, check out: Modavie Blue Cross Mobile

3. Alertus
An app with an appropriately informative name, Alertus sends weather, security, or emergency-related notifications from Concordia.
Given Montreal's infamously unpredictable weather, this app is tremendously useful in case of power failures, as well as for staying up-to-speed on emergencies. Remember to enter "concordia" as the organization code and you are good to go.

4. Moodle
If you need to access your course documents on the go, downloading the Moodle app can be extremely useful.
Simply input the name of the Moodle Concordia website as follows: https://moodle.concordia.ca/moodle/, and you'll be able to log in to your account and view your course files, grades uploaded on Moodle and assignments from your phone or tablet with ease. There is no need to log into the website each time you want to view something!

5. iStudiez Pro
If you're looking to become more organized this semester, iStudiez Pro has got you covered. It's a super handy scheduler that allows you to input all your classes for the semester and track when you have class, assignments due, midterm dates and so much more. If you turn on its notifications, it can also notify you when you have an assignment due, that way you'll never forget to upload one again. It's a life saver!

6. Scanbot
Scanbot uses your phone's camera to scan any page or image. This comes in extremely handy any time you need to quickly submit formal documents, scan receipts or borrow a classmate's notes. Use the batch mode feature to take multiple pages of scans and save them as one convenient PDF or image file. It also uses OCR conversion to make anything you scan fully searchable, which can be extremely useful when navigating a document with many pages.
Similar alternative app: Office Lens

7. Quizlet
If you're looking to make studying more fun, Quizlet allows you to create your own interactive study sets. Simply enter your own questions and answers or terms and definitions and you'll be able to view them in a variety of different formats, such as in flashcards, tests or even a gravity game! It's a great help for courses that require lots of memorization, so if you're in a major like biology, definitely look into giving it a shot!

8. Onedrive
If the downloads folder on your computer is getting a bit crowded, look into organizing your files on a cloud-based storage service like OneDrive.
As a Concordia student, you are given a free TB (1,000 GB!) of storage on OneDrive through your Office 365 Account. This can be a great way to make sure you never accidentally lose a file and always have access to your documents on your phone or tablet.
Alternative: Google Drive

9. OneNote
If you are tired of carrying around five notebooks and considering typing your notes instead, you can download OneNote on your laptop or tablet and takes notes from there! Through Office 365 — provided for free by Concordia — it allows you to create digital notebooks with subsections, so you can keep all your notes neat and organized, and also access those notes on all your devices.
It also has a pen feature that can allow you to make drawings in line with your notes. So, if you are a visual learner or have a tablet with a stylus, I highly recommend it!
Alternative: Evernote

10. Headspace
We all know that having a healthy mindset is crucial for academic success, so if you need help with managing anxiety, Headspace is a great app to download.
It offers a variety of different exercises to help you relax, become more mindful or even fall asleep. If you are interested in meditation but don't have time to go to a yoga studio, I would definitely give this app a try.

Other apps to check out:
Check out the Concordia app.
---