'I feel so lucky to be in a place where I can contribute'
Concordia's 46th Long Service and Retirement Luncheon honours 326 staff and faculty members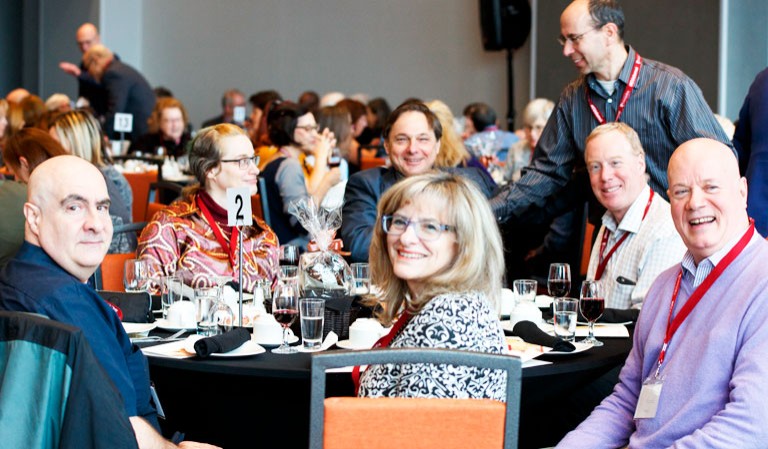 "Concordia has been on Montreal's Top Employers list since 2016," began Carolina Willsher, associate vice-president of Human Resources, in her opening remarks at the Long Service and Retirement Luncheon. The annual event was held on December 3 for 326 honourees.
"But we didn't need an award to tell us that." The room erupted into applause.
The luncheon took place in a new venue this year. The ballroom at the Holiday Inn was filled with light and this year's long service and retirement honourees.
40 years in the field of education
Richard Schmid, professor of education in the Faculty of Arts and Science, has been at Concordia for 40 years, and he has no problem keeping up.
He started out as an assistant professor in the Department of Education in 1978, 10 years into what is now Canada's oldest academic program in educational technology.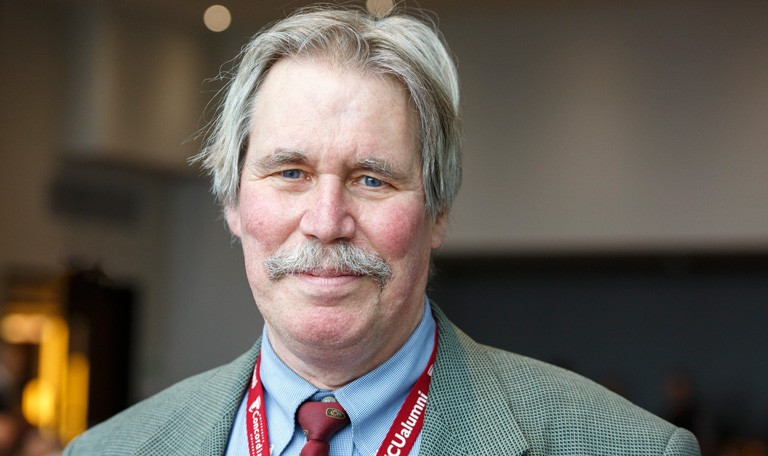 Richard Schmid
Schmid acknowledges that although technology has evolved significantly over the years, the program's foundation, one of community orientation, is still the reason it's thriving. Schmid himself is thriving too, due in part to his enthusiasm for his work and the fact that he's been attending a workout class twice a week for the past 27 years.
"When I turned 40, I felt like I'd fall apart if I wasn't exercising, so I went down to the old Victoria School gym on De Maisonneuve Boulevard. The facilities were horrid, a far cry from what we have now at Le Gym, but the classes were just as great," he chuckles.
Strong foundations, evolution and community orientation were common themes at this year's Long Service and Retirement Luncheon.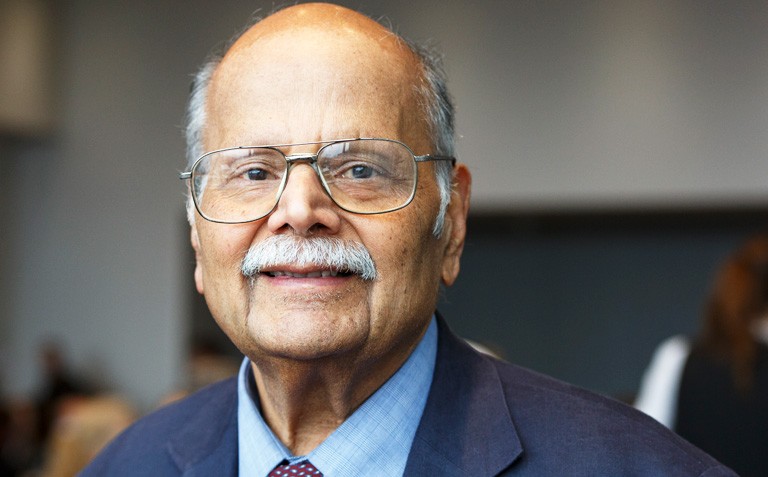 Bipin Desai
Students keep me here
Bipin Desai started teaching at Loyola College with the intention of staying only a few years. But then, in 1973, while completing his PhD and taking a French class, he met the woman of his dreams, who would later become his wife. Desai calls her his inspiration. 50 years later, he's still teaching graduate-level computer science courses in the Department of Computer Science and Software Engineering.
Desai is most proud of the annual International Database Engineering and Applications Symposium (IDEAS) that he founded and co-organizes. The symposium has been hosted all over the world, but he's hoping to bring it back to Concordia for its 25th anniversary in 2021.
After a lifetime of teaching and research at Concordia, he reminisces about how things have changed.
"Youth are different now," he says. "They don't tend to study from books. They prefer short videos over long texts. So, I've adapted my teaching to their skill sets. For example, I only do short quizzes instead of a final exam."
Students are Desai's raison d'être.
"They keep me here. There are always new questions and problems to solve. There is always someone who hasn't finished their degree yet and they need my help, so I stay. I feel responsible for them in a way."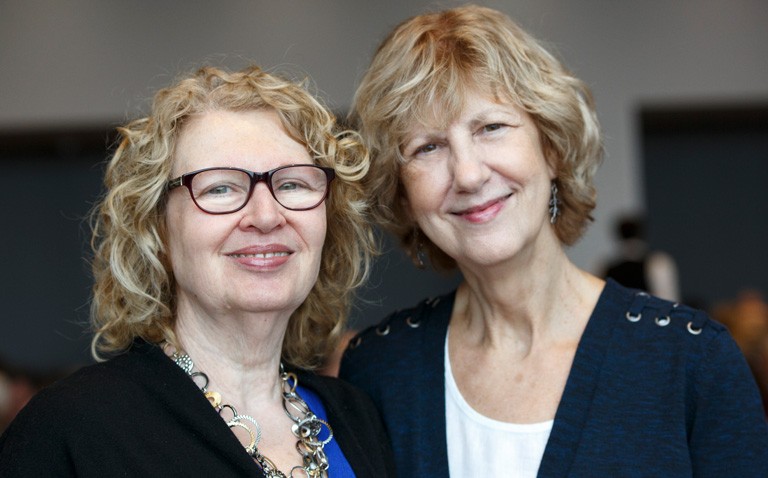 From left: Sharon Frank and Sharon Fitch
Stimulating and challenging every day
Sharon Fitch retired in 2017 from her position as the coordinator for the Centre for Interdisciplinary Studies in Society and Culture (CISSC), which she joined in 2007, right after it was established. She already had 16 years of staff experience in the Department of Communications Studies in the Faculty of Arts and Science before that. The centre is where Concordia's scholars, researchers, artists and students celebrate the exchange of ideas and develop interdisciplinary projects in the humanities and arts.
Fitch remembers the excitement surrounding the newly created CISSC and her position in a one-person office.
"It provided many more unique opportunities to be of service and support within the university," she says. "CISSC changed greatly over the years." During her 10 years there, she participated in the exponential growth of the centre.
"I met and worked with so many wonderful faculty and graduate students and hosted many international interdisciplinary events where I met people from all over the world. It was stimulating and challenging every day."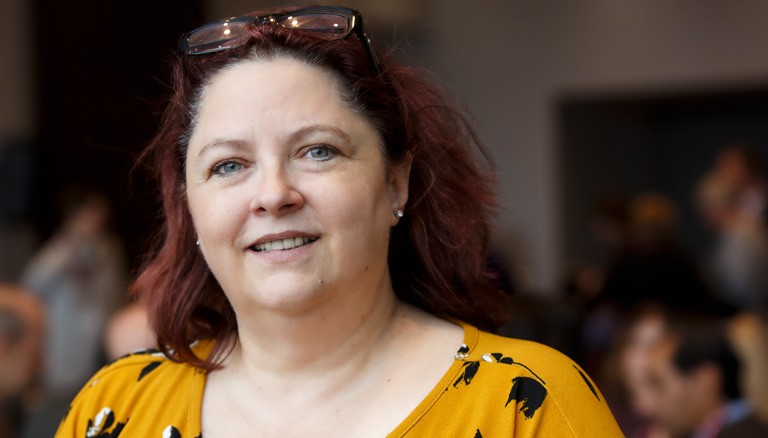 Hilary Scuffell
My door is always open
Hilary Scuffell has been a full-time support staff member at Concordia for 25 years. She started out in the Office of the Provost. The Department of Contemporary Dance was next, and then she moved to the Department of Chemistry and Biochemistry. "Polar opposites," she says of the latter two with a grin.
What is the same, though, is the quality of the people. She is the assistant to the chair of Chemistry and Biochemistry, where she is recognized by staff, faculty and students as a problem solver.
"If I don't have the answer, I know who does," she says. "This term, I had a history student ask me about how they could take a math class. One quick question turned into many, and we managed to get the student into a math class that fit their schedule."
In addition to her day job, Scuffell has been active in the university community. She was a member of the Concordia Shufflecommittee for 15 years and still volunteers for open house events.
"I love that the Shuffle is a grassroots effort. Plus, I've seen first-hand what that financial assistance can do for a student. I still love meeting new students and helping them get the services they want and need. My door is always open."
The challenges are what make you grateful for the rewards
Sharon Frank is the administrator for the Department of English. She is celebrating 45 years at Concordia. What she appreciates most from her time at the university is the people and the opportunities to learn through formal academic training, but also through experience and mentorship.
"Giving back through mentorship is most gratifying. I've met so many wonderful students, staff and faculty, some of whom have become lifelong friends."
She remembers one in particular. An international grad student who was a single parent and had never been in a winter climate before was experiencing some hardships while in Montreal. Her apartment was robbed and ransacked, her laptop was stolen and then her mother passed away. Frank decided she couldn't just sit by while the student suffered. Instead, she mobilized. She helped the student gain part-time employment on campus, organized a fundraiser to replace her laptop and drove her to and from the airport for her flights home to look after her mother's affairs. The student completed her degree, went on to do a PhD in Canada and remains good friends with Frank.
"The challenges are what make you grateful for the rewards. I've pushed past my limits and have succeeded in surpassing my goals."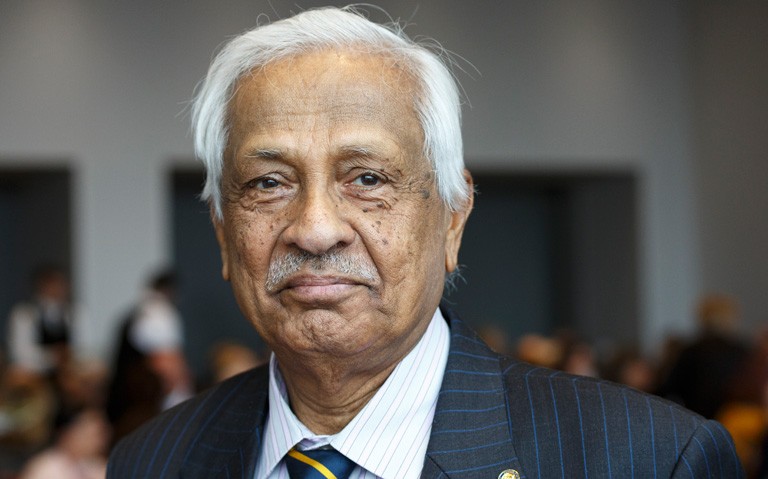 MNS Swamy
I feel proud of my contributions
MNS Swamy cannot believe the changes he's seen during the 50 years he has been a teacher, administrator and researcher at the Gina Cody School of Engineering and Computer Science. When he first started, computers occupied a whole room.
"The ones we now hold in our hands are more powerful," he says.
One thing that has remained constant is that students are always interested and motivated — and Swamy would know. He's supervised more than 150 grad students and post-doctoral fellows including Champa Bhushan, the first woman to earn a doctorate from Concordia. He says that the students make him feel young and keep him curious. Not only does he impart his knowledge but he also learns from them.
One of his biggest administrative challenges during the 23 years he served as faculty dean or department chair was growth. During his tenure as dean, the faculty grew from about 60 members to about 120. The school grew from having very few graduate programs to being one of the biggest in the country. Swamy enjoyed the challenges of creating new, unique programs, such as Building Engineering and Computer Engineering. The Gina Cody School is one of the few faculties that combine engineering and computer science. He expresses his pride of the strength of Concordia as an institution and the exceptional quality of the programs, faculty members, staff and students it attracts.
Swamy credits his predecessors with having laid the strong foundations upon which to build and his successors for their vision and forethought for how to maintain strength in the modern era.
"I feel so lucky to be in a place where I can contribute. Whatever I've done, whatever role I've played, I have enjoyed it and I feel proud of my contributions."
---