'I like working here because I can make a difference in students' lives'
Concordians Harold Simpkins, Oksana Dykyj and Galia Dafni reflect on their decades at the university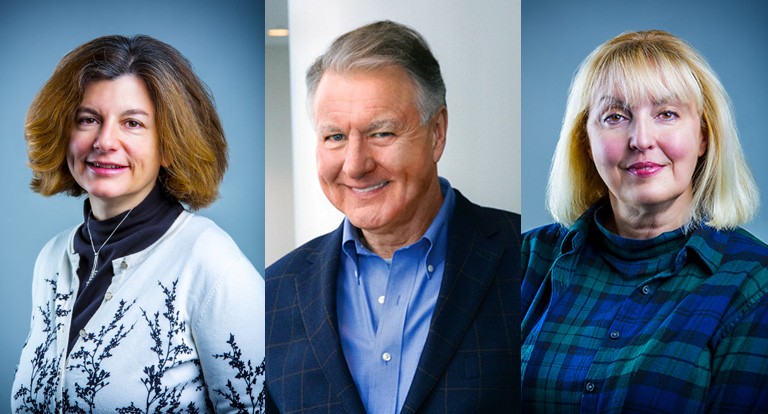 From left: Galia Dafni, Harold Simpkins and Oksana Dykyj.
On December 3 Concordia recognized 326 recent retirees and employees who have reached milestones in their careers — from 20 up to 50 years of service.
In celebration of the annual Long Service and Retirement Luncheon, we present profiles of three 2018 honourees to recognize their important achievements and acknowledge their service, loyalty and dedication to the university community.
'You have to mould your own career'
Oksana Dykyj
Senior Librarian, Faculty of Fine Arts
Head of Moving Image Collections
35 years at Concordia
In August 1974, Loyola College and Sir George Williams University officially joined forces to become Concordia. That fall, Oksana Dykyj (BA 79) began her undergraduate degree in film studies at the university.
"What attracted me was the fact that I was able to do my studies part-time because I was working," she says.
"Sir George started as an institution that helped people who worked during the day take courses at night. Concordia continued that when Sir George joined Loyola and I found that was a really good way for me to get an education."
From there, Dykyj went to New York University to pursue her master's degree, but returned to Concordia in 1983 to teach part-time. She eventually completed a master's of library and information studies and landed her current role as a senior librarian in the Faculty of Fine Arts in 1991.
Since then, Dykyj has developed many ways of maintaining and managing moving image collections at the university, and served as a member of the board of the Association of Moving Image Archivists (AMIA). In 1999, she played a large role in bringing the AMIA's annual conference to Concordia.
"What I'm most proud of is the ability I was given to do all sorts of wonderful things," Dykyj says.
More than anything, she enjoys the camaraderie between Concordia staff members and her interactions with students. She says working with great young minds makes it worth getting out of bed and coming to work every day.
Her advice for students considering a path similar to her own?
"You have to mould your own career — you can't just follow in people's footsteps."
'Teaching opened up a whole new world for me'
Harold Simpkins
Senior lecturer, Department of Marketing
Academic director of Concordia's Marketing Co-op Program
35 years at Concordia
When Harold Simpkins (BA 67, MBA 78) answered his phone in August 1980, he was surprised to hear his former marketing professor, Vishnu Kirpalani, on the other line. What came next was an even bigger shock.
"He said, 'I've got a bit of a problem. There's an advertising course that's offered on Tuesdays from 11:45 to 2:30. For personal reasons, the professor who was lined up can't teach it. Can you?'" Simpkins recalls.
"I agreed, and that's how it started."
With no prior teaching experience, Simpkins ultimately left his job at the advertising agency to pursue this new opportunity in Concordia's Department of Marketing. After the term ended, he thought the course went well because his students often laughed at the advertising war stories he recounted in class.
The course evaluations told a different tale.
"I figured they'd never hire me again," Simpkins says. "The next term, they were stuck in the evening for someone to teach marketing strategy. So, I taught that."
Over the next three years, Simpkins would find his legs as an instructor by teaching an advertising course on a part-time basis. Then, in 1983, he accepted an offer to be a sessional lecturer — and never looked back.
Now celebrating 35 years at Concordia, his long list of accomplishments includes coaching students at interuniversity marketing competitions, starting the Marketing Co-op Program, recruiting international students and developing several courses in the John Molson School of Business.
He is particularly proud of his award-winning online class, Marketing Yourself (COMM 299), which he launched in 2004 with Jordan LeBel, associate professor of marketing. The course sees more than 2,000 students register each year.
"I never set out wanting to be a university professor," Simpkins says.
"Getting to teach those two part-time courses opened up a whole new world for me."
Galia Dafni: 'It is important to work with people you respect'
Associate professor, Department of Mathematics and Statistics
20 years at Concordia
Galia Dafni came to Concordia in 1998 for two reasons: she wanted to live with her husband in Montreal and she thought the university was a good match for her in terms of its teaching and research environments.
Twenty years later, the associate professor in the Department of Mathematics and Statistics says the most rewarding part of her job is seeing her students go on to further their studies and begin successful careers.
"What I like about working at Concordia are the opportunities for making a difference in students' lives, the collegial atmosphere in our department, the stimulating mathematical environment in Montreal and, more generally, the advantages of living here," Dafni says.
One advantage she thinks Concordia has over other universities is that it offers relatively small class sizes. By doing this, professors can interact more closely with students on a regular basis.
"Because our student population is more diverse, there are more opportunities to find students who have not yet achieved their full potential and encourage them to succeed," Dafni adds.
While she admits that it's difficult to pinpoint what has changed the most during her time at the university, she's noticed that there is more interest among students in pursuing research in mathematics and that Concordia is offering more opportunities for them to do so.
Her tip for building a lasting career is to find something you love, pursue it and be flexible when an opportunity arises.
"If I had just been doing it to have a career or make money, I would probably not have lasted until now," Dafni says.
"It is important to work with people you respect and enjoy working with, and who respect you."

Learn more about Concordia's Long Service Awards, and read about three other long-serving Concordians celebrating milestones this year.
---