Christopher Salter's Haptic Field: 'It's like living on the moon'
The Concordia professor takes his perception-disorienting artwork to Berlin this summer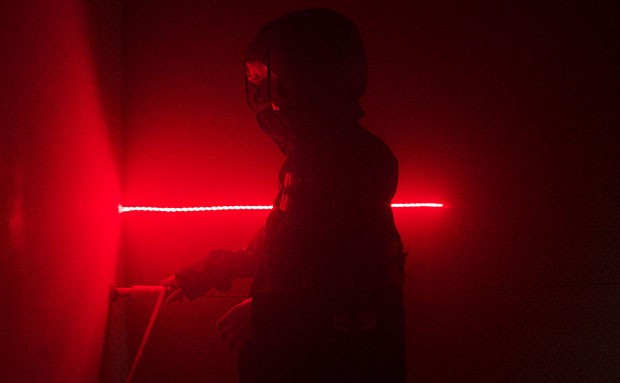 "New technology provides us with a different mode of looking at culture." | Photo: Aina Wang, Chronus Art Centre

What happens when we move from the ocular to the haptic?
An exhibition created by Christopher Salter, Concordia University Research Chair in New Media, Technology and the Senses, answers this question by plunging visitors into an immersive physical experience that forces them to go beyond the merely visual.
Haptic Field, Salter's large-scale installation, will be on display at Germany's Berliner Festspiele at the Martin Gropius Bau in Berlin this July. It has already been shown in China and Austria.
"The Haptic Field experience helps people see with their eyes taken away," says the professor of design and computation arts.
"The exhibition uses the 'smart' technology of wearable devices — something that we now take for granted — in a visual way to create a sensory experience."
Salter, the director of Hexagram Concordia and associate director of the Milieux Institute for Arts, Culture and Technology, explains that Haptic Field participants don vision-impairing headgear and special garments containing "Vibropixels." These are wearable tactile sensors and actuators that emit pre-determined light and vibration patterns.
Visitors then walk through a dark room in which additional choreographed illuminations and sounds are released.

'It's like existing in a world that is actually invisible'
Salter says the experience is like having clouded vision because you are essentially being guided by patterns of vibration travelling up and down the suit and shifting glimmers of light and darkness in the surrounding installation.
"When you're perceptionally disoriented, you have to rely on other senses to tell you about the world," he adds.
"With a reduced depth of field, Haptic Field is like moving through an alien landscape; it's like existing in a world that is actually invisible. Past participants have said it's like 'living on the moon.'"
Vibropixels were developed by McGill University doctoral student Ian Hattwick, under the supervision of Marcelo Wanderley (Schulich School of Music) and Salter. They allow for the creation of massive, shared tactile displays distributed among a group.
When a large number of people can experience the same sensations at the same time, they may also feel that they can perceive the tactile experience of others. The system can therefore be applied to location-based and live entertainment events, as well as social gaming.
"There is a certain kind of shift going on in new media arts. It's interesting to see how artists are responding to the uncertainty surrounding technological advances," Salter says.
"New technology provides us with a different mode of looking at culture, where experience is the artwork — and it's a very personal one, indeed."

Find out more about Concordia's Faculty of Fine Arts.
---