Meet Milieux
Concordia's new institute for arts, culture and technology will foster interdisciplinary research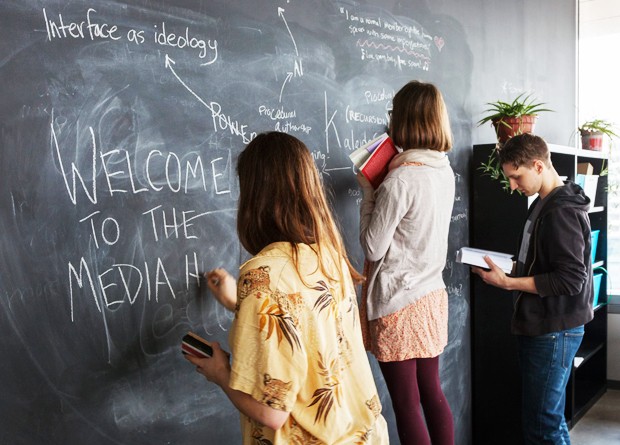 Milieux will focus on "tangible, playable and accessible research." | Photo by Matthew Brooks

A world increasingly defined by our relationship with technology requires innovative approaches to deal with social, economic and political uncertainties.
Today, Concordia launches Milieux Institute for Arts, Culture and Technology to meet the challenge head-on.
Intersecting art, design, culture and technology, Milieux is a platform for creative experimentation, interdisciplinary training and progressive imagination. It is a crossroads for an international network of researchers, artists, graduate students and collaborators who will contribute to Montreal's creativity and productivity in media arts and technologies.
"People are no longer simply consumers of new technologies; we can all be producers and innovators, thinkers and makers," says Milieux's interim co-director Bart Simon.
"Our main focus is on creative and expert articulations of new technologies for the benefit of everyone through the production of tangible, playable and accessible research."
Concordia's president Alan Shepard sees Milieux as an exciting new endeavour as Concordia continues to redefine itself as a next-generation university. "Milieux is about empowering and engaging our community by promoting creativity and advancing cultural innovation — both of which are central to our mission."
Spread over two floors in Concordia's Engineering, Computer Science and Visual Arts Integrated Complex (EV), Milieux's configuration is unique to Canada.
It features open studios and labs facilitating the flow of people, materials and ideas across diverse domains such as interactive textiles, digital games, indigenous futures, media history, photography, performance and immersion, and critical disability studies.
With more than 80 faculty members and 100 graduate students across Concordia's four faculties, Milieux provides a model to incubate cross-cutting research creation while encouraging student participation and ownership of projects.
"Milieux builds off our considerable research strengths in digital arts by actively connecting key thinkers and makers in this domain," says Graham Carr, Concordia's vice-president of Research and Graduate Studies. "This is technology that combines creativity, imagination, and social engagement in novel and distinctive ways."
Milieux is home to two Social Sciences and Humanities Research Council (SSHRC) partnership grants, three Canada Research Chairs, one Trudeau Fellow and six Concordia University Research Chairs.

Find out more about Milieux Institute for Arts, Culture and Technology.
---