Exhibit A: 100 curators, scholars and artists assemble on campus
On May 25 to 27, the first international conference of the Council for Museum Anthropology comes to Concordia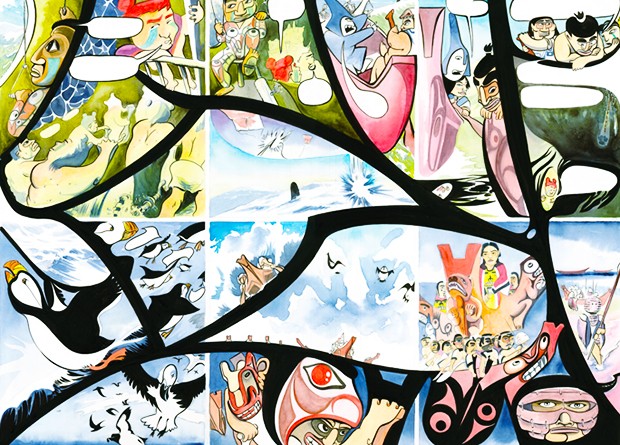 As part of the conference people can participate in Haida artist Michael Nicoll Yahgulanaas's collective mural-making project. | Image courtesy of
Michael Nicoll Yahgulanaas

How do exhibits "package" ethnicity? Can curators be more responsive to issues of social justice? What should museums be and do in today's world?
This is museum anthropology.
From May 25 to 27, more than 100 diverse experts in the field are congregating at Concordia to examine these questions and many others at the US-based Council for Museum Anthropology's inaugural Museum Anthropology Futures conference.
"We want to encourage greater exchange of knowledge and build connections among scholars and practitioners with different concerns," says Erica Lehrer, the conference's on-site organizer.
Lehrer is an associate professor in History and Sociology-Anthropology in Concordia's Faculty of Arts and Science and holds the Canada Research Chair in Museum and Heritage Studies. She also sits on the board of the Council for Museum Anthropology.
We asked her to tell us more about the association's first conference.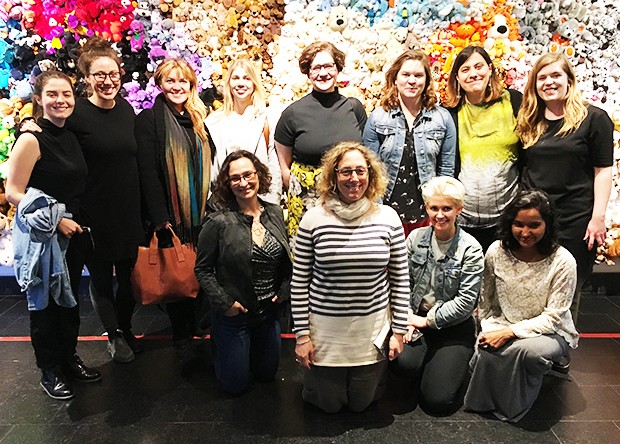 Erica Lehrer (front row, far left) and co-organizer Shelley Butler/McGill (front row, center) with students at the Montreal Museum of Fine Arts. | Photo courtesy of Erica Lehrer

'Museums are the subject of so many hot-button topics'

Why this conference, now?
Erica Lehrer: The overarching goal is to take stock of what museum anthropology looks like today and envision its future directions.
We want to build a more diverse network for exchanging knowledge by forging connections among academics, students, museum professionals, artists, art historians, curators, community activists, and others – anyone who has a stake in what museums do.
A side goal is to showcase the exciting projects anthropologists are working on in museums and with museums for the broader public — to show how museums matter, and how they can matter more and in better ways.
In museum anthropology, what are the hot topics these days?
EL: Museums are the site of so many contentious debates right now.
In Canada, the recommendations of the recently concluded Aboriginal Truth and Reconciliation Commission make issues of decolonization and Indigenization of institutions particularly pressing. This means not only considering the provenance and ownership arrangements of museum collections, but how they are cared for, interpreted, displayed, and used. We also have to ask who holds the majority of curatorial and education positions in these institutions, as well as who sits on their boards. These are crucial questions of power, authority, and perspective.
What makes Concordia a good fit for Museum Anthropology Futures?
EL: Concordia, and Montreal, is a great place because of all the energies here around museums, heritage, public history, curating, culture, and the arts. At the university, this includes my Canadian Research Chair in Museum and Heritage Studies, and the Curating and Public Scholarship Lab that I run.
But many Concordians are involved in the conference. Rebecca Duclos, dean of Concordia's Faculty of Fine Arts, will be running the opening round table discussion with John Lukavic, Curator of Native Arts, Denver Art Museum, and two artists, Spring Hurlbut and Haida artist Michael Nicoll Yahgulanaas.
Heather Igloliorte, Concordia Research Chair in Indigenous Art History and Community Engagement, has organized a round table on Expo 67. Kim Sawchuk, associate dean of Research and Graduate Studies, will open the conference with welcoming remarks.
Plus, two Concordia students, Ika Peraic and Jacob Le Gallais, are curating pop-up exhibitions, and we have a fabulous organizing committee made up of history and fine arts students, supported by 10 additional volunteers.

Virtual reality at the Phi Centre | Photo courtesy of Erica Lehrer

Tell us about some of the events
EL: Curators from the Canadian Museum for Human Rights, the Royal Ontario Museum, and scholars at Canadian universities are talking alongside US and overseas colleagues from Austria, Germany, Poland, the Netherlands, the UK and elsewhere about the challenges of dealing honestly and self-critically with difficult historical topics that museums have been implicated in — such as human rights violations, colonialism, and genocide — by virtue of being state institutions.
Also, this year, I'm teaching a summer course in critical museology. It made perfect sense to have the course run right into the conference, so the students will showcase their final projects — 10 "Curatorial Dream" posters — at the conference and get feedback from an international, specialist audience.
And I am hosting a round table, Slow Museology for Difficult Histories: Relationship Advice for Scholars, Artists, Educators, and Curators Looking for Commitment. The title is tongue-in-cheek, but the topic is serious: relationship advice for curators, scholars, educators and artists who want to "hook up" with each other in meaningful, sustained ways around tricky social justice issues.

Are any events open to the public?
EL: The public is welcome to visit our Pop-Up Gallery on the seventh floor of the Henry F. Hall Building (H-705). It's made up of two exhibits by students in Concordia's Humanities PhD (HUMA) Concordia's Humanities PhD (HUMA) and Art Education MA programs. The summer school "curatorial dreams" mentioned above will also be on display here.
Finally, in the same space, people can also participate in Haida artist Michael Nicoll Yahgulanaas's collective mural-making project. The final piece will hang in a gallery show at a later date.

Museum Anthropology Futures takes place from May 25 to 27 on Concordia's Sir George Williams Campus. Visit the Pop-Up Gallery and join the collective mural-making on the seventh floor of the Henry F. Hall Building (H-705). To be added to the conference's wait list, email museumfutures2017@gmail.com; registration costs $50, or $25 for students.
---