Introducing 4TH SPACE: 'Agile, alive, responsive'
Concordia's former bookstore space becomes a living lab, research showroom and museum all in one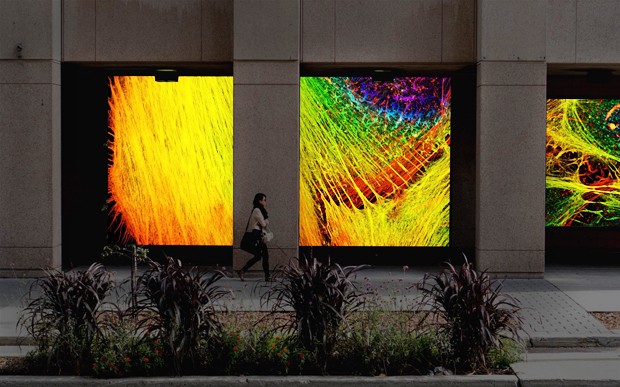 Proposed usage of street-level windows for night projection. | Images by David K. Ross

A new street-level space to reveal compelling research and research-creation is coming to Concordia. 4TH SPACE is an adaptive reuse of the former bookstore located on the northwest corner of the J.W. McConnell Building (LB).
Concordia's president Alan Shepard notes that while many universities have maker spaces, 4TH SPACE is a one-of-a-kind undertaking. "It's a bold experiment. It will invigorate our community. We've seen nothing else like it."
4TH SPACE will be a mashup of a living lab, science centre, design showroom, museum exhibition and theatre set.
Through rotating residencies and curated programs, the space will invite Concordia research teams to conduct parts of their work on-site. In doing so, 4TH SPACE will open a window on the significant research and creative activity at Concordia, along with the people who make it happen.

Research that's 'more accessible, more visible, more impactful'
The multi-use facility will have capacity for easy reconfiguration. Preliminary plans embrace a "shop floor" mentality where lab and project spaces have the potential to be activated and animated through interactive and multimedia displays.
Built into the design is the flexibility for researchers to choose a configuration that suits them. 4TH SPACE also hopes to host public consultations, small conferences and other events focused on collaboration and exchange.
"Knowledge mobilization and translation are terms that we increasingly hear in relation to making our research more accessible, more visible and more impactful on society," says Justin Powlowski, interim vice-president of Research and Graduate Studies.
"This project is an imaginative and inclusive way to open up the walls of the academy and show off what we're doing to our own community, to our neighbours and to our visitors."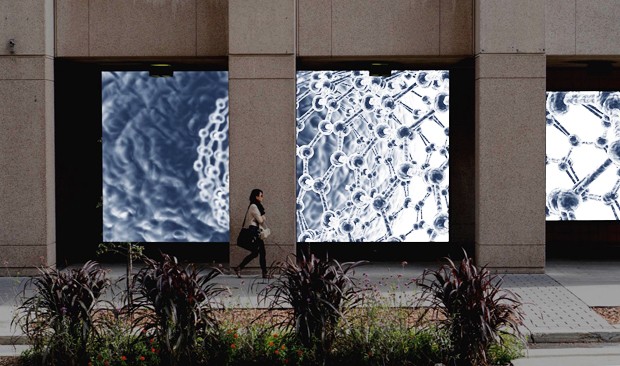 Architectural rendering of street-level window projections.

'Beyond the norm'
Consultations are currently underway with Concordia's research community to determine technical, architectural and functional requirements. The operating principles and programming priorities for the space are also in development.
Leading these consultations are Prem Sooriyakumar, knowledge broker for the Office of Research; Douglas Moffat, coordinator of sound and video in the research facilities of the Faculty of Fine Arts; and Christine Swintak, project manager and creative consultant.
"The bookstore space is one of our most outward-facing locations and we wanted to go beyond the norm and imagine it in a very different way," says provost Graham Carr.
"We asked ourselves, what are some of our most compelling, visually interesting research and creative activities that we could make immediately visible — not just to our own community, but also the broader public?"
The new initiative resonated strongly with André Roy, dean of the Faculty of Arts and Science. "Concordia is becoming increasingly permeable to the community and creating meaningful interactions with its stakeholders and citizens," he says.
"4TH SPACE certainly conveys such permeability."

Evolution of an idea
During the Strategic Directions process, a group focused on the Embrace the city, embrace the world strategy — along with other researchers and leaders — brainstormed potential uses for the bookstore space.
In addition, Rebecca Duclos, dean of the Faculty of Fine Arts, led design charrettes to develop and test ideas. "There were strong feelings about Concordia embracing a more civic role," Duclos says.
These various processes eventually led to the 4TH SPACE concept. One member of the planning team aptly described the vision:
"Let's craft a space where our community can see composite materials testing one day, view images projected from fluorescent microscopes the next, become beta testers for virtual reality technologies another week and then participate in a weekend hack-a-thon to improve everyday objects for use by aging populations. 4TH SPACE needs to be agile. Alive. Responsive."

'The spirit of Concordia'
"It exemplifies the spirit of Concordia ­­— one of innovation, inclusion and open-mindedness," says Amir Asif, dean of the Faculty of Engineering and Computer Science.
"It's an affirmation that we take pride in our community and celebrate our connection to the city and to the world."
Stéphane Brutus, interim dean of the John Molson School of Business, agrees.
"Of the four universities in Montreal, Concordia is the most open and connected to the city. 4TH SPACE will take this connection one step further."

Read more about 4TH SPACE.
If you have thoughts to share on 4TH SPACE, please get in touch with Prem Sooriyakumar at Prem.Sooriyakumar@concordia.ca.

---