Concordia enhances support for student success and smart institutional growth
Nadia Bhuiyan and Anne Whitelaw take on new roles to expand community partnerships, experiential learning and university planning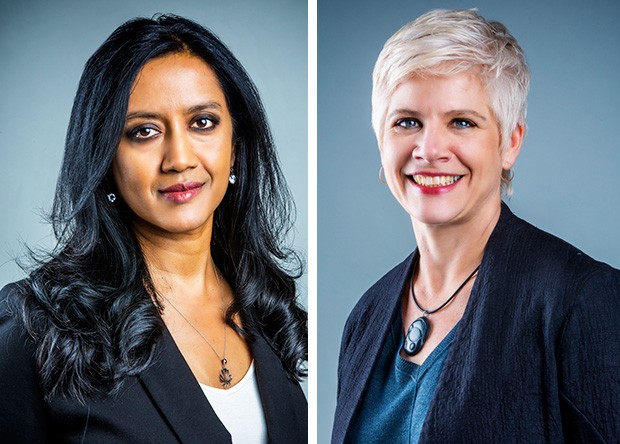 From left: Nadia Bhuiyan and Anne Whitelaw. | Photos by Concordia University

On January 1, 2017, Nadia Bhuiyan will join the Office of the Provost and VP, Academic Affairs as vice-provost of Partnerships and Experiential Learning and Anne Whitelaw will take on the position of vice-provost of Planning and Positioning.
The new roles were created as part of the university's capacity building to champion community partnerships, expand opportunities for experiential learning and develop blueprints for continued growth — all in support of Concordia's strategic directions.

Nadia Bhuiyan aims to expand experiential learning opportunities for students
"I'm very pleased to welcome Nadia to our leadership team," says Graham Carr, Concordia's provost and vice-president of Academic Affairs.
"As the director of the education arm of the Concordia Institute of Aerospace and Design Innovation (CIADI), Nadia has been at the forefront in providing our students with outstanding internship opportunities. Her commitment to students and her exceptional capacity for relationship building, will help Concordia to create new, exciting learning and work opportunities for students."
Having successfully negotiated industrial research and training collaborations with major aerospace companies such as Pratt & Whitney Canada, Bombardier Aerospace, Bell Helicopter and Siemens Canada, Bhuiyan has extensive collaboration experience in the world outside the university.
"External connections are vital for us," adds Carr. "Universities must build sustainable partnerships with private industry, government, not-for-profits and community organizations, and Nadia is perfectly equipped to provide vision, legitimacy and leadership in this area."
Bhuiyan obtained her bachelor's degree in Industrial Engineering from Concordia University and her MSc and PhD in Mechanical Engineering from McGill University. Her research focuses on product development processes, dealing with the design, development, production, and distribution of goods and services, with a focus on emerging tools and techniques for integrating design and manufacturing to improve process performance. ​
After joining the university in 2002 as assistant professor in the Department of Mechanical and Industrial Engineering, Bhuiyan became associate director of CIADI in 2003. She was promoted to associate professor in 2008 and professor in 2014, serving as director of the Master of Aerospace Engineering program from 2008-2010.
"I'm a strong advocate for building the type of collaborations that grant students first-hand experiences in their chosen careers and pathways to actively contribute to the evolution of our city," says Bhuiyan.
"These types of partnerships provide valuable exposure to experiential learning, co-operative education and academic engagement with community groups that help maximize students' career success and fulfilment as engaged citizens."

Anne Whitelaw takes a leadership role in strategic enrolment management planning and institutional positioning
"The last few years have seen spectacular growth and diversification in our overall student population," says Carr. "Students from Québec and all over the world clearly want to be admitted to our programs and to be part of the fabulous, creative energy that Concordia evokes.
"This is a huge advantage as we strive to advance our academic and research priorities, differentiate Concordia, and position the university in a globally competitive world of higher education," he adds. "But growth also presents challenges, which is why we need to take a planned approach to ensure that we 'grow smartly' to advance our academic and research ambitions in the future."
As vice-provost, Whitelaw will play an important leadership role in developing a strategic approach to critical areas such as enrolment management and institutional positioning. She will oversee key service units including the Office of the Registrar and the Office of Student Recruitment, and will work closely with the faculties, School of Graduate Studies (SGS), research and international sectors, as well as the Office of Institutional Planning.
Whitelaw joined Concordia's Department of Art History as associate professor in January 2011 after serving for 11 years as a faculty member in the Department of Art and Design at the University of Alberta.
In her role as the Faculty of Fine Arts' associate dean of research, she worked effectively to grow graduate programs, promote visibility for her faculty's research and artistic accomplishments, while making important contributions to institution-wide strategic planning.
She has served on departmental, faculty and university committees at both the University of Alberta and Concordia, is past-president of the Universities Art Association of Canada, and currently serves on the Council of Canadian Academies Expert Panel on the State of Science and Technology and Industrial Research and Development in Canada.
Whitelaw obtained a PhD in Communications from Concordia, an MA in Art History from the University of Essex and a BA in the same field from Concordia. Her research examines the intersections of art historiography and cultural institutions in Canada, with a particular focus on practices of exhibition and museum display. Her book Spaces and Places for Art: Making Art Institutions in Western Canada 1912-1990 will be published by McGill-Queen's University Press in the spring.
"I am eager to get started in my new role as it presents an exciting opportunity to leverage my experience in planning and development with the Faculty of Fine Arts and apply it university-wide," says Whitelaw.
"As a double alumna of the university and the daughter of a former senior administrator at Concordia , I'm deeply drawn to a leadership role at an institution that has played a foundational role in my life."
Nadia and Anne "are talented leaders who think strategically, have broad experience, and impress everyone they work with because of their collaborative ethos, ability to get things done, and deep commitment to Concordia," says Carr. "The university is very fortunate that they are willing to serve at this critical juncture for Concordia."

Find out more about Concordia's Strategic Directions.
---