'We need to find better ways to protect our water'
Engineering professor Ali Nazemi is committed to combating the effects of climate change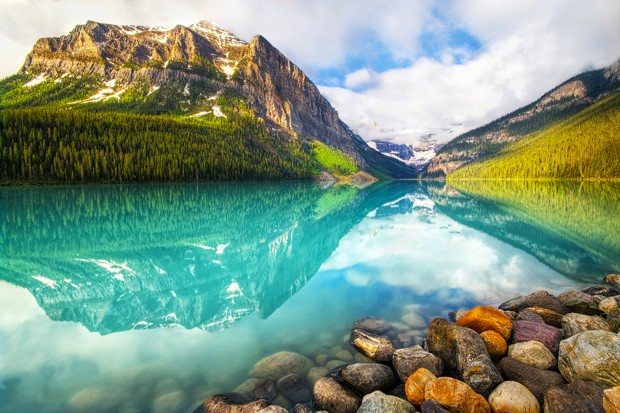 "When I came to Canada, I instantly fell in love with its pristine landscapes." | Photo by
Michael Muraz (Flickr CC)

Benjamin Franklin famously said, "When the well is dry, we know the worth of water."
Ali Nazemi, assistant professor in the Department of Building, Civil and Environmental Engineering, believes the key to combating climate change lies in this most precious of compounds.
"Water is the source of life. It's a predominant need for human beings and also the Canadian economy. We need to find better ways to protect our precious water resources."

An academic journey
Nazemi's research has taken him across the world. He received his PhD in Civil Engineering from the University of Birmingham in 2009, and before that his bachelor's and master's degrees in Iran.
However, it was Canada that captured his heart.
After arriving as a postdoctoral fellow eight years ago, Nazemi became an associate member of the University of Saskatchewan's Global Institute for Water Security, where he studied the impact of climate change and human management on our country's water systems.
Nazemi then joined the Saskatchewan Water Security Agency as senior hydrologist to provide science support on regional water resource management.
"When I came to Canada, I instantly fell in love with its pristine landscapes, from the Rocky Mountains to the great plains and lakes and the wild north. I want to protect it and keep it for the next generation," Nazemi says.
"Climate change is one of the major environmental threats to human society, and the effects of it in Canada will be diverse. We will see severe changes in landscape features. Northern countries feel the effects of climate change at double the global rate."
As such, he believes we are at the forefront of this global challenge.

'Concordia has a legacy in sustainability research'
Nazemi's desire to find new water security solutions led him to Concordia in 2015.
"The university has a long legacy in sustainability research and that's why it is perfectly suited for me. We're in a unique position to become one of Quebec's important players in this research area."
Currently, Nazemi focuses on developing new methodologies and modelling tools for addressing water security challenges, particularly under climate and anthropogenic changes.
He says it requires collaboration between departments.
"Climate change is a new science; it merges advanced mathematics with physical sciences. As a scientist, I enjoy being in the middle of various disciplines and discovering new links."
For Nazemi, it's pivotal that this research examine the causal relationships between various systems that have been previously overlooked.

'A leader in climate change'
Mohammed Zaheeruddin, chair of the Department of Civil and Building Engineering, recognizes the potential in Nazemi's work to make a significant difference.
"We have strong research groups in the areas of civil infrastructure, buildings and environmental engineering. Ali brings a new dimension through his research in water security and climate change."
Nazemi also has high hopes for what's to come.
"In the next four or five years, I would like to lead an integrated program on water security and climate change in Quebec."

Find out more about Concordia's Department of Building, Civil and Environmental Engineering.
---