'We want to continue building bridges'
Charmaine Lyn, Concordia's first senior director of the Office of Community Engagement, lays out her team's plans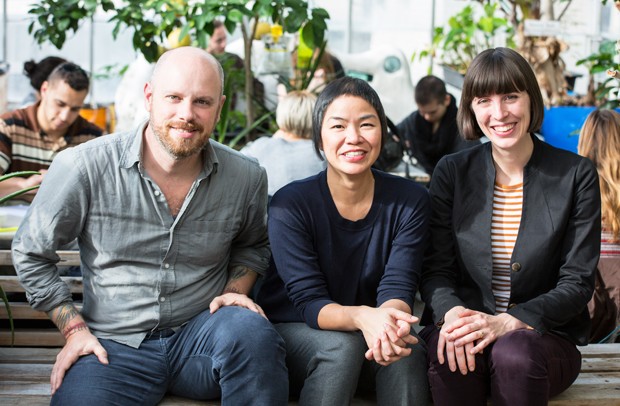 The Office of Community Engagement team (from left): Alex Megelas, Charmaine Lyn and Susan Edey.

Getting to know stakeholders across campus, establishing and strengthening relationships with community partners, and mapping the university's citywide impact — Charmaine Lyn, the first senior director of Concordia's Office of Community Engagement (OCE), has a full calendar.
Lyn took up the position in August and is responsible for leading the mandate to cultivate and steward partnerships in order to support and promote community-based scholarship, research, teaching and learning at Concordia.
The OCE directly administers and manages two programs — the University of the Streets Café and Living Knowledge — while promoting dozens of community engagement initiatives, collaborative research projects and more.
"A key role for me is to tell the story of what the OCE team does and to communicate the relevance and the promise of a community-engaged university," says Lyn, who was recently named one of the two special advisors to the provost on Indigenous Directions, with a mandate to help lead Concordia's response to the Truth and Reconciliation Commission (TRC).
"Community engagement is already part of our university fabric and history. Concordia emerged out of the YMCA and the Jesuit tradition. I mean, there's a metro stop downstairs — the city moves through us. We have a commitment to accessibility, from night school to continuing education to public conversations."
The new position appealed to Lyn because of her interest in amplifying the role of publicly purposed institutions.
"The knowledge that's produced and generated here is useful and relevant to a broad public and can and should be translated and shared back with the community that funds us. This office's mandate is to enable that."

'Building bridges and long-term relationships'
Lyn notes that the OCE predates the creation of the Strategic Direction, Embrace the city embrace the world.
"The OCE is the natural administrative home for the strategic direction. Through that lens, we're getting more visibility, so now is the time to shine a light on this work, which is distinctly Concordian."
To fulfill her mandate, Lyn and her team's first priority is mapping Concordia's community engagement and impact. They developed, through a collaborative working group, the prototype for a living map, searchable by things like neighbourhood, research project, topic and timeline.
"Next, we want to release the map and have the wider community validate it — tell us what's missing and participate in continuously feeding it content."
Lyn's other top priority, running concurrently, is to meet as many people as possible and connect the dots. "There is a huge volume and diversity of community-based and city-engaged activity going on, it's inspiring. People doing this work are deeply committed to innovative pedagogy and service to the public. And they are incredibly gracious and collegial."
She wants to facilitate more community-based experiential learning by collaborating with the Centre for Teaching and Learning to learn from and support faculty who've been operating in that realm for years, as well as those who are interested in learning more.
Ultimately, she says, her role is to position the OCE as a professional resource to establish and promote community-university partnerships, leveraging the knowledge of her staff — namely Susan Edey, who leads the Living Knowledge Community of Practice and is involved in the mapping, and Alex Megelas, who manages the University of the Streets Café public conversation series.
"Together, we want to continue building bridges across campus and building long-term relationships with the community."

Find out more about Concordia's Office of Community Engagement.
Attend "Teaching in Community: How can we encourage reciprocity in learning," a Living Knowledge event, hosted by the Office of Community Engagement, on Wednesday, November 16, from 12 to 2 p.m. at Share the Warmth (625 Rue Fortune).
---