Reframing Canadian art history for a 21st-century audience
Concordia professor Johanne Sloan kicks off a new lecture series at the Montreal Museum of Fine Arts with a focus on the urban environment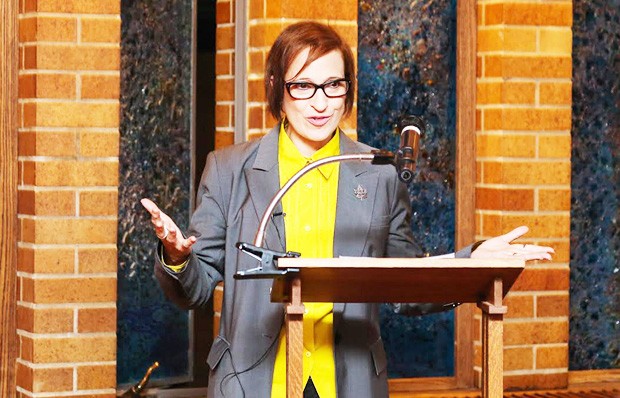 "It's no longer a radical gesture for artists to show their work outside of museums." | Photo: Kayla Rocca

A new series of lectures presented by Concordia researchers at the Montreal Museum of Fine Arts will help situate Canadian art history in a modern-day context.
Curated by Martha Langford, director of Concordia's Gail and Stephen A. Jarislowsky Institute for Studies in Canadian Art, the three public talks by institute members will paint a new picture of the astonishing richness of art history in Canada.
At the first presentation on September 20, Johanne Sloan, professor of art history, will introduce audiences to different facets of art making in Canada, particularly in the context of urban settings.
We spoke with Sloan about the themes that attendees can expect her to explore at the event, as well as the general focus of her research.
What will be the focal point of your talk on September 20?
Johanne Sloan: My lecture asks whether we can temporarily bracket the category of "Canadian Art History" to instead focus on how contemporary art is embedded in cities. Art intersects with urban environments and urban experience in multiple ways, while tapping into the distinctive qualities of cities such as Montreal, Winnipeg or Vancouver.
How does this relate to your work at Concordia?
JS: I am currently teaching an undergraduate course on urban art histories, which explores how it was once a radical gesture for artists to show their work outside of museums and galleries, but that more and more contemporary artists now engage critically with the urban environment.
In the context of my SSHRC-funded collaborative project, "Networked Art Histories: Assembling Contemporary Art in Canada, 1960s to the Present," I've also explored whether it is possible to identify how urban art in each city results in a distinctive cultural energy.
What's next for you?
JS: The culminating event of my SSHRC project will be a conference, Networked Art Histories, to be held at Concordia from October 20 to 22, 2016.

Hear more from Johanne Sloan about urban artworlds in Canada at the Montreal Museum of Fine Arts on September 20. Future lectures in this series take place on October 18 with Sherry Farrell Racette and November 22 with Anne Whitelaw.
---