The F1 experience of a lifetime
Concordians Alexander Grant and Antonio Badea were two of only 10 Canadian students invited to the Infiniti Engineering Academy finals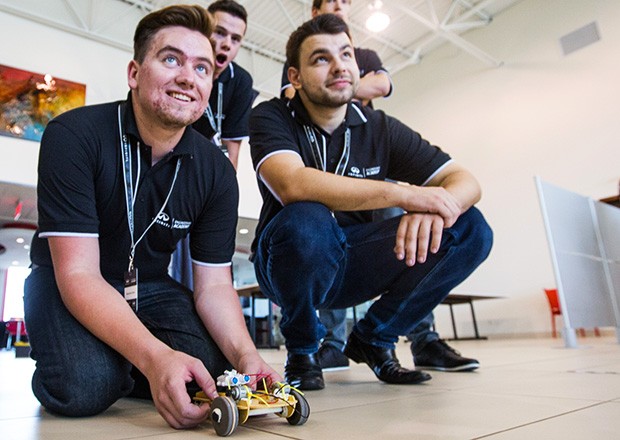 Finalist Antonio Badea: "It was absolutely surreal." | Photo by Frédérique Ménard-Aubin

For the third successive year Infiniti, the luxury vehicle division of Japanese automaker Nissan, has sought out the best young engineers through its Infiniti Engineering Academy Competition.
The event provides outstanding engineering undergraduates the chance to secure a one-year work placement with the motor company and the Renault Sport Formula One Team.
The 2016 edition attracted a record 4,108 entries from 44 different countries. This year marks the first time the competition was open to Canadians, and 217 students registered. After a three-month recruitment process, 10 individuals from across the country were chosen to attend the final selection event.
Concordians Antonio Badea and Alexander Grant were among the finalists who competed in Montreal on Thursday, July 28. Although they didn't earn the grand prize, both said they gained a lot from the contest.

'The final was designed to push us to our breaking points'

"It was absolutely surreal," says Badea, who's in his third year of a mechanical engineering degree. "The entire event was streamlined beautifully — it was a phenomenal experience overall, and the difficult assessments, challenges and being judged by industry-leading engineers have turned me into a better student and individual.
"While I did not win, I got to meet a fantastic group of candidates who I think I could be great friends with, I got to be on camera and I was given crucial constructive criticism by some of the most talented engineers in the world. I definitely think it was the chance of a lifetime to be a part of this prestigious event."
Senior engineers from both Infiniti and the Renault Sport Formula One Team judged the national final. The 10 students participated in a series of group challenges, a technical exam and interviews before being evaluated on both their technical knowledge and practical skills.
"The entire final was designed to push us to our breaking points and to gauge how we deal with high-pressure situations, as well as how we work in a team of people we had just met," says Grant, who is also in his third year in mechanical engineering, and is a member of Concordia's Institute for Co-operative Education.
"This really kept us on our toes and engaged. That being said, the final was also extremely fun, and gave us the opportunity to meet with the highly distinguished judges, for which I am very thankful."
Badea and Grant both say that the support and education they have received at Concordia so far was invaluable in terms of allowing them to compete with the country's best engineering students and make it to the finals of the competition.
"Throughout my time at Concordia, I have not only learned a lot academically, I have also learned many technical and problem-solving skills that helped to prepare me for the challenges faced at the final," says Grant.
"My biggest mentor is Michael Rembacz, a manufacturing and machining instructor, as well as the faculty adviser for the Concordia Formula Racing team. Not only has he taught me everything I know about Formula SAE and machining, but it was actually him who inspired me to join Formula SAE in the first place."
Badea also thanked his mentor, and others who supported him from ENCS.
"I couldn't have been confident and calm during the finals if it weren't for Donald Davis," Badea says. "There were many other people in the faculty I spoke to as well, who helped me find a good way to present myself as a competent aspiring engineer as well as how to tackle difficult challenges I haven't yet explored before as a mechanical engineering student."

'I took the time to learn and it paid off'

As for other students interested in pursuing a career in automotives or Formula One, Badea and Grant say success in this field is no secret — it takes perseverance.
"My biggest pieces of advice would be to get involved, work hard and don't give up. Everyone has the potential to work in F1, but there is so much competition that you need to set yourself apart from the rest and stand out," says Grant.
Badea agrees. "Just start doing. When I first joined the Formula SAE team at Concordia, I could barely use a wrench. Yet I stuck around and bugged the subsystem leads with a million different questions. I took the time to learn and it paid off in the end. Don't be discouraged if you don't understand anything in the beginning; have patience and your experience will grow."


---