Ideas fly high with Concordia's drone makers
After taking the podium in an unmanned systems competition, this popular student group looks to expand its horizons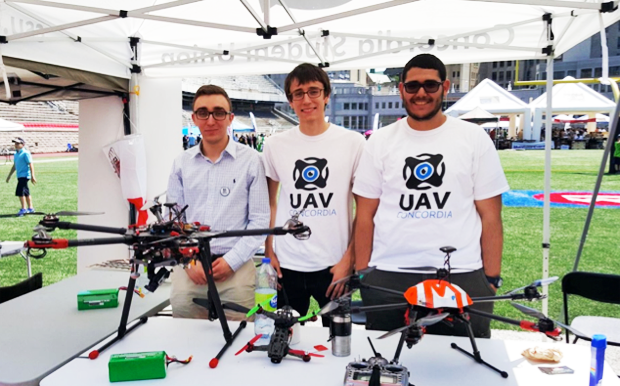 "Drones necessitate multidisciplinary collaboration." | Photo courtesy of UAV

Christopher Gallo, president of UAV Concordia, found himself pleasantly surprised earlier this year when his team captured third place during the Unmanned Systems Canada Student UAV competition.
It wasn't the first time he'd attended the nationwide drone contest. Last year, UAV Concordia (the acronym stands for unmanned aerial vehicles, in case you were wondering) also participated, but didn't fare so well. However, that didn't stop the fastest growing student group within the Engineering and Computer Science Association from going back to the drawing board only to return the following year to beat out 11 other Canadian universities and colleges and make the podium.

'Hard work shines through'
"After last year, we really made a push to be one of the top competitors," says Gallo, whose team clinched a winning finish during the second phase of the competition, in which each group is required to perform an operational flying demonstration.
"It caught us off-guard that we ended up placing so well, though of course we prepared for it and really tried to get the best performance we could out of the drone. It was an outstanding feeling to see all the work we put into it shine through."

Up next for UAV Concordia
This burgeoning student group is dedicated to designing, building and outfitting drones. From making them fly to giving them specified functionality, UAV Concordia offers students a chance to gain hands-on experience in the area of flight control.
Since the win, their primary objective has been to expand the group's horizons and participate in international competitions, some of which require an entirely autonomous system — a challenge Gallo says his club of drone makers is eager to tackle.
"Preparing for different competitions has given us constructive experience, it's given us the opportunity to learn about a variety of systems and apply theoretical knowledge in order to solve real-life engineering problems."
David W. Dunleavy, executive secretary of UAV Concordia, knows this firsthand.
"When designing something new you have to take into account several factors, such as competition requirements, budgetary restraints and the deadline, so it really allows you to build both technical and interpersonal skills."

Bridging cross-disciplinary gaps
Dunleavy adds that being a member of UAV Concordia has allowed him to meet with representatives and key people from the industry as well as other engineering students studying at Concordia whom he otherwise would not have the chance to encounter.
Gallo agrees, explaining that in engineering, you have a lot of different disciplines that don't really interact.
"For instance, you have computer science students only taking comp-sci classes whereas mechanical engineering students are taking mechanical classes; there's a big split," he says.
"But the interesting thing about drones is that they necessitate multidisciplinary collaboration, they give you an opportunity to work on a system that requires people from different backgrounds. So, the UAV society gets everyone together to work on reaching one particular goal."
While Gallo says mechanical engineering students will tend to be more involved in the design process, a software engineering student might work to set up the programming needed to control the drone's subsystems, but the end goal is the same and the cross-disciplinary fraternization has been something both he and Dunleavy have found enriching.
"You can't do everything on your own, and you need people who are specialists, who can come at things from a different background; being introduced to students from other disciplines broadens your contact base and can help later on in life," says Dunleavy.

Drones for humanity
Currently the group has 45 members — a considerable number given it's only existed for three years — comprised of engineering undergrads who span many departments.
"We're convinced unmanned drones are a sector of the aerospace industry that will expand massively in the future," says Dunleavy. "There are so many different applications for drones we have yet to even think of, so it's up to people's imaginations to come up with new ways to apply drone technology and that's exciting."
For instance, at the UAE Drones For Good competition last year in Dubai, the winning drone was purposed to enter a burning building and find survivors.
"That's just one example of how a drone can serve humanity," says Gallo.

Follow UAV Concordia on Facebook.
Learn more about Concordia's Faculty of Engineering and Computer Science.
---