Double gold for Concordia at the Canadian Society for Mechanical Engineering Awards
An undergraduate team's 3D printer and a PhD research paper on customized glass manufacturing impress the judges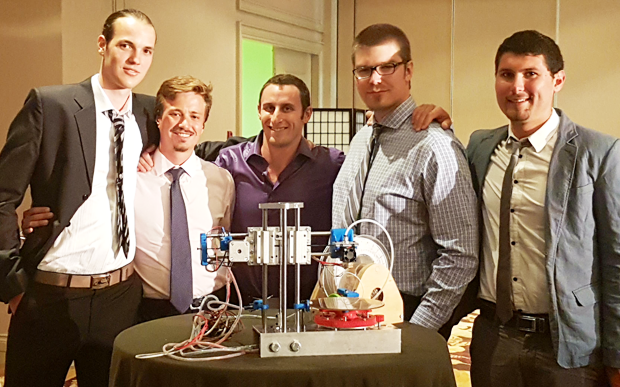 Concordia engineering undergraduates built a winning 3D printer using readily available components.

Students from Concordia's Mechanical Engineering program shone at the 2016 Canadian Society for Mechanical Engineering (CSME) International Congress, seizing first prize in both undergraduate- and graduate-level competitions.
Concordian Dimtcho Krastev and Matthew Silverstein led a team of 10 second, third and fourth year Mechanical Engineering undergraduates to win Best Overall in the CSME National Design Competition, which challenges students from universities and technical colleges across Canada to design and build a 3D printer.
"We felt exceptionally happy and accomplished. It is good to see the result of many months of hard work become reality," says Krastev, who worked with Silverstein, Darrin Fong, Dang Son Mai, Evan Gerard, Prathep Mohanathas, Marc Roche, Adam Roussac, Eric Giblot Ducray and Mihael Mihaylov on the project.
The competition provides a chance for aspiring engineers to build and assemble their designs from basic components readily available on the market. All teams were asked to submit a package consisting of a technical and business report, a 3D-printed prototype part and a promotional video clip.
"They truly worked as a team, combining hands-on and theoretical skills to come up with an innovative design for a new generation of 3D printers," says Ali Dolatabadi, graduate and PhD program director of the Department of Mechanical and Industrial Engineering (MIE) and outgoing president of CSME.
"They also had great soft skills — the video clip they made for the competition was featured in the International CSME Congress award ceremony and the entire audience was so impressed with the quality of their work."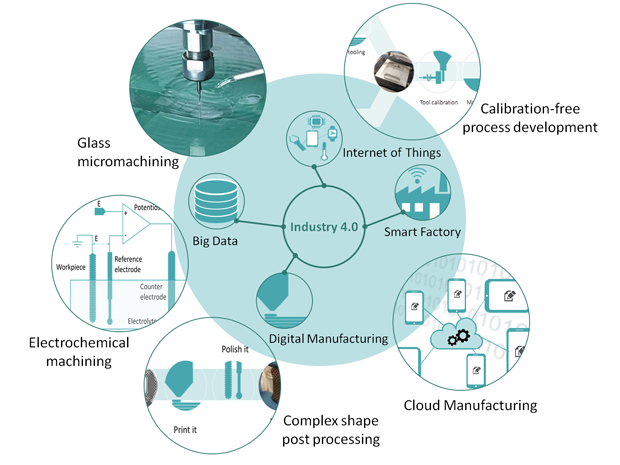 PhD candidate Lucas Hof: "It is really nice to see your research appreciated."

Accolades were given out last week in Kelowna, BC, where Krastev and his team received the grand prize of $2,000. The University of Alberta and McGill University placed second and third respectively.
"Without the support of the Faculty of Engineering and Computer Science, and particularly that of Martin Pugh and Ali Dolatabadi, we would not have been able to do it," says Krastev, who adds that his team received invaluable financial help from their department, the Office of the Dean and Advancement and Alumni Relations.
"Our education at Concordia gave us a good base and helped us identify what targets to achieve in order to succeed."
A gold, a bronze and two new fellows
Lucas Hof, a third year PhD student in Mechanical Engineering, also brought a first-place prize back to Concordia. He won the CSME Graduate Student Paper Competition for his research on the integration of micromachining technology developed by Concordia's Electrochemical Green Engineering Group.
Hof's paper focused specifically on development processes in tooling and tool calibration to enable manufacturing of highly customized glass products.
"It is really nice to see that your research is appreciated by your peers. It felt great and stimulates me to continue," says Hof, before thanking his supervisor, Rolf Wuthrich, professor of mechanical engineering, who contributed to the realization of his research.
"Wuthrich is a world-leading expert in advanced manufacturing technology, spark assisted chemical engraving (SACE), which is the main reason why I'm conducting research here at Concordia," says Hof. "Furthermore, the support I received from my group members, especially Masiar Rahman, Pantea Fallah, Frederic Charbonneau and Vahid Karamzadeh, was essential for successful research."
Seyed Mohammad Reza Attarzadeh, another PhD candidate at Concordia, also garnered notice, placing third in the paper competition. Concordia professors Wen Fang Xie and Javad Dargahi were named CSME fellows at the congress.
Find out more about Concordia's Department of Mechanical and Industrial Engineering.
Watch the video from Concordia's 3D printer design competition team:
---