From aerospace boot camp to summers on the factory floor
Concordia's industrial apprenticeships take engineering students to new heights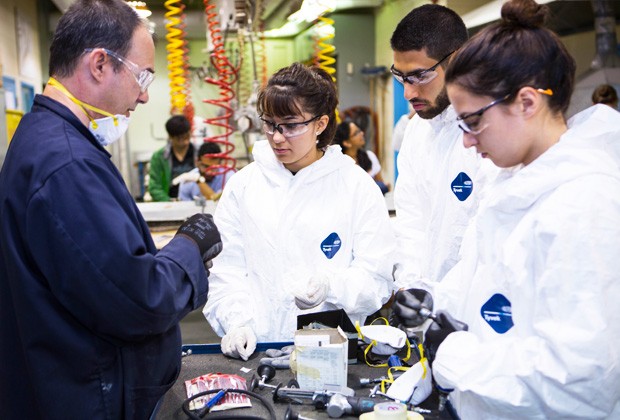 NCADE apprentice Snayha Patel: "Every day, I learn something incredibly new." | Photos by Leslie Schachter

When Catharine Marsden stepped in as senior chair holder of Concordia's newly launched NSERC (Natural Sciences and Engineering Research Council of Canada) Chair in Aerospace Design Engineering (NCADE) last fall, she hit the ground running.
Given NCADE's primary objective of increasing experiential learning through project-based content, setting up an industry apprenticeship program was a top priority.
NCADE's industry partners — Bombardier, Pratt & Whitney Canada, Bell Helicopter Textron, Siemens, Marinvent and Altair — quickly signed on to the program. They selected first-year engineering students to apprentice with them over four summers and familiarize themselves with various aspects of the companies' operations.
Each of the partners is familiar with Concordia's commitment to collaborating with industry, having worked within the university's internship and Co-op programs.


Getting their hands dirty
In setting up the apprenticeship program, Marsden was spurred on by the memory of her first hands-on experience in aircraft manufacturing.
"Working with the product and learning all the complexities of the aircraft systems as a maintenance technician is where I grew to really love the product," Marsden says.
"When it was announced in the early '80s that Bell Helicopter Textron was going to build a plant in Canada to design and manufacture helicopters, I knew that that was the job for me."
By June 23, the first eight engineering students selected for industry apprenticeships will already have handled tools and aircraft parts over the course of an intensive eight-week familiarization program they've collectively dubbed "aerospace boot camp."
Concordia developed the hands-on program in conjunction with the Business Services Department of Cégep Édouard-Montpetit's École nationale d'aérotechnique (ÉNA) in Saint-Hubert.
It exposes the apprentices to the workings of powertrain and aircraft systems, structures, avionics and instrumentation, and develops their understanding of aerodynamics and manufacturing processes. Two thirds of every module is devoted to hands-on activities.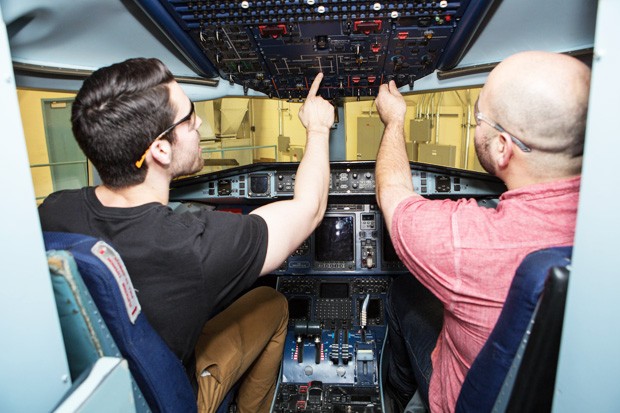 Learning the craft
Snayha Patel appreciates the apprenticeship's "tactile" learning experience, having come to her studies in industrial engineering with a background in fine arts.
"It's been fantastic," she says. "I knew nothing in this field when I started. Every day I learn something incredibly new." Patel has signed on as an apprentice with Siemens.
Mechanical engineering student Reuben Warnongbri values the deeper connection he expects to build with industry partner Pratt & Whitney Canada. "This is more like a relationship; you build a foundation, learn a craft and learn it really well," he says.
On June 6, the apprentices renewed their contact with the aerospace companies where they'll be working this summer during an informal event at the ÉNA that included a tour of the facilities and an overview of the subjects tackled at the boot camp.
Amir Asif, dean of the Faculty of Engineering and Computer Science, was in attendance, along with Robert Fews, aerospace special advisor to the Concordia Institute of Aerospace Design and Innovation; Yong Zeng, the NCADE co-chair responsible for research activities; and Marsden. The group toured the various workshops and hangars filled with a wide range of planes and helicopters now familiar to the apprentices.


The win-win relationship
Marsden says she believes both students and industry partners recognize the edge the new apprenticeship will give them.
"Students who are interested in aerospace design and who participate in the apprenticeship program will have a tremendous advantage over other students," she points out. "They will have experience and hands-on knowledge of the aerospace product, the industry that designs and manufactures it and the community that operates and maintains it."
Meanwhile, Phil Cole, vice-president of Business Development for Marinvent, has first-hand knowledge of the value provided by industry apprenticeships.
"I did a program like this in Europe, as did my boss," says Cole. "The real advantage is, at the end of it, you get students who are immediately employable rather than needing another five to 10 years of company training after their degree."

A natural alliance
Officials with ÉNA were delighted to partner with Concordia in developing the familiarization training.
"We were very interested because we could bring the practical side to complement the university program," says Aude Clotteau, director of Continuing Education and Business Services at Cégep Édouard-Montpetit.
The cégep's director, Sylvain Lambert, says the alliance between the two post-secondary institutions was a natural one. "It opened us up to English language instruction and, for Concordia, it opens up this technical world where they have access to our equipment, our hangars, our various models of aircraft."
The NCADE apprenticeship program's training at ÉNA will be the model for a compressed version to be offered next winter to the first cohort of students in the newly launched Bachelor in Aerospace Engineering program.
Because of the cross-disciplinary nature of aerospace design engineering, apprenticeships remain open to engineering students from any discipline at Concordia.

Find out more about the new Bachelor of Aerospace Engineering.
---