Embark on a multidisciplinary journey to the Middle East
A minor in Israel Studies is your chance to explore a complex region from a variety of scholarly viewpoints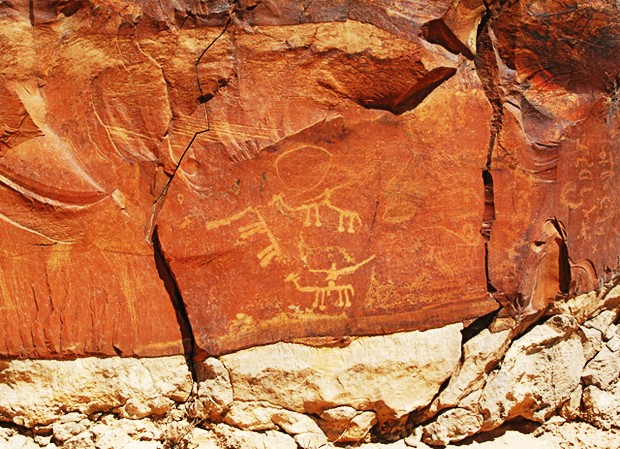 Ancient rock drawings near Nitzana. | Photo courtesy of freeisraelphotos.com

Understanding one of the world's most fascinating and complex regions takes a truly multidisciplinary approach, and this is what makes Concordia's new minor in Israel Studies — the first and only undergraduate program of its kind in Canada — so unique to North America's academic landscape.

The program is offered through the Faculty of Arts and Science's Azrieli Institute of Israel Studies, a research centre that brings together faculty and students, both graduate and undergraduate, who are studying Israel from their respective disciplines.

This innovative undergraduate minor is open to students from all academic backgrounds who want to embark on a journey to understand more about Israel and the greater Middle East region.

We spoke to Csaba Nikolenyi, Director of the institute, to find out more.

Why should a student consider doing a minor in Israel Studies?
Csaba Nikolenyi: Israel is always exciting, always interesting. People care about Israel for political reasons, cultural reasons and religious reasons. Three of the main monotheistic faiths are connected, in terms of their origin and their early development, with that small piece of territory.
There is a general recognition and understanding across the globe that something very important happened thousands of years ago in the region, which continues to shape Western civilizations and fascinate people. Israel and the Middle East — the Holy Land — attract ongoing scholarly, tourist and intellectual curiosity and attention.

On a practical level, our institute supports our students and faculty. We provide financial support for students writing graduate theses and dissertations on various research topics. We also provide assistance so they can present their work at conferences.

We make it possible for students to travel to Israel to study there. For instance, we had one who did Hebrew language training at Tel Aviv University a couple of summers ago. This summer we have an undergraduate student who is going to the Rothberg International School at the Hebrew University.

What's so great about going to Israel to study and do research?
CN: Complexity.
Israel has a very small and fragmented population on a very small piece of land. Whatever you do, whether you're a scholar or a student in the humanities, social sciences, business or science and technology, you have it all in Israel.
There are a lot of social and political challenges, but at the same time you have great scientific discoveries and developments taking place.
Israel is genuinely a laboratory of everything that we study here in our classrooms. You also see all of the complex dynamics of building a new society, building a new state — a vibrant and very developed state in motion. There isn't a single area of scholarly inquiry that we pursue here at Concordia that can't be offered in the form of a wonderful case study in Israel.
What comprises a minor in Israel Studies?
CN: The Israel Studies minor looks like a conventional Concordia minor in terms of the number of courses required: a minimum of 24 credits, or eight courses, which are organized into four clusters.
The first is a language cluster. We test students who are coming into the program, and if they are proficient in Hebrew, they have to take Arabic courses; if they are proficient in Arabic, they have to take Hebrew.
We want to make sure that students who already have one of the official languages of Israel in their repertoire will learn the other. If somebody comes in with zero background in Hebrew or Arabic, it's their choice what they do.
The second cluster features courses that focus on politics and religion in Israel. The third is made up of courses that look at Israel in the broader region of the Middle East. We want students to get an understanding of the complex interface that Israel has with the different political and religious organizations, movements and entities around it.
The final cluster is a series of courses that look at Israeli society, politics and culture offered through various departments ranging from political science to religion.

Find out more about Concordia's minor in Israel Studies.
---