A Concordian abroad: flødeboller, flæskesteg … a feast!
This week, undergrad Meagan Boisse is treated to an authentic Danish meal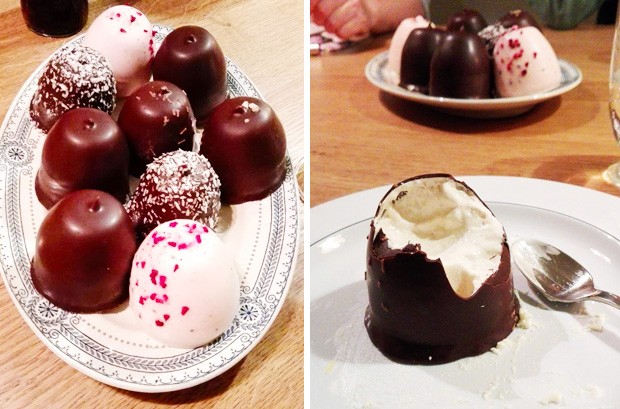 "Flødeboller is essentially a fluffy marshmallow dream encased in chocolate."

Meagan Boisse is an undergraduate student in the Department of Journalism, and a member of the Institute for Co-operative Education. For her last work term, she was employed as a roving reporter at Concordia.ca.
Now, through Concordia International, Boisse is spending the winter 2016 term studying at the Danish School of Media and Journalism in Aarhus, Denmark.

Before I left for the warmer(ish) pastures of Denmark this January, I had no idea what Danish cuisine was. For instance, I'd never heard of rugbrød, a household staple (a dense, sour rye bread) that tends to elicit either love or hate from the unaccustomed palates of foreign students.
I'd also never heard of smørresbrød, a classic open-faced sandwich that sounds a lot to me like the by-product of a week's worth of leftovers. Oh, and I only just found out this morning that the Danes eat chocolate slices on bread for breakfast — a custom I plan to investigate further because any excuse to eat chocolate is a good one.
I'm an ardent believer in getting to know the local cuisine of any place one visits, so I'm ashamed to admit that before this weekend I had yet to sit down and actually enjoy an authentic Danish dinner.
Luckily, I happened to be paired with a Dane for my latest school assignment. The outcome was the best experience of hygge from my exchange to date.
This Saturday, Femy, my Kiwi classmate, and I were treated to the full Danish experience after a long day in the editing lab. In a kind gesture, our Danish teammate Mathias invited us to dine at his family's home.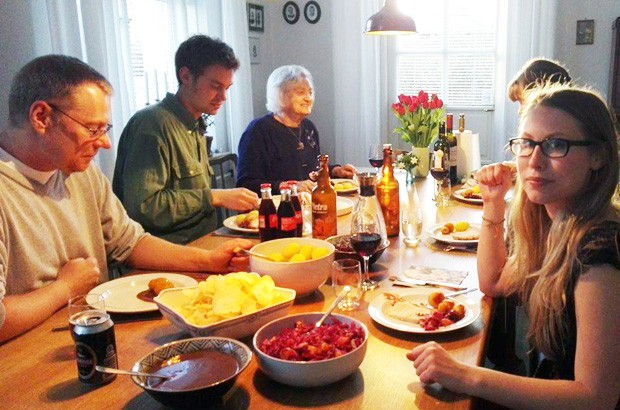 First off, his near-century-old house was charming and the neighbourhood looked like the site of many a wholesome childhood. Mathias took Femy and me for a stroll around the block before we headed back for the full-course meal his parents had prepared for us.
The meal consisted of flæskesteg, one of Denmark's national dishes. It's a pork roast that is prepared with crackling; it is salty, fatty and wonderful. We had this alongside raw and boiled red cabbage, gravy and brown potatoes (cooked in sugar and butter, yum).
As a student with limited culinary abilities, I took full advantage of this rare opportunity to gorge on a home-cooked meal. I eagerly indulged in seconds, and by the end of supper felt I couldn't possibly eat another morsel.
Of course, that was till they brought out dessert. Suddenly, as I've oft noted is the case, my appetite miraculously reappeared.
The pièce de résistance was citronfromage, which counterintuitively contains no cheese. Rather, it is a lemon mousse that is refreshing, delicious and somewhat reminiscent of a lemon meringue pie. We also got to try flødeboller, which is essentially a fluffy marshmallow dream encased in chocolate.
Needless to say, Femy and I had a wonderful time, and it is now our turn to (literally) bring something to the table.

Start your application for exchange today!
---