Concordian Junna Chif reels in a top TIFF cinema prize
Crazy locations? 17 eight-year-olds? The undergrad 'never took no for an answer' — and ended up at Canada's Top Ten Film Festival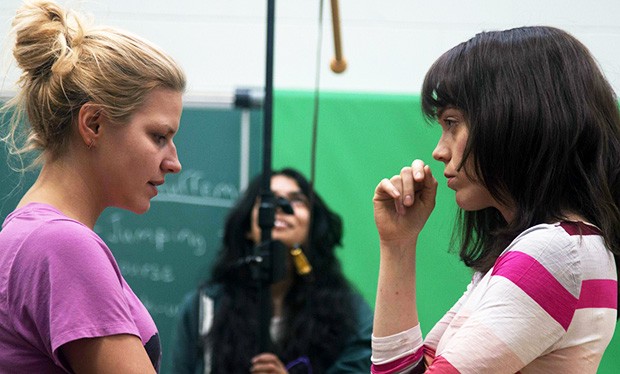 An "intense period of pure creation": Junna Chif (left) on the set of Mme Liliane with actress Catherine Bérubé.

This week, Junna Chif — an undergrad at the Mel Hoppenheim School of Cinema — landed Best Student Short Film (Live Action) at the Toronto International Film Festival's (TIFF) Canada's Top Ten Film Festival.
According to TIFF's website, the award includes technical and financial support from William F. White International Inc., Technicolor and the Directors Guild of Canada, as well as invites to the next Directors Guild of Canada Awards and the 2016 Toronto International Film Festival.
Here's how Chif came to make Mme Liliane, the 11-minute tale of a primary school teacher who is waiting for a life-changing phone call.

Junna Chif on her award-winning film Mme Liliane
Filmmakers compare creating a film to the birth of a child. I cannot agree more. There is nothing more beautiful than to give birth to a film; it brings life to my deepest emotions and voice to my wildest ideas.
From development to post-production, my experience of film work is pure joy, while forcing me to face some of the most difficult moments in life.
Cinema combines all artistic forms: performance, image, music, dance, composition, magic and more. With this, we craft work that can be moving, thoughtful, entertaining and accessible to all.
I know I have a good film idea when, in an instant, I see it clearly from beginning to end. Then I sit down and write out the whole film: shots, dialogue and gesture; then, slowly, I refine it over several months.
The most stressful period of filmmaking is also the most emotional and the one I enjoy the most: the shoot! During this intense period of pure creation, I finally see and hear what was once in my head. Importantly, this is also when I get to work with the actors, a favourite element of filmmaking.

With my short film Mme Liliane, I had to prove I could make it in a school setting at Concordia. Production constraints included feasibility and originality, judged by a selection committee, tasked with choosing the projects to go into production.
I felt I had a compelling story; however, the entire film is set in a primary school with a cast of 17 eight-year-olds.
At the beginning of the year, I was told, "Good luck convincing the jury!" Once in front of the jury, I had all the essentials ready: lead actors, 17 children, the school, my crew and more. I only had to convince them the film was worth shooting!
Concordia has provided me so many opportunities to excel. I had to prove not only that I had a great film idea, but that I was prepared to bring it to realization. I also learned to take criticism, once very difficult for me, but which I now truly value.
Each year, I realize more and more how difficult it is to make films. I am fortunate to have learned this lesson; now I am even more ready to find my place in our industry.
Mme Liliane has now screened at festivals across Canada and the United States, and will travel more this year. I am excited that the film has already won two prestigious awards: Special Jury Prize at the 2015 Calgary International Film Festival, and Best Student Short Film (Live Action) at the TIFF Canada's Top Ten.
I make films for the public, and hope they will be touched and moved. Being selected by festivals and honoured with awards is extremely validating and proves to me that I am on the right track; for that I am deeply grateful. It gives me the drive to move forward with my work.
Now, I am writing my first feature film, a story set in Quebec, written in French, English and Russian.
When I graduate this year, my advice to first-year students will be: make as many mistakes as you can while at school, it's the best place for it and a great way to learn. Most importantly, do not take 'no' for an answer.
Work as hard as you can to pursue your dreams.

Junna Chif
Writer/director
---