Winterfest 2016: 'A chance to share teaching philosophies'
Register now for 9 workshops on a range of pedagogical themes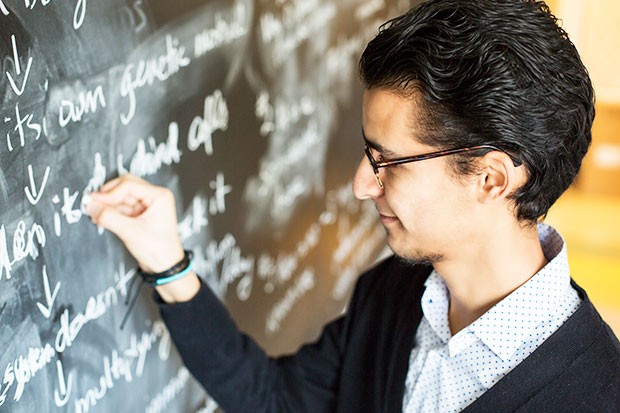 What values are important in your teaching practice? That question lies at the heart of the Teaching and Learning Winter Festival 2016 at Concordia, which runs from January 22 to February 12.
The third annual edition of Winterfest, organized and funded by the Centre for Teaching and Learning (CTL), includes nine workshops open to faculty, staff and graduate students. It features Concordia experts addressing teaching values and approaches, such as passion, empathy, fun and engagement.
Teach for tomorrow
The themes emerged during last year's CTL focus groups for The Teaching Values Initiative, says Catherine Bolton, Concordia's vice-provost of Teaching and Learning.
"CTL facilitators asked participants to reflect on their experiences as teachers and students, and to articulate the values that they felt were important to teaching at Concordia," she says.
"Winterfest 2016 will build on this fall's work around values and strategies, aiming to eventually create a university-wide definition of good teaching, in line with our strategic direction teach for tomorrow."
One of the outcomes of The Teaching Values Initiative was the "learning tree," a method of visualizing the teaching values in a tangible fashion during the focus groups. Some of the "leaves" of this learning tree are being presented at Winterfest 2016.
"Winterfest is a chance for us, as educators and academics, to share our philosophies, methods and expertise, and, of course, to create cross-disciplinary links and get to know each other," says Emer O'Toole, assistant professor in the School of Canadian Irish Studies, and a workshop presenter.
Have some fun
O'Toole's workshop — on Friday, February 12 at 9:30 a.m. — will explore the concept of fun in the classroom. She notes that, on a basic level, fun and play keep students interested. More engagement means more active learning, which is valuable in terms of comprehension and knowledge retention.
"But what is play?" she asks. "And how does it function in the classroom? My lecture-workshop will combine theories of play with team-based games to bring us to the philosophical heart of why humans play and what is achieved when they do."
Things aren't always as they seem
Another Winterfest workshop presenter, Benoit-Antoine Bacon, provost and vice-president of Academic Affairs, is focusing on counterintuitive realizations in the classroom.
"A key goal of higher education should be to scaffold a deep appreciation that things are not always as they seem or what we are told they are," says Bacon, whose workshop is on Friday, February 5, 2016 at 9:30 a.m.
"What we call obvious or even reality is often interpretation through a series of filters and lenses, rather than objective fact," he says. "These epiphanies make for memorable moments and have a strong pedagogical impact."
The other workshop presenters for Winterfest 2016 are:

See the full schedule and register for Concordia's Teaching and Learning Winterfest 2016. Workshops are free, but seats are limited.
---