Concordia's strategic directions: cross-institutional plans in progress
PHASE 2: Consultations yield useful ideas and thoughtful conversations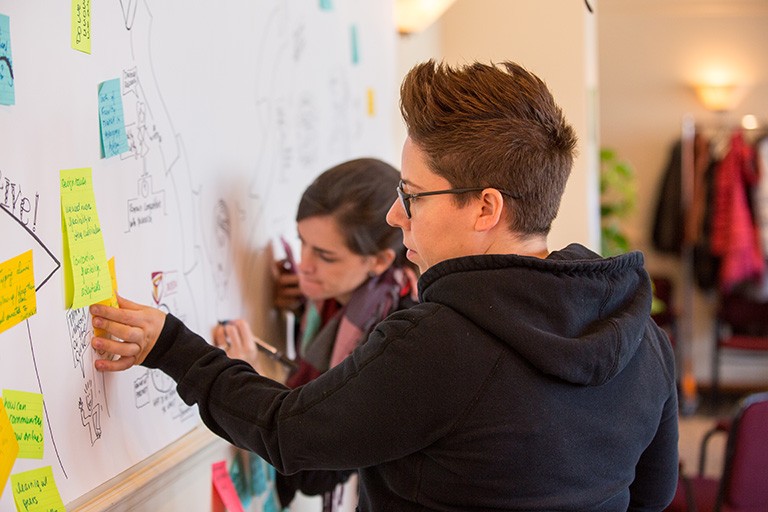 The five cross-institutional strategies will be available for review toward the beginning of the winter term.

How can Concordia realize its aim to be a magnetic university that combines intensive knowledge making, deeply connected learning and high-impact public engagement?
This question is at the heart of the work to develop strategies for how Concordia can grow smartly, double our research, teach for tomorrow and embrace the city, embrace the world.
This is part of Phase 2 of the Strategic Directions Initiative. First drafts of the university-wide strategies will be tabled in January.
Benoit-Antoine Bacon, provost and vice-president of Academic Affairs, Catherine Bolton, vice-provost of Teaching and Learning, Graham Carr, vice-president of Research and Graduate Studies, and Lisa Ostiguy, deputy provost, provided updates on their respective working groups at the Senate's December 4 meeting. Carr presented on behalf of William Cheaib, associate vice-president, International, in the Office of the Vice-President, Research and Graduate Studies.
Grow smartly
To lead the grow smartly strategy development, Bacon has engaged the Senate's Academic Planning and Priorities Committee. They have met three times, and organized consultations that have included an online questionnaire, a November 18 "ideas café" and discussions with key groups like the Faculties, Office of the Registrar and Recruitment.
"We can only grow smartly if the other eight directions are successful," he said. "It will be important to ensure that this strategy is in alignment with our Faculties as well as our approach to recruitment and various service sectors that include human resources and information technology."
Three key components to the strategy are taking shape, said Bacon. The first is a set of principles to guide Concordia's enrolment planning. "Without principles, we're too often driven by circumstances," he said.
The second is a coherent set of actions and initiatives that address recruitment and enrolment challenges at the local, national and international levels, and for both undergraduate and graduate students. Bacon said it will be especially important to develop astute plans in light of local demographic changes and global competition.
The third focuses on ideas for new research niches and new programs the university could develop.
Double our research
The working group developing the double our research strategy has been busy exchanging ideas and will be finalizing its draft recommendations for a cross-institutional strategy in January.
More than 150 individuals have participated in consultations, including two idea cafés, said Carr. Comments have also been received via email from members of the community as well as through a survey of research services and an online questionnaire.
"We've been having very thoughtful conversations about what double our research means — or could mean — for us at Concordia," he said. "We're encouraged by the 'blue-sky' thinking that is happening as we look at how we can position ourselves to adapt creatively and successfully to rapidly emerging trends in research and training."
The working group has also been exploring what Concordia needs to do to attract and support talented faculty members and graduate and postdoctoral students, and how it can create winning conditions for intensifying the research enterprise.
Teach for tomorrow
In developing a university-wide strategy to teach for tomorrow, Bolton said it has been important to reach out to the entire Concordia community to talk about our education values and what we think is essential for a broad and useful definition of good teaching.
This effort has included 17 focus groups, facilitated by faculty members from across the university, the deputy provost, dean of students, directors of the Student Success Centre and Centre for Continuing Education, as well as representatives from the libraries and the Department of Education.
Seven focus groups have also been held to discuss the teach for tomorrow direction, exploring in particular how the university can encourage faculty members and departments to include high-impact learning practices in their courses and programs.
"The experience so far has been exhausting and exhilarating," said Bolton. "Exhausting because of the number of consultations we've held, but exhilarating because of the ideas that have been generated in our conversations."
The teach for tomorrow strategy will refine and distill the input from all of the consultations, focusing specifically on what's needed in terms of institutional facilitation and support.
The annual teaching and learning festival, Winterfest, will build on this fall's work around values and strategies, and a university-wide definition of good teaching will be ready for a spring launch, said Bolton.
Embrace the city, embrace the world
Ostiguy has been leading the working group forging the embrace the city strategy. The group has consulted widely with members of the university community, hosted two idea cafés and gathered input via an online questionnaire.
She says four priority areas have emerged from these discussions, including the need to design and populate an interactive, online map of Concordia's city-engaged initiatives.
"This map can serve as a great tool to better tell the story of our community engagement work and identify gaps and opportunities to enhance our efforts to embrace the city," said Ostiguy.
"We've also discussed how we can identify city-engaged learning opportunities and make this information more available and accessible to students," she said. This could take the form of identifying existing city-engaged courses through a "C-designation," allowing students to filter class options and identify opportunities to get more deeply involved in Montreal.
Another idea is to create a collaborative city-oriented space that could serve as a bridge between the community and the university, acting as a one-stop hub and easy-to-find resource centre for community members seeking information and partnership opportunities.
Finally, Ostiguy said it will be important to move beyond the university's current and vital city-engaged work to create transformative partnerships that will increase Concordia's impact.
With respect to embrace the world, Carr provided a brief update to senators on the work being done by Cheaib. Consultations have been ongoing and this work is part of a larger process to develop a draft internationalization strategy that will be presented to Senate in April.
For the cross-institutional strategy, some of the initial directions include supporting faculty initiatives, promoting Concordia's participation in international development projects and positioning the university as a welcoming place for international scholars.
A white paper with general recommendations will be tabled in mid-January. This will be followed by internal consultations, then the final document will be presented to Senate.

Next steps
The five cross-institutional strategies will be available for review toward the beginning of the winter term. In conjunction with Faculty and unit-level strategic plans, the strategies will provide Concordia with a roadmap for the way ahead.
Attend the last Teaching Values Conversation on December 11, 2015.
Find out more about the nine strategic directions.
---