Hassan Rivaz: Concordia and the great Canadian brain-drain reversal
A new engineering faculty hire reflects on what drew him to the university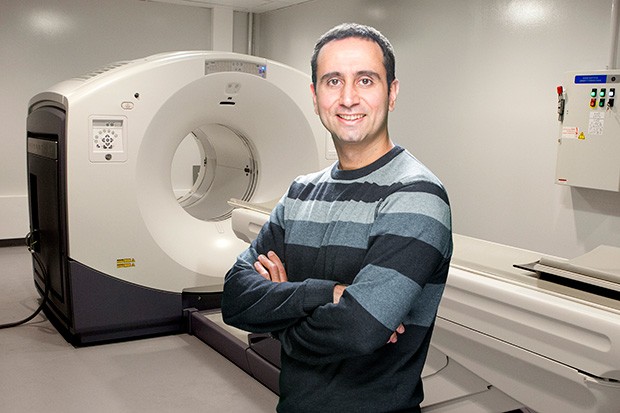 In an article published this week in the Toronto Star, "How Canada reversed the 'brain drain,'" top research executives revealed that Canada's research-excellence ecosystem is "better than it ever has been at retaining and attracting top talent."
We asked new faculty hire Hassan Rivaz — an assistant professor in the Department of Electrical and Computer Engineering and member of the PERFORM Centre's interdisciplinary research team — why he decided to come to Concordia.

'You can be very successful here'
I'm originally from Iran. I did my undergraduate at Sharif University of Technology, my master's at UBC and my PhD at Johns Hopkins University. I also did a postdoctoral fellowship at the Montreal Neurological Institute.
I applied to two Canadian universities, and I had three tenure-track offers from schools in the United States. I came to Concordia in August 2014.
Research
There are several reasons why I chose to come here. One of them is the university's focus on research and its support for research. I believe that it's going to become one of the best universities in Canada for research.
My research is focused on medical image analysis. I try different processes that might allow us to do more with the images — either diagnose diseases that are not diagnosable otherwise, or come up with better treatment plans.
My work has immediate applications in the medical field.
Collaboration
A very strong research team was probably the main reason I chose Concordia. There are a couple of other professors who work in a very similar field as mine — professors in Electrical and Computer Engineering and Physics who work with the PERFORM Centre.
I knew that I would get to work with those guys and collaborate.
PERFORM is a very good model. It's very interdisciplinary; there are different professors and students working on different projects. Also, our research field is very interdisciplinary and requires that sort of foundation.
Support
I talked to a couple of new faculty members who had just joined Concordia, and I realized you can be very successful here if you really focus on your research, because the university really supports it.
They help you in any way they can. That's not necessarily the case in the United States. There, your life is very, very busy hunting for grants all the time, and success rates for grants are extremely low.
In general, you get better success rates in Canada. It allows you to spend more time working on your research and supervising students, as opposed to just writing grants.
Students
I should also mention that Montreal is a very international city. A lot of students from all over the world like to come here to study. As a result, Concordia has been able to attract very, very good students.
That was also another big reason I chose Concordia, to get good students, and I've been successful at that. Currently I'm supervising six Master's students and two post-doctoral fellows. Three of my grad students and one of my post-docs are co-supervised by other faculty members, which is an indication of the level of collaboration my work entails.
I'm very happy so far with my decision to come to Concordia. Basically, all of the reasons that I listed for coming here have been satisfied.

Are you a faculty member who has recently arrived at Concordia? Share why you chose this university with the Concordia news team: email us at now@concordia.ca.
---