Thai ghost soldiers, 3D love and the view from the ninth floor
Montreal's Festival du nouveau cinéma starts October 7 — at Concordia
Ninth Floor revisits the 1969 Computer Centre Incident at Sir George Williams University.

This week, the Festival du nouveau cinéma (FNC) is back for 12 days of motion-picture exploration, with the aim of offering audiences a diverse program in an open, interactive environment.
In fact, over the past four decades it has established itself as the "people's film festival."
"You're part of the festival when you show up," says FNC programmer Daniel Karolewicz. "You could meet Quebec filmmaker Denis Côté at the bar or run into Hollywood producer Barry Navidi at a screening. That's the main appeal. We're doing this for the spectators more so than for the industry."
In honour of the FNC's 44th birthday, here are five top Concordia-connected picks from its 2015 lineup.
Ninth Floor | Documentary| 81 minutes
October 9 at 7 p.m., Alumni Auditorium
October 16 at 1 p.m., J.A. DeSève Cinema
Four-and-a-half decades after the Computer Centre Incident at Sir George Williams University, Canadian filmmaker Mina Shum returns to the ninth floor of the Henry F. Hall Building to reflect on the space's tumultuous past. The film explores how the event — the largest student occupation in Canadian history — served to underscore the spirit, frustration and rebelliousness of the nation's youth during the 1960s.
In 1969, six black students studying at Concordia launched a complaint against their biology professor Perry Anderson after receiving lower grades than their white colleagues on identical work. The confrontation ultimately led to more than 400 students staging a 14-day occupation of the university's computer centre on the ninth floor of the Hall Building. The incident ended in chaos, fire and the arrest of 97 protesters.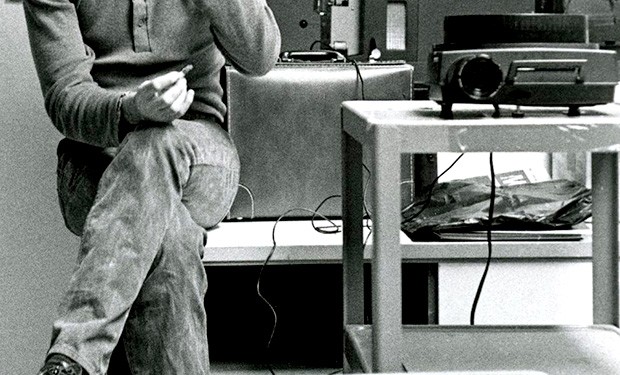 Paul Sharits | Documentary | 86 minutes
October 8 at 7:10 p.m., Cinéma du Parc
October 15 at 3 p.m., Cinéma du Parc
Part-time Concordia faculty member François Miron's acclaimed documentary Paul Sharits explores the life, work and mysterious death of the renowned avant-garde American filmmaker. Sharits occupies a prodigious spot in the history of experimental film and is known for his use of scratches, rephotography (images of the same site with a time lag between), audio permutation and flash frames.
Miron's documentary moves seamlessly between the psychedelic pulsations of Sharits' own works to rare archival footage depicting the man behind the flicker.
An examination of an iconic era in film as well as the deconstruction of a life plagued by loss, trauma and illness, Paul Sharits extracts the man from the artist and features insightful interviews from family, colleagues and film experts.
Love | Avant-Garde | 134 minutes
October 8 at 8 p.m., Alumni Auditorium
October 9 at 1:30 p.m., Cinéma du Parc
The opening feature for TEMPS Ø, the wildest section of the festival, Love is a bold new film by Argentinian director Gaspar Noé, the man behind the psychedelic trip that was 2009's Enter the Void.
The story, presented in 3D, begins with 25-year-old Murphy who, as usual, wakes up to his wife and young son. Things take a sharp turn when the mother of an old girlfriend calls unexpectedly, frantic over the disappearance of her daughter.
Murphy's idyllic life is swept away in a flood of memories, and nothing will ever be the same. Love is a daring story about love (as you might have suspected), sex and liberty.
Added perk: Gaspar Noé is expected at the screenings.

October 18 at 8 p.m., Cinéma du Parc
Set in a makeshift clinic in Thailand's rural northeast region of Isan, an enigmatic illness has befallen a group of soldiers working on a nearby excavation project, plunging them into a deep, perpetual sleep.
Local villager Jen volunteers to help at the clinic and soon becomes attached to Itt, a young man under her care. Meanwhile Keng, a medium, is also on site to help family members make contact with the sleeping soldiers.
The women soon realize that the mysterious affliction might be connected to an ancient burial site that lies beneath the hospital. Directed by Palme d'Or–winning Thai director Apichatpong Weerasethakul, Cemetery of Splendour is not your typical ghost story.

October 15 at 2 p.m., J.A. DeSève Cinema
In an effort to support Canada's emerging filmmakers, the FNC includes a national competition of student shorts in its program. This year's edition features 15 works submitted from schools across the country, to be judged by a panel of three prominent filmmakers, including Concordia alum Olivier Godin.
The competing student films will be screened in the presence of directors and judges on campus. Be sure to look out for Ma Lionne by Gabriel Savignac, who is representing Concordia in the competition.
Beyond the competitive portion, the Rencontres Pancanadiennes also features three days of workshops, networking events and awards.
---