'These are people who see themselves as part of something larger'
Concordia Council on Student Life and LIVE Centre recognize 21 community-minded contributions
After representing the John Molson School of Business at many case competitions, Katerina Fragos trained dozens of other students to compete on the global stage.
Whether they're raising money for a worthy cause, delivering hot meals or organizing a special event, many Concordians regularly go above and beyond what's expected of them to improve life on campus and in the community.
A group of students, staff and faculty were invited on stage at the annual Concordia Council on Student Life (CCSL) Awards Gala on April 3 to be recognized for their contributions.
"What we're celebrating is the beauty of humanity in the mundane," said Andrew Woodall, the university's dean of students, shortly before the special ceremony at the Loyola Chapel got under way. "These are people who see themselves as part of something larger, and they act upon it — volunteering for an environmental effort, taking part in 5 Days for the Homeless or organizing a bake sale."
The CCSL, a parity committee made up of students on the one hand, and faculty and service-focused staff on the other, meets once a month to discuss issues relating to student life and student service needs. It also disperses funds to support student projects, and recognizes contributions to student life through its Outstanding Contribution Awards.
At this year's gala, the CCSL gave awards to six students and four faculty members.
Among those recognized was John Molson School of Business (JMSB) student Katerina Fragos. After representing JMSB at numerous national and international case competitions, Fragos became vice-president of academic affairs of the John Molson Competition Committee. In that role, she helped train dozens of other students to compete.
Fragos also served as vice-president of finance of the Commerce and Administration Students' Association, and co-chaired the largest student-run business conference in Canada, the Canadian Association of Business Students Roundtable.
In February, she was one of 10 students selected from a pool of some 5,000 applicants to shadow a CEO for a day.
After graduating, Fragos plans to take part in humanitarian programs in Madagascar and Indonesia. In the fall of 2014, she will begin her career as an account manager for Procter & Gamble in Toronto.

Recognizing volunteers
Student Services' LIVE Centre also gave out its annual Volunteer Recognition Awards to 14 Concordians at the gala. Among them was Mona Senecal, a JMSB receptionist who has dedicated herself to numerous community causes over the years.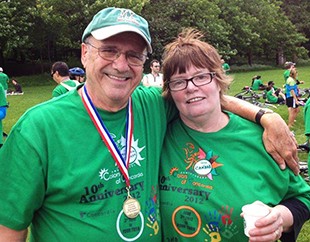 Mona Senecal, a receptionist for JMSB, has devoted a great deal of her time to community causes over the years.
In 2003, Senecal founded Colors of Concordia, a group that brings together students and staff of different backgrounds to participate in the Tour de l'Île cycling event and raise money for student awards and other cultural initiatives.
She has also participated in Run for the Cure, the Weekend to End Women's Cancers, Pedal for Kids and 5 Days for the Homeless.
Additionally, she organized a Teddy Bear Adoption Day to raise money for Concordia's Centraide campaign.
Terry Kyle, student programming specialist in the Dean of Students Office, also received a volunteer award at the gala.
She has devoted more than 2,200 hours to AIDS Community Care Montreal (ACCM) since she was elected to the board of directors in 2008. Her commitment, described as a "labour of love," has helped the organization expand and become more effective in the delivery of programs and services to the greater Montreal community and beyond.
Watch Kyle's inteview with Global News.
Woodall expressed great pride in all of the honourees' community-minded efforts.
"These sorts of actions serve as the lubricant that makes a big system like Concordia human," he said.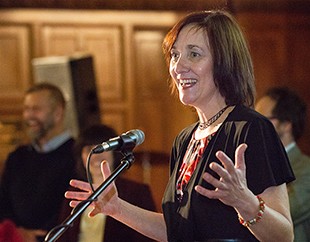 Terry Kyle was another winner of a volunteer award at the CCSL Gala and was interviewed by Global News.
---