Safety first
University policy highlights resources and guidelines to maintaining security
This article is the fourth in a series of seven, published weekly on important Concordia policies. This is part of a policy-awareness campaign that will culminate in employees being asked to confirm that they have read the policies when they access myempath in the MyConcordia portal following the publication of the last story.

We all believe we conduct our lives safely. We don't walk in front of moving buses or enter burning buildings. We do, however, take certain situations for granted.
VPS-20, the Security Policy, has been developed to inform employees about what to do in situations that are not perceived as dangerous, but could pose a substantial risk.
"The Concordia Security Policy identifies potentially unsafe situations or environments where an employee's wellbeing may be at risk and provides resources and established guidelines to pursue the safest course of action," says Senior Director of Environmental Health, Safety and Security, Richard Young. "For example, if an employee is denied access to a room or activity by a person or group of people who are unauthoroized to prohibit access, the Department of Security should be notified by calling extension 3717 and resources will be dispatched to ensure the employee's safety and right to entry."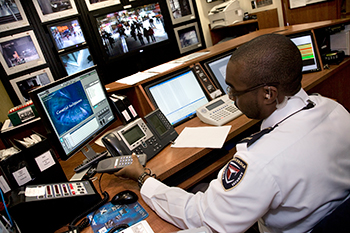 The policy also identifies processes for the removal of equipment and materials, the securing of space and facilities and special security coverage. It defines illegal behaviour, fraud and theft, as well as lost and found items and guidelines to follow under specific circumstances.

"At Concordia, the safety and security of all of our employees is paramount, which is why it is important for all our employees to be familiar with this policy," says Associate Vice-President, Human Resources. Carolina Willsher.

All Concordia employees are encouraged to review the complete Security Policy for more details. Additionally, there is a range of other important policies available on this site that have been developed to clarify ambiguous situations, which may be relevant to employees within specific departments. See the question and answer section on the Human Resources page under policies and procedures for a full list of policies related to the awareness campaign.

Related links:
• "Code exists to protect" – NOW, September 12, 2012
• "Policy awareness campaign highlights employee Code of Ethics" – NOW, September 19, 2012
• "Protecting of Personal Information" – NOW, September 26, 2012
• Security Policy (VPS-20)
• Official Concordia policies website and Q&A




---