Protecting personal information
University policy safeguards personal information
This article is the third in a series of seven, published weekly on important Concordia policies. This is part of a policy-awareness campaign that will culminate in employees being asked to confirm that they have read the policies when they access my empath in the MyConcordia portal following the publication of the last story.
It is amazing what can be done with just a little personal information. A social insurance number, a date of birth or an address can provide enough information for someone to commit identity theft. Passports, credit cards and other sensitive documents can be created using simple personal information.
Protecting personal information is important. This is why Concordia maintains a strict policy concerning the protection of personal information and is in compliance with the Act Respecting Access to Documents Held by Public Bodies and the Protection of Personal Information, established by the Government of Quebec.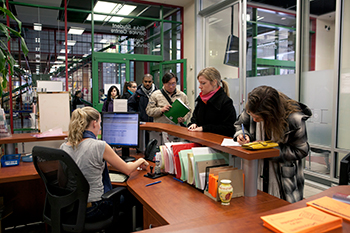 "Essentially, all information is considered confidential except in specific cases provided by the law," says Vice-President, Institutional Relations and Secretary-General, Bram Freedman.

Concordia's Policy Concerning the Protection of Personal Information (VPIRSG-9) outlines specific guidelines and situations on how an employee may collect, access or process personal information.

In addition, the policy refers to the proper disposal of any obsolete documents containing personal information that has not been archived. In this case, the documents would be shredded or recycled as prescribed by Concordia's Policy on Records Management and Archives (VPIRSG-10).

Online fraud is widespread and often anonymous, making the protection of personal information essential. An omission, a neglected file or a seemingly innocent query in which personal information is made available may result in unintended consequences for an employee. The policy is designed to ensure that employees are confident their personal information is managed and stored securely within the confines of the university.

All Concordia employees are encouraged to review the Policy Concerning the Protection of Personal Information for more details. Additionally, there is a range of other important policies available on this site that have been developed to clarify ambiguous conditions, which may be relevant to employees within specific departments. See the question and answer section on the Human Resources page under policies and procedures for a full list of policies related to the awareness campaign.

Related links:
• "Code exists to protect" — NOW, September 12, 2012
• "Policy awareness campaign highlights employee Code of Ethics" — NOW, September 19, 2012
• Policy Concerning the Protection of Personal Information (VPIRSG-9)
• Policy on Records Management and Archives (VPIRSG-10)
• Concordia official policies website






---