Concordia inaugurates health and genomics research centres
Federal and provincial governments invest $65 million under the Knowledge Infrastructure Program to advance research at the university
Canadian and Quebec government representatives joined Concordia officials to inaugurate the university's two new research facilities — the PERFORM Centre and the Centre for Structural and Functional Genomics.

The two new buildings are imposing additions to Concordia's Loyola Campus in Montreal's west end. Ottawa and Quebec jointly provided $65 million of funding under the Knowledge Infrastructure Program for the two projects, which will enable Concordia to propel discoveries in environmental conservation and personal health.

Concordia President and Vice-Chancellor Frederick Lowy, Board of Governors Chair Peter Kruyt and Vice-President of Research and Graduate Studies Louise Dandurand were joined at the November 4 opening by Senator Larry Smith, Jacques Chagnon, Member for Westmount-Saint-Louis and President of the National Assembly, Kathleen Weil, Minister of Immigration and Cultural Communities and Member of the National Assembly for Notre-Dame-de-Grâce, and Susan Clarke, City of Montreal councillor for the district of Loyola.

New facilities for top researchers
"The PERFORM and Genomics centres represent a leap forward in research that not only advances the accumulation of knowledge, but also strengthens the foundations of our society," says Lowy. "Researchers at the Centre for Structural and Functional Genomics are investigating how to transform green waste into sustainable fuels to reduce our dependence on non-renewable energies, while the PERFORM Centre is investigating ways to improve health."

"These new research facilities are transformational for our university," says Louise Dandurand, Concordia Vice-President, Research and Graduate Studies. "They are the culmination of a dream to house top researchers in innovative laboratory settings and to give them access to the best equipment and personnel. They also exemplify a new approach to fostering interdisciplinary scientific collaboration and to bringing that expertise from the laboratory into the wider community."

Centre for Structural and Functional Genomics
The Centre for Structural and Functional Genomics (CSFG), which covers 5,400 square metres over three floors, was constructed with a $29,345,427 grant under the Knowledge Infrastructure Program. The consortium of Marosi+Troy, Cardinal Hardy and Jodoin Lamarre Pratte designed the space as an additional wing that connects to the Richard J. Renaud Science Complex.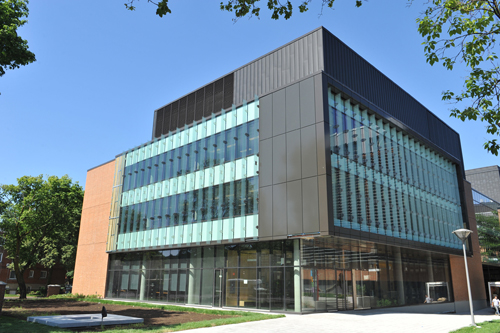 The building includes the latest in genomics, biotechnology and bioinformatics laboratories. Its open spaces were designed to encourage interdisciplinary collaborations and bolster cooperation with industry partners. The CSFG's ultimate goal is to produce breakthroughs in genomics research that will transform green waste — stalks, twigs, agricultural straws and leaves — into renewable and alternative chemicals and fuels. The CSFG houses 150 graduate students, postdoctoral fellows and research professors and its facilities are available to the external research community.

The CSFG is adorned by an outdoor public artwork, Figures en lisère, which is prominently displayed on Sherbrooke Street. Designed by sculptor Marie-France Brière, the work weighs over 30,000 pounds, stands 20 feet high and connects the surrounding community with the scientific explorations taking place inside the centre.

PERFORM Centre
The PERFORM Centre — whose acronym stands for Prevention, Evaluation, Rehabilitation, FORMation — was built and outfitted through a $34,972,317 grant. The 8,000-square-metre research hub features three floors designed by the firm Saia Barbarese Topouzanov.

The facility boasts a striking façade with a public artwork called Leap created by artist Adad Hannah. At two storeys high, Leap is mounted on glass in vivid colours and depicts human silhouettes in motion. Concordia faculty, students and staff were models for the figures.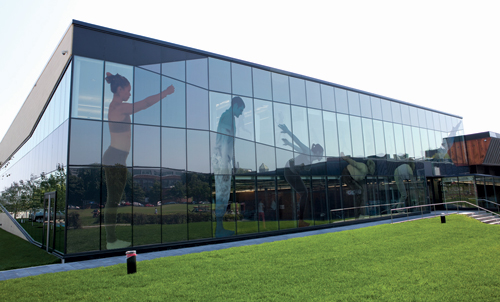 The PERFORM Centre is a unique model in Canada and will merge behavioural research, nutrition, athletic therapy, exercise science, psychology and physiology. Its scientists will collaborate with doctors from hospitals and university health centres from around the world.

PERFORM Centre features a bone-density scanner, magnetic resonance imaging machine, metabolic kitchen, cell culture equipment and a hydrotherapy pool that can track movements. It also houses Le Centre, a state-of-the-art conditioning and rehabilitation facilities that are open to the public.

Connected to Concordia's existing recreation and athletics facilities, the PERFORM Centre will specialize in teaching and training in athletic therapy and cardiorespiratory physiology. It also has therapeutic facilities for people with sports injuries or health problems such as cancer, cardiac or respiratory diseases.

Studies conducted at the premises will operate under the highest clinical and ethical standards to examine everything from heart disease and asthma to muscle fatigue and obesity.

The addition of the two Concordia buildings will help further revitalize the Notre-Dame-de-Grâce neighbourhood. What's more, the attractive and efficient research hubs are well integrated into the local cityscape and are in keeping with Montreal's designation as a UNESCO City of Design.

Related videos:
• Centre for Structural and Functional Genomics
• PERFORM Centre

Related link:
• Knowledge Infrastructure Program

Media contact:
Sylvain-Jacques Desjardins
Senior advisor, external communications
Concordia University
Phone: 514-848-2424, ext. 5068
Email: s-j.desjardins@concordia.ca
Twitter: http://twitter.com/concordia






---