Future City Playgrounds
What do you think of when you hear the word playground? A childlike sense of discovery and exploration, or a fun and interactive environment? These are all elements that contribute to the user experience of the Future City Playgrounds.
The gamification platform, that is still in its prototype phase, is designed with academic researchers, urban planners and city dwellers in mind. Players are greeted when they enter the game by a flying robot character that walks them through their tasks and helps users understand the building site and the goals of the game.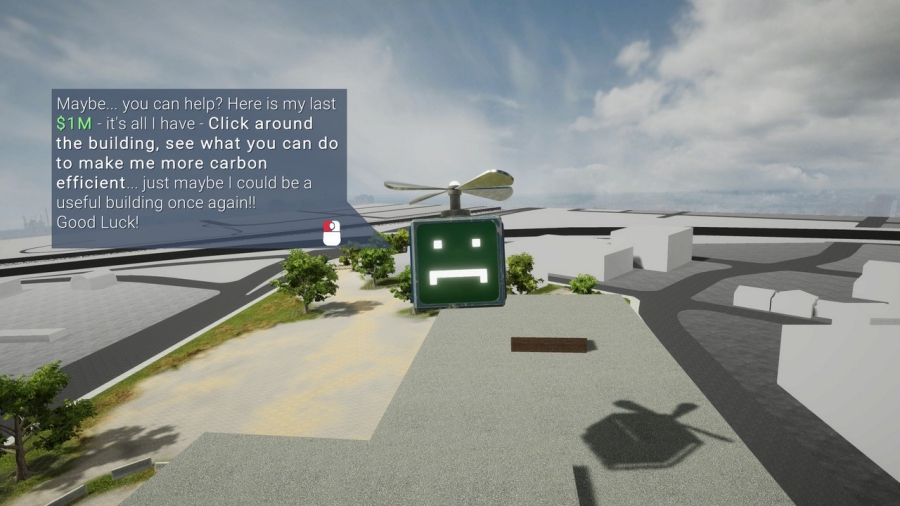 The opening screen of the gamification platform. A robot character greets the player saying, "Maybe... you can help? Here is my last $1M – it's all I have. Click around the building, see what you can do to make me more carbon efficient... just maybe I could be a useful building once again!! Good Luck!"
Users will be able to model the C40 project heritage building and experiment with different technologies while learning about their effects on the building energy demand, and ultimately its lifetime CO2 emissions. Design modifications include: adding rooftop vegetation and seeing its effects on heating and cooling demand, adding and modifying windows, experimenting with wall and roof building materials, choosing different photovoltaic modules based on cost and efficiency, and modeling heat pumps given different sources (air, water or geothermal).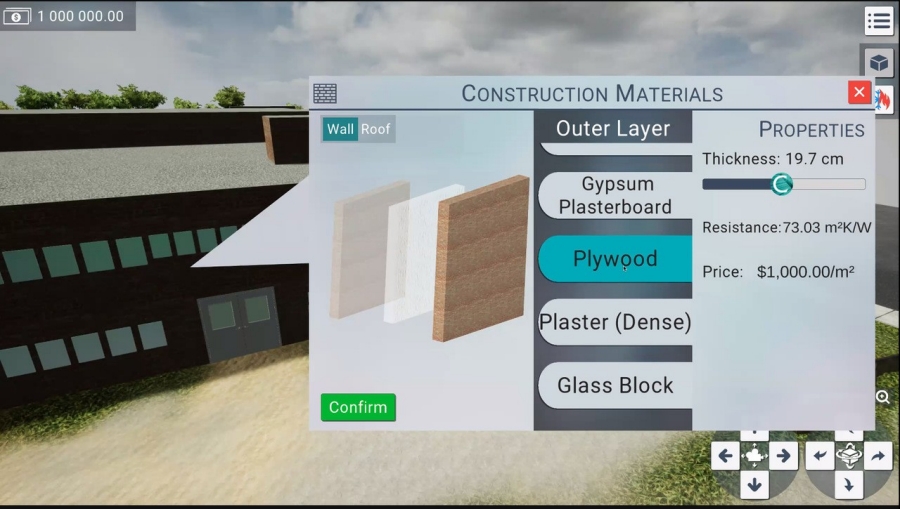 Game visuals: selecting wall layer materials. A graphic shows the deconstructed layers of the wall and their materials. The price of the material as well as the resistance to heat transfer is shown for each layer, and the thickness of the layer can be selected by the player.
With a budget of $1 million to work with, players have the freedom to roam around the site, seeing the consequences of having the most expensive and heat-transfer resistant windows, or different types of solar panels arranged to optimise their direction to the sun. Within the given budget, players will learn how materials, vegetation, and windows work together to affect energy consumption, how local solar energy can offset grid energy, the basics of heat pumps, and gain an understanding on lifetime carbon emission sources. While demonstrating how gamification can create an engaging learning experience, the platform aims to prove how we can leverage science in real time.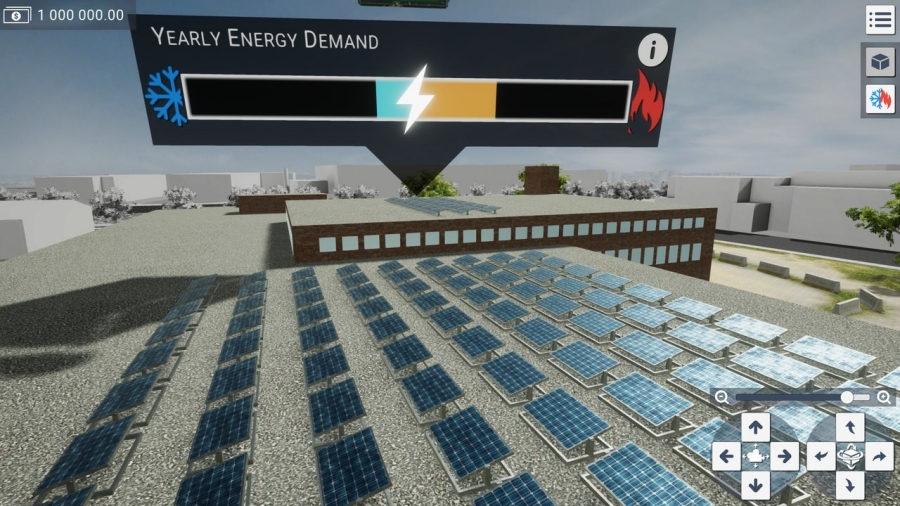 Game visuals: yearly energy demand. A view of the roof of a building covered in solar panels and a "power bar" showing the yearly energy demand for heating and cooling.
Get involved
If you are interested in helping to grow the platform, some questions you can consider are:
How would you like to visualize or interact with your research?

How can urban planners use your research to make smarter decisions?

What could citizens learn from your research to improve their behaviours?
We are also hiring more C#/Unity programmers from September, as paid internships, to work on this project.
Reach out to Chris (christopher.gibbs@concordia.ca), with any suggestions, input or to get involved.