Gina Cody student plays a key role in fighting Quebec's forest fires
Pilot Simon Colletti flies fire-detection missions up north for SOPFEU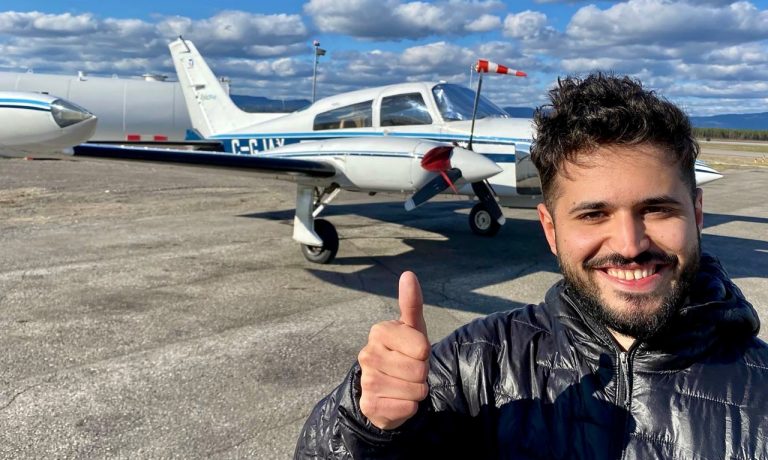 Simon Colletti is a third-year aerospace engineering student at the Gina Cody School of Engineering and Computer Science. He's also a licensed commercial pilot working towards achieving his childhood dream of flying wide-body aircraft for a major Canadian airline.
I got my start in aviation as a member of the Royal Canadian Air Cadets where I learned to fly gliders and acquired my private pilot's license as a teenager. The Air Cadet program taught me the fundamentals of flying, but also valuable life lessons in leadership, discipline, and how to be a good citizen.
As I pursued my DEC in pure and applied sciences, I was also working to complete my commercial flight training at a local flying school.
Right as I finished both CEGEP and my flight training, I landed my first pilot job. It helped me build flying experience while still allowing me to pursue my university studies full-time.
Over the last four summers between school semesters, I have been working for the Société de protection des forêts contre le feu (SOPFEU) as a forest fire detection pilot, flying all over Northern Quebec, from James Bay to the border of Labrador.
My role consists of flying single-pilot patrol missions to locate, identify, and report back any new forest-fire activity via satellite to SOPFEU's Forest Fire Detection HQ located in Quebec City.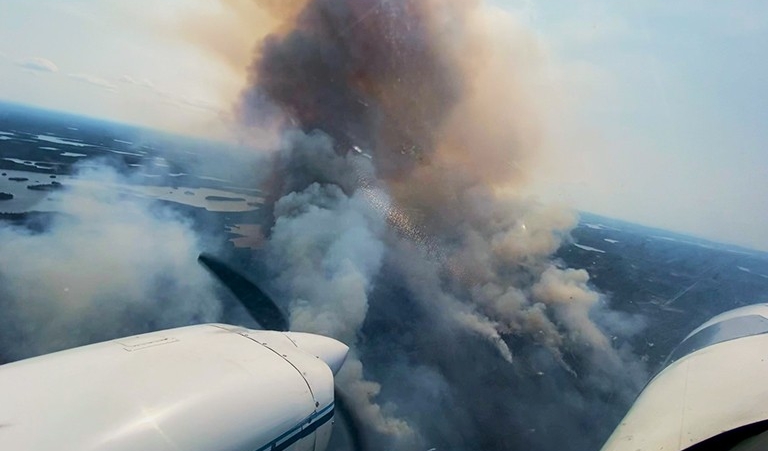 'The entire operation is a huge collaborative effort'
Of the four seasons I've worked as a fire detection pilot, this summer has been the most intense by far. Due to extremely dry and hot conditions, SOPFEU's team has been pushed to the limit to contain the spread of wildfires.
My role is the first line of defence in the province's annual fight against forest fires. Prior to a flight, I receive a set of coordinates from SOPFEU based on satellite data that analyzes areas with the highest probability that fires may occur.
Some factors include heat, aridity of the ground, type of vegetation and its moisture content, recent lightning ground strikes, topography and windspeed.
After I receive my coordinates, I conduct flight planning, prepare the airplane, then take-off for the mission.
Typically, a flight lasts around three hours, covering a distance of about 800 km, at an altitude between 1500 and 3000 feet. We fly the airplane at a speed between 260 and 290 km/h, but the maximum speed it can reach is 413 km/h.
The aircraft of choice for the northernmost missions that I've been assigned to for the last two years is the Cessna C310R. It is a light twin piston-engine airplane selected for its high cruise speed and long range compared to other aircraft in its class.
These are important characteristics needed for covering wide areas in the remote regions of the province where airports are few and far between, and piston engine fuel availability is even more scarce.
Following the initial fire report from the detection pilot, a plan of action is put into place to put out or to re-direct the wildfire if there is any threat to human life or property. Canadair CL-415 water bombers, various helicopters, and specialized forest-fire firefighters take over from there. The entire operation is a huge collaborative team effort, and it has been a great pleasure to start off my working pilot career while contributing to such an important cause.


Find out more about the Department of Mechanical, Industrial and Aerospace Engineering at the Gina Cody School of Engineering and Computer Science.
---