Concordia's Kuh Del Rosario is headed to Själsö, Sweden, as the latest recipient of the Brucebo Fine Art Summer Residency Scholarship
The MFA candidate will spend three months based on a Baltic Sea island beginning in June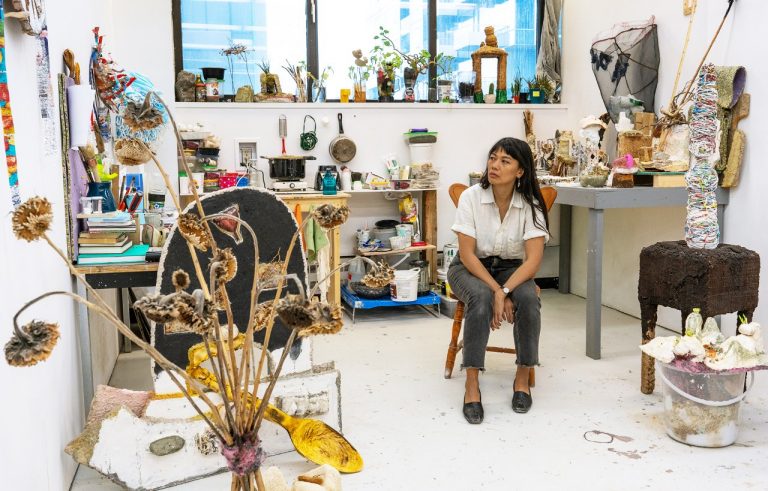 Kuh Del Rosario, an MFA candidate in Concordia's Department of Studio Arts, is the 2023 recipient of the Brucebo Fine Art Summer Residency Scholarship.
Awarded annually, the scholarship supports a promising Canadian graduate student in the visual arts, providing a three-month working residency in Själsö, Sweden. It includes the use of the Brucebo studio cottage on the island of Gotland in the Baltic Sea, and a financial stipend of $7,500.
The travel scholarship was established in 1972 by the Brucebo Fine Art Scholarship Foundation to commemorate the link between William Bruce Blair, one of Canada's first impressionist painters, and his wife, Swedish sculptor Carolina Benedicks-Bruce.
The pair lived on the island of Gotland and created the Brucebo artist estate in the early 1900s. In 2020, the Brucebo scholarship was endowed to Concordia's Faculty of Fine Arts.
"The Brucebo residency presents a truly unique opportunity," says Del Rosario. "I was thrilled and overwhelmed to receive the news. It still feels unreal."
'I work with materials that are harvested and saved from my everyday'
Del Rosario, whose area of concentration is in sculpture and ceramics, says her practice draws on personal history and uses common items and salvaged materials to tell stories.
"I work with materials that are harvested and saved from my every day to anchor to the present. It is a method for grounding and remembering the future as it continually unfolds," she explains.
"More recently, my work focuses on time as expressed on the skins of things, death as transformation and composting as a metaphor for living."
Pursuing an MFA was not a linear path for the Filipino Canadian artist, who was born in Manila and grew up in Calgary. After graduating from the Alberta College of Art and Design — now the Alberta University of the Arts — in 2003 with a BFA in painting, Del Rosario spent over a decade working as an artist in Vancouver.
In 2017 she moved to the Philippines, where she founded Elmo's House Artist Residency, a studio and living space for local and international artists.
"It took me a long time to realize the MFA was something I should consider," Del Rosario says. "Before that I balanced my time between studio and day jobs as many artists do. Spending three years in the Philippines running Elmo's House interrupted this way of living."
Summer in Sweden
The Brucebo residency comes at a critical juncture for Del Rosario. In October, she will present her thesis exhibition at Centre Clark in Montreal.
"This is a precarious and exciting time for me. I will be synthesizing my ideas and all that I've learned during the MFA into a cohesive and thoughtful show."
Del Rosario adds that she is committed to making the most of her time in Sweden this summer and intends to develop a routine for making and observing her surroundings.
"I plan to engage with the island's natural landscape and history and spend time reading under the sun," she says. "I also intend to connect with locals willing to share knowledge on harvesting pine sap and perhaps join fishermen in pursuit of the day's catch."
The upcoming residency will offer Del Rosario the space and time to reflect on her practice, which she notes was significantly impacted by her degree at Concordia.
"I started the MFA during a very special time," she says. "I was in a new city during the height of the COVID-19 pandemic. Classes were on Zoom and we wore masks and distanced when in the studio."
Del Rosario credits her growth to the support she received from her MFA peers and studio arts professors, in particular, Kelly Jazvac and Juan Ortiz-Apuy.
"The studio and the Concordia community gave me the sustenance needed for my practice to grow."

Find out more about Concordia's Faculty of Fine Arts.
---