Concordia MFA grad receives the 2023 Claudine and Stephen Bronfman Fellowship in Contemporary Art
Interdisciplinary artist Kyle Alden Martens wins the $60K award alongside UQAM's Maude Arsenault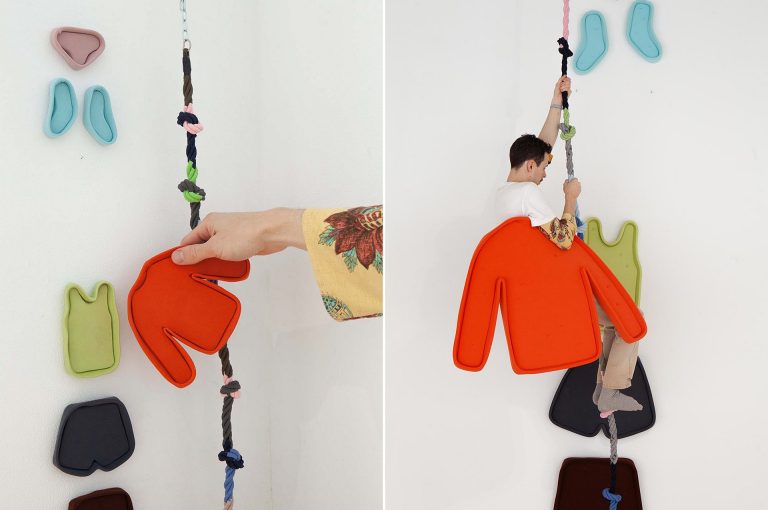 Kyle Alden Martens, MFA 22, and Maude Arsenault, a master's candidate in visual and media arts at Université de Québec à Montréal (UQAM), are the 2023 recipients of the Claudine and Stephen Bronfman Fellowship in Contemporary Art.
The fellowships, each worth $60,000 over two years, are the most generous post-MFA awards for emerging artists in Canada. Each provides recipients with the recognition and support they need to refine their work and further their creative research at a turning point in their career paths — when they move out of academia and into the professional arts community.
The fellowships are awarded annually to two students enrolled in a master's or PhD program in the media arts or visual arts programs at Concordia's Faculty of Fine Arts and UQAM's Faculty of Arts.
"I am grateful and humbled to receive the Bronfman fellowship," Martens says. "The financial support it provides is paramount. It allows me to dedicate my time to work and make more expansive sculptures."
Annie Gérin, dean of the Faculty of Fine Arts, also emphasizes the impact of the award. "The Bronfman prize is a rare opportunity for emerging artists like Kyle Alden Martens to focus entirely on their art during those crucial years after graduation and the launch of their career," she says.
"We are tremendously grateful to Stephen and Claudine Bronfman for their continued support and generosity."
Kyle Alden Martens: "I am grateful and humbled to receive the Bronfman fellowship." | Photo: © Brandon Brookbank
Kyle Alden Martens, Concordia's 2023 Bronfman fellow
Martens earned an MFA in studio arts with a sculpture and ceramics concentration. He explains that clothing serves as an allusion throughout his practice to fitting and fitting in.
"In some cases, objects nest perfectly into places designed with care and attention to accommodate them," he says. "In others, fitting is more theoretical, calling into question how queer bodies take up space."
During his MFA studies, Martens exhibited Heavy Fabric at AXENÉO7 in Gatineau and Muscle Worn & Wearing at CIRCA Art Actuel in Montreal. The artist was recently part of the group show Personal Allegories at the Patel Brown Gallery in Toronto.
Originally from Saskatchewan, Martens studied at NSCAD University in Halifax, graduating with a BFA in intermedia in 2015. Soon after, he shifted his practice from video and performance-based works to object-making.
"Previously, my practice centred around the closet, with sculptural clothing used as a stand-in for a body deemed either in or out of the proverbial queer closet," he says.
With the support of the Bronfman fellowship, Martens will create new works that take references from jewellery boxes, glove compartments, gloves and footwear. The artist explains that his new sculptures will transform the intimate and delicate into large-scale installations.
"In some aspects, my practice will shift from cloth to metal, from gentle to challenging. The action of piercing — a sharp, burning moment — and the notion of a piercing — a small hole dulled with scar tissue — are central starting points for my research," Martens says.
"Recently, the various facets of jewellery and jewellery boxes have bled into my work, from their tactile interiors and hard shells to their use of materials like wood, silk and heavy metals."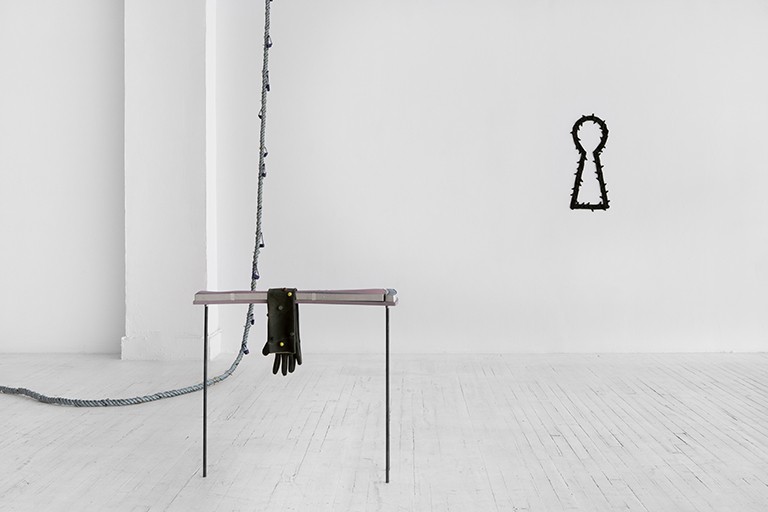 "Muscle Worn & Wearing" by Kyle Alden Martens, 2022. | Documentation by Jean-Michael Seminaro
'An immense artistic community'
Martens recounts that while in the MFA program his peers and dedicated Concordia technicians shaped his practice and guided him through the many facets of production. He also highlights the backing he received from Kelly Jazvac, associate professor of studio arts.
"Professor Jazvac helped open many doors for me. She offered support throughout the arduous process of applying for research and creation funding," Martens shares.
"The impact of her support is something I know I'll continue to feel deep into my career as an artist."
In addition to the fellowship's financial support, the award allows Martens to continue growing his practice in a place he says has come to feel like home.
"I was drawn to Montreal for several reasons, one being its immense artistic community, which along with Concordia has shaped this dynamic period of my life," he notes.
"Having access to Concordia's facilities over the next two years will help me realize the more elaborate sculptures and installations I've been dreaming up."
Martens adds that he's also excited about the opportunity to teach at Concordia again. "I'm equally interested in a career in pedagogy, and this will give me more experience going forward."
Twenty-six other exceptional artists have received the Claudine and Stephen Bronfman Fellowship in Contemporary Art in the past 13 years:
2022: Rémi Belliveau (UQAM) and Diyar Mayil (Concordia)
2021: Leila Zelli (UQAM) and Nico Williams (Concordia)
2020: Heidi Barkun (UQAM) and Mara Eagle (Concordia)
2019: Céline Huyghebaert (UQAM) and Madeleine Mayo (Concordia)
2018: Frédérique Laliberté (Concordia) and Émilie Serri (UQAM)
2017: Andréanne Abbondanza-Bergeron (Concordia) and Martin Leduc (UQAM)
2016: Yannick Desranleau (Concordia) and Guillaume Adjutor Provost (UQAM)
2015: Velibor Božović (Concordia) and Myriam Jacob-Allard (UQAM)
2014: Marie Dauverné (UQAM) and Brendan Flanagan (Concordia)
2013: Nadia Seboussi (UQAM) and Kim Waldron (Concordia)
2012: Sébastien Cliche (UQAM) and Julie Favreau (Concordia)
2011: Aude Moreau (UQAM) and Pavitra Wickramasinghe (Concordia)
2010: Steven Bates (Concordia) and Véronique Savard (UQAM)
Find out more about Concordia's Faculty of Fine Arts.
---