Harambec: Reviving the Black Feminist Collective bridges community, academia and the arts
Funding from Concordia's SHIFT Centre for Social Transformation will support the creation of a Black feminist advocacy organization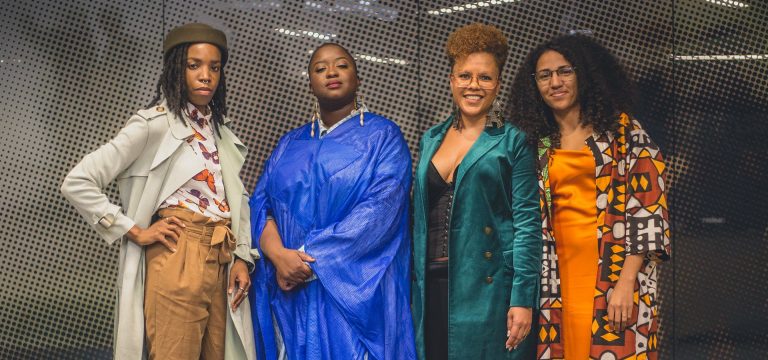 A new community-based project in collaboration with Concordia aims to restore "the tradition of Black Feminist organizing at Concordia that bloomed in the '70s and '80s," says one of its creators, Marlihan Lopez, undergraduate program and outreach coordinator at the university's Simone de Beauvoir Institute.
The project, Harambec: Reviving the Black Feminist Collective, will provide resources for and by Black women and gender-expansive people in the areas of teaching, experiential learning, research, professional development, mentorship and more. It's funded by the SHIFT Centre for Social Transformation Deep Investment Fund.
Coined by writer, educator and community organizer Shirley Small, Harambec is a portmanteau of harambee, the African principle of self-help, and Quebec. Its name is intended to represent the daily challenges that African-descended women face in this province.
Jade Almeida, coordinator at Conseil Québécois LGBT, and Concordia MFA student Pauline Lomami are the project's co-leads.
The collective will serve as a hub for Black feminist organizing and as a space to connect to the wider community. It will host art residencies, public and cultural programming, performances, an exhibition and a presentation of Black Feminist Archives.
Among the project's initiatives is a student practicum in collaboration with the Simone de Beauvoir Institute to research and archive Black women's contributions to Concordia.
"In 1987, the Congress of Black Women at Concordia partnered with the Simone de Beauvoir Institute to organize a conference on the Black experience within a feminist context with special guest Dr. bell hooks," says Almeida.
"This herstory is missing. We are continuing the fight against systemic erasure and violence experienced by Black women and gender-expansive people in Quebec institutions."
Over the next two years, the project team will collaborate with Concordia's Black Perspectives Office as well as units in the Faculty of Arts and Science, including the Simone de Beauvoir Institute, the Feminist Media Studio and the Centre for Oral History and Digital Storytelling.
"Our hope is to offer Black women and gender-expansive people rich and diverse programming, address systemic forms of discrimination that continue to impact these populations, leverage resources that can serve to take down historical barriers and provide students with experiential learning opportunities," says Lopez.
The Deep Investment Fund is SHIFT's most generous and integrated program. In this first round of funding, three projects, including Harambec: Reviving the Black Feminist Collective, received $50,000 to unlock the full potential of their work.
Over the next year, these projects will collaborate on a deeper level with SHIFT, leveraging the diverse range of resources and expertise available from Concordia and beyond to scale the impact of their socially transformative work.

Learn more about the SHIFT Deep Investment Fund.
---