Members of Space Concordia have their hearts set on the stars
The Rocketry Division is in the race to launch the world's first student-built rocket into the cosmos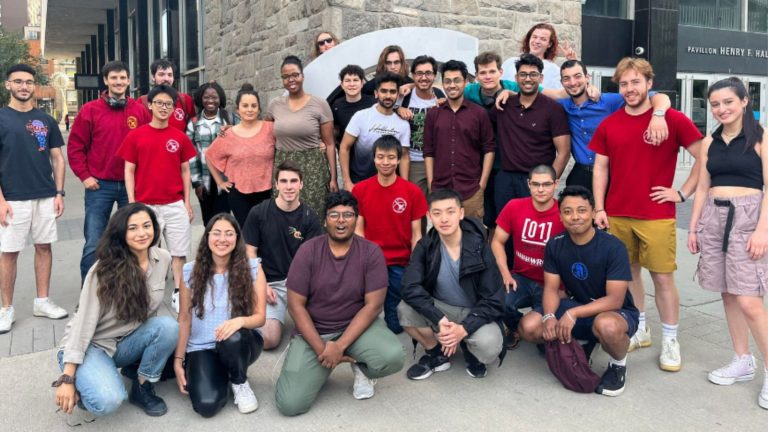 Space Concordia's Rocketry Division team members have faced some challenges with their latest project, Starsailor. Yet that hasn't stopped them from striving to make their dream a reality.
The rocket, whose name is derived from the etymology of the term astronaut, will reach top speeds of more than 5,000 kilometres per hour. The team's current goal is to make history by launching the first student-built, liquid-fuelled rocket to cross the boundary between the Earth's atmosphere and into outer space, known as the Kármán line.
Starsailor has already set a world record for being the first rocket engine developed and fired by civilians, when it was initially tested in 2021. It even generated more thrust than SpaceX's first rocket engine in 2010.
Starsailor shines on the international stage. Standing more than 12 metres, it produces an impressive 4,500 kilograms of thrust and travels at six times the speed of sound. With the ability to deliver 65 kilograms of scientific payload to over 135 kilometres in space, Starsailor is in the same class as United States suborbital launch companies' rocket-powered vehicles. Upon launching, Concordia will also be the first and only university in the world to successfully launch a rocket of this scale.
The team is now in the final two phases of developing Starsailor, which are both essential for safely launching and recovering the rocket: integration and testing. However, a lack of funds has created a barrier that stands in the way of completing these phases.
Now, Space Concordia's Rocketry Division is looking at ways to finance the launch. By setting up a GoFundMe campaign, team members are relying on the generosity of the public and other science enthusiasts like them to support the project's end stages.
To cover all of the project's final expenses, the crowd-funding goal is $100,000 — which would be no small feat.
"We have finished building the majority of our flight vehicle," says Grecia Olano O'Brien, vice-president of marketing at Space Concordia. "The money raised from our fundraising campaign will also help with acquiring more materials, advancing training for team members and continuing outreach."
The team has already received a generous $37,000 gift-in-kind from the specialized industrial equipment supplier Groupe Swagelok Québec, but still more support is necessary to make the launch happen.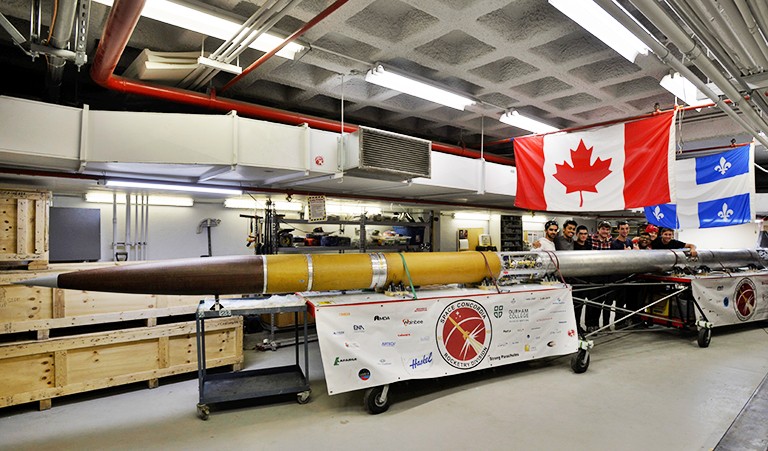 Starsailor
has already set a world record for being the first rocket engine developed and fired by civilians.
Starsailor's origin story
The Rocketry Division team members originally developed the Starsailor rocket for an intercollegiate challenge that was discontinued before any launches could happen. But their collective passion prompted them to move forward with the project anyway.
The team faced an added challenge of finding workarounds for researching and developing the rocket during the COVID-19 pandemic, when the university and machine shop were forced to close. The shortage of funds that followed was another unforeseen obstacle.
"We did not let the cancelled competition, nor the limitations of the pandemic, deter us from working on Starsailor. We found creative solutions to our problems, like scouting potential testing locations using Google Maps and cold-calling owners for permission to use their land," O'Brien reports.
"It's one of many examples of how dedicated we all are to finishing this project."
Space Concordia is a standout team
The Rocketry Division is well-versed in standing out in competitions. The student-led team has scored an impressive number of wins since its inception in 2014, beating other universities such as Stanford, MIT, Caltech and McGill.
The team is currently competing at the 2023 Launch Canada Challenge.

Show your support for the Rocketry Division's GoFundMe campaign.
Learn more about Space Concordia and Concordia's Gina Cody School of Engineering and Computer Science.
---