Concordia grads co-launch a new app to help users give their pets the best walks possible
Started by 4 brothers, DogPack began as a pandemic project and is now growing rapidly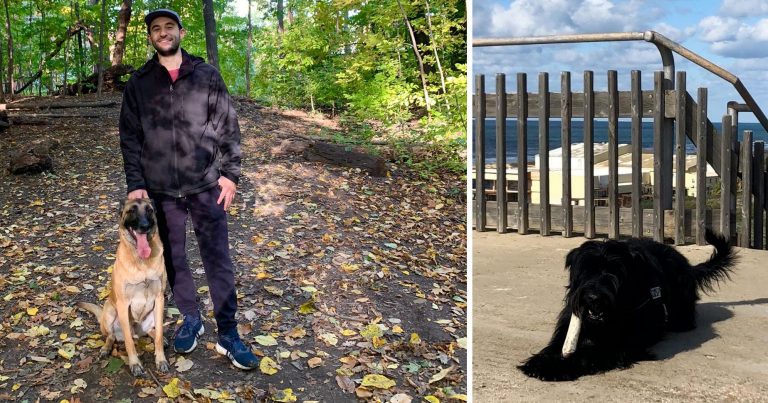 Dog owners know the challenges involved in taking their best friend for a walk or choosing a dog park. They may have a dog that needs more exercise and wants to play with other dogs, or one that may prefer to spend quality one-on-one time.
So, how can dog owners pick what's best for their furry companions?
Brothers Jonathan Punski, BA 16, Aryeh Punski, BSc 21, and Dov and Eric Punski noted this issue during the COVID-19 pandemic, and came up with the DogPack app. The simple-to-use tool helps dog owners and their pets have the best outdoor experience possible.
Where they got the idea
"My brother Dov was actually walking dogs during the pandemic," explains Aryeh, a graduate of the Mathematical and Computational Finance program in the Faculty of Arts and Science.
"When Dov brought some dogs to the park, if no other dogs were there, they would come home still full of energy. So, he thought it would be really cool if you could see how many dogs are at the park before actually going."
The siblings got to work, each taking on different responsibilities for the project. Aryeh is in charge of business development, financing and user support. He credits his degree with helping him understand the ins and outs of the business world.
Jonathan, who earned a bachelor's degree in economics, minoring in political science and Israeli studies, leads the development team. Eric and Dov are responsible for design and social media, respectively.
The result is an app that allows users to identify nearby dog parks and add new parks.
Success and future plans
Currently, DogPack has more than 65,000 users in 15 countries and has gotten significant media coverage.
"The uncertainty is the most challenging part about doing something like this," says Jonathan, adding that he's happy to see the project take off.
"You have to just believe that it's going to work and that you're going to meet your end goal. We wanted to be able to go full-time, and that's what we're doing."
He stresses the importance of listening to customer feedback. For instance, the brothers didn't anticipate one key market, travellers new to a city and who have no idea where to take their dog.
The team has big plans to expand the app in the coming year, including adding a rewards — or "treats" — system, more business tie-ins and a section where users can post information about lost dogs.
Jonathan says he sees big opportunities on the horizon. "We have the chance to bring DogPack to the next level."

Find out more about Concordia's Faculty of Arts and Science.
---