The joy of brewing
How a commerce grad built a business to share his love of craft beer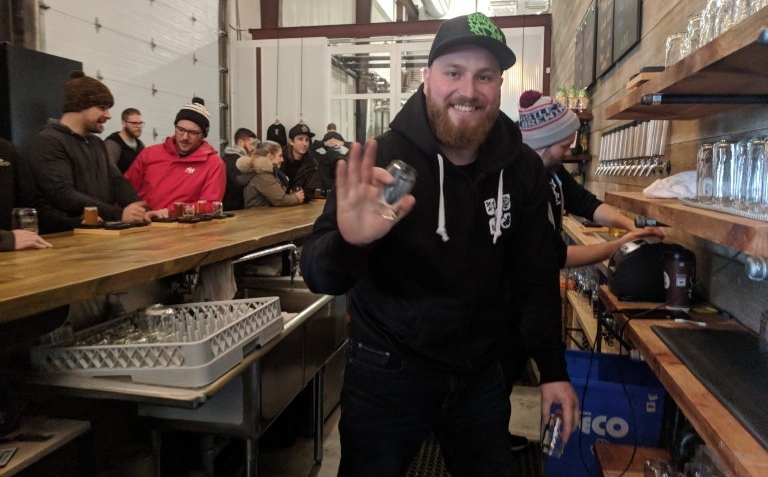 Keegan Kelertas wears many hats for his microbrewery, including occasional bartender. | Photo: 4 Origines
Back during his days studying at Concordia, Keegan Kelertas, BComm 11, was a regular at Reggie's, the student bar on Sir George Williams Campus. He didn't know it then, but a little over a decade later, he'd make a deal to put his own craft beer, 4 Origines, on the menu. It recently became one of more than 550 sites across Quebec where the beer is available.
"Getting into craft beer was basically an accident," says Kelertas, who co-founded Montreal-based microbrewery. It started when he met Michael D'Ornellas, an enthusiastic brewing hobbyist, at a party in 2015. "He brought a case of beer he'd made at home," Kelertas recalls. "It contained tea, which was a new idea to me at the time. I was like, 'Wow, this tastes fantastic! We have to do something together.'"
The weekend after the party, Kelertas and D'Ornellas began planning a business. Since they both had full-time day jobs, their preparations continued for two years' worth of weekends. "That was much to the chagrin of my now-wife," laughs Kelertas.
Along the way, the pair teamed up with additional partners, including fellow Concordian Braden Richards, BA 14, who took on the role of head brewer.
Like most entrepreneurs, the partners are constantly facing new challenges. Right now, they're dealing with the high inflation rate. Connoisseurs can rest assured that craft beers aren't going to rise in price as quickly as many other goods, Kelertas says, because there's a lot of competition. 4 Origines is planning to make up for a lower profit margin by brewing more product.
The labour shortage has also affected the venture, especially since it just opened a second brewing facility and a restaurant in Dorval, west of Montreal. "You can put up an ad for a job and get zero responses," Kelertas says.
One of the employees he managed to find for the new location came all the way from Ukraine. Alexandr Kostenko was working for a Carlsberg brewery in Kyiv but emigrated to Canada to escape the war launched by Russia's invasion in February. The 4 Origines partners interviewed him over the internet, then waited for him to complete the immigration process. "That worked out well for him, but for us, too," Kelertas says. "We're really happy to have him."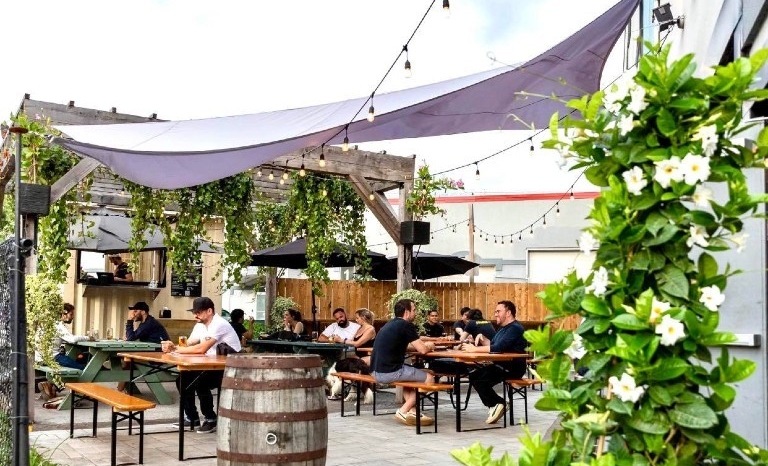 4 Origines' flagship taproom is in Montreal's Pointe-Saint-Charles neighbourhood. Several of their beers celebrate its industrial working-class heritage. | Photo: 4 Origines
Creative flexibility
Despite the challenges of running the business, Kelertas says he hasn't lost his appreciation for it. For one thing, he still relishes relaxing with a beer. "I like to try new things from other breweries, but my palate has been formed around our beers, which I truly enjoy," he says.
The brand was inspired by Montreal's cultural heritage. The name 4 Origines refers to not only the four main ingredients in beer — water, malt, hops and yeast — but also the brewing traditions of the four founding nationalities that were represented on Montreal's flag when the company launched: French, English, Irish and Scottish. A fifth symbol was added to the flag in 2017 to represent Indigenous peoples. The 4 Origines logo is a stylized version of the flag.
The relatively small size of 4 Origines makes it flexible: the team can produce new recipes and labels relatively easily. Examples of their products so far include Caffiend, a coffee-rich stout, and Drop It Like It's Hops, a hazy New-England-style IPA with notes of citrus, peach and passionfruit.
"It's kind of like we opened a big home-brewing facility, with more headaches," laughs Kelertas. "For home brewers, coming up with new ideas is the most fun part, and it's the same for us. In fact, that's why we started: to share our love of brewing with others. At the end of the day, it's about bringing people a bit of joy."
---