Concordia's Menka Nagrani is invested into the Order of Canada
The theatre professor was honoured for her inclusive artistic career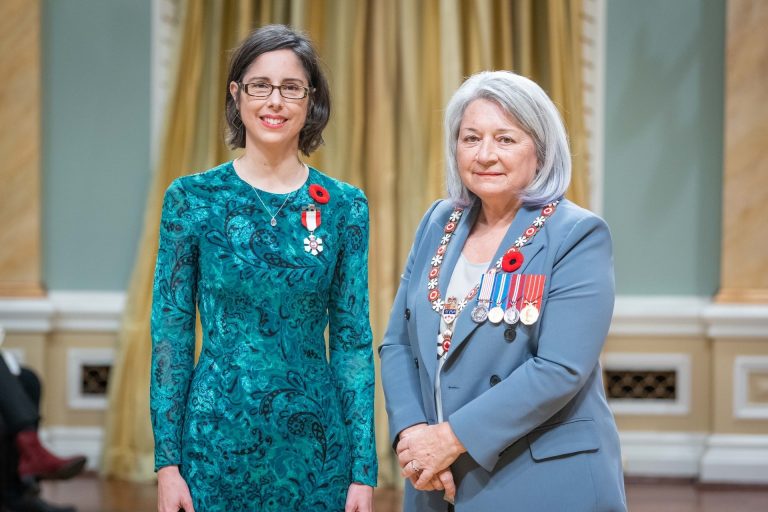 For decades, Menka Nagrani has been working to create a safer space for artists with disabilities. Now the Concordia assistant professor of theatre is being recognized for those efforts by being invested into the Order of Canada.
"It was an honour to receive the Order of Canada and to meet the Governor General as well as the other inspiring leaders in a large range of disciplines across the country," Nagrani says.
After being appointed a member in 2020, Nagrani was finally able to attend her investiture ceremony on November 3 as one of 114 inductees to receive the civilian honour for that year. She was chosen for the various ways in which she has acted as a pioneer of artistic inclusion in Canada, providing opportunities for disabled artists to learn and showcase their work.
Nagrani is the founding director of Les Productions des pieds des mains, an inclusive and interdisciplinary performance company that highlights atypical artists on national and international stages through artistic mediums like contemporary dance and theatre. Founded in 2004, it was one of the first theatre companies in Canada to train and hire artists with intellectual disabilities on the professional stage.
"I have always been an activist for inclusion," Nagrani says. "With this company, I create theatre productions using classical or devised text, dance and movement pieces and musical theatre that brings together artists with and without disabilities and from different cultural backgrounds."
Nagrani's award-winning productions and short films have toured at festivals in Quebec and the rest of Canada, Europe and Japan. Through this work and her engagement with several committees both in the community and on a political level, she has continued to raise awareness for the professional status of artists with disabilities and promote dialogue on the issues of diversity and inclusion in the arts.
"When I first started teaching artists with intellectual disabilities, I very quickly discovered amazing talent and potential in these students," Nagrani says. "They showed great spontaneity and an absence of self-censorship combined with intense theatrical interpretations of raw emotions."
She began searching for a way to simultaneously work with these natural qualities and teach her students to follow artistic directions and meet specific criteria. Nagrani developed and refined her own teaching methods over the years through a process of trial and error.
"Having no model to follow, each new class was a veritable pedagogical exploration," Nagrani shares. "Today, I have created pedagogical methods to teach artists with all kinds of physical or intellectual disabilities. I am now training teachers to help them include people with disabilities in their own classrooms."
Driven by a love for the arts
Before her life as a teacher, Nagrani first learned music at a young age and she has pursued the arts ever since.
"The first love brought me to dance, which then brought me to theatre," says Nagrani, who has a rich background in contemporary dance and a master's degree in theatre from UQAM. "I have been working for two and a half decades in the field as an actor, dancer, director, choreographer, producer and teacher, both as a guest artist and through my own creations."
In addition to her work with Les Productions des pieds des main, Nagrani also often acts as a disability consultant for the Canada's Council for the Arts, the Conseil des arts de Montréal and the Conseil des arts et des lettres du Québec. She has served as a guest speaker at artistic events across the globe and as guest director for inclusive companies like Hijinx in Wales and l'Oiseau-Mouche in France.
Nagrani also brings her wealth of knowledge and experience to use in the courses she teaches at Concordia, raising awareness about diversity and inclusion in her classes.
"I am very excited about leading an inclusive and innovative pilot project in the Department of Theatre," says Nagrani, who is also a member of the department's Equity, Diversity, Inclusion and Accessibility Committee .
"Artists with intellectual disabilities from Les Muses : Centre des arts de la scène will be integrating into my class next term. It will be a great opportunity for these artists to have access — for the first time — to higher education. And it will be a great experience for Concordia students to learn how to work with differently abled artists."
In the coming summer term, Nagrani will also be leading a performance class that will mix Concordia theatre students and disabled artists from Les Productions des pieds des mains. This project will be accompanied by research led by Kim Sawchuk, professor of communication studies. Its aim, Nagrani explains, is to assess how this type of inclusive pedagogy might transform the students and change their perceptions of acting and of disability.
Find out more about Concordia's Department of Theatre.
---